A Korean community in ruins after the Blue Cut fire: 'We've traveled the world only to end up in hell'
One of the areas hit hardest by the 36,000-acre Blue Cut fire was the West Cajon Valley, home to a small Korean community with a big rebuilding challenge ahead.
Reporting from West Cajon Valley, Calif. —
Sarah Choi stood in the rubble, weeping, as her husband propped up an orange tent.
The couple had traveled decades ago from their native South Korea to Canada and then from one state in the U.S. to the other, looking for their "heavenly place." In Southern California's high desert, they found what some called the Korean Valley.
There, said Michael Choi, 74, they were told they could farm the land, growing vegetables and working into their 90s if they wanted.
In August, the Blue Cut fire turned their heavenly place into a giant ashtray of charred trees, shrubs and homes.
"We've traveled the world ," Sarah Choi, 70, said, "only to end up in hell."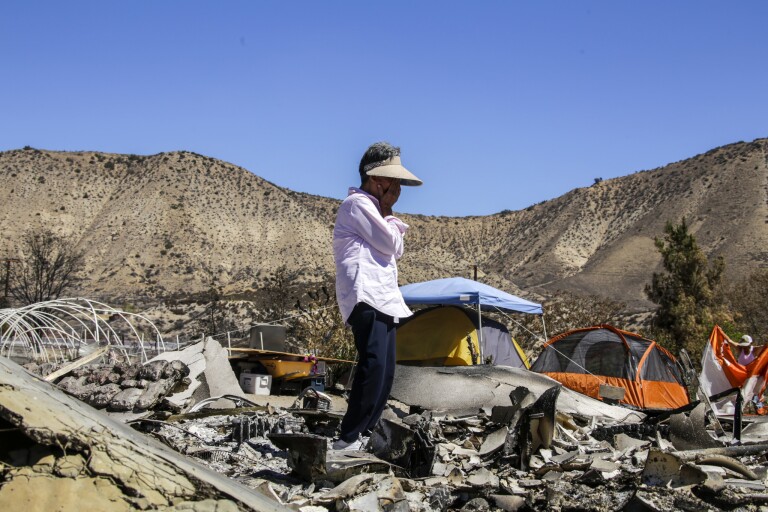 Sarah Choi, 70, stands over the charred remains of her home. She and her husband are living in tents after the Blue Cut fire swept through the West Cajon Valley.
(Irfan Khan / Los Angeles Times)
Jong Ku Kim, 75, holds a handful of dried jujube that was damaged by the heat and flames of the Blue Cut fire, which destroyed half of his 1,000 jujube trees.
(Irfan Khan / Los Angeles Times)
Moises Al Mazan walks over the charred remains of his home after the Blue Cut fire ravaged a section of the Phelan community.
(Irfan Khan / Los Angeles Times)
Rosa Barragan, 50, far center, keeps an eye on her son Ismael Sanchez, 17, as he strolls the grounds of their home, which was gutted by flames.
(Irfan Khan / Los Angeles Times)
Sarah Choi, 70, stands on the charred remains of her home and weeps.
(Irfan Khan / Los Angeles Times)
Michael Choi, 74, and his wife Sarah, 70, sit outside a tent that is now home. The Blue Cut fire destroyed the farm and home they were renting on Meadow Lark Lane in the West Cajon Valley.
(Irfan Khan / Los Angeles Times)
When the wildfire swept through the West Cajon Valley — where a Korean community believed to number about 70 families has taken root — it scorched 36,274 acres and destroyed about 105 homes and 216 other structures. Among the losses were jujube farms and a prayer retreat.
How this desert outpost in San Bernardino County became a haven for immigrants is, in many ways, the classic story of that one person who came and started something.
In the West Cajon Valley, some say, that person was Bae Ki Chan.
In 1992, Bae moved to a farm just off Highway 138, seven miles from Wrightwood, and raised goats, boars and pheasants for meat to serve at "The Place Where the Clouds Rest."
The unlicensed restaurant became a destination for Korean immigrants from around Southern California. Some who visited took notice of the valley; its high elevation meant clean air, the underground water and seasonal weather made it ideal for farming.
In some ways, it was not unlike parts of South Korea.
"It resembles the country life many of them came from," said Edward T. Chang, director of the Young Oak Kim Center for Korean American Studies at UC Riverside. "They found a refuge in the mountainous area with running water, and those are the reasons why they were attracted to it."
Yeoyong Yun, 71, said he felt like it was destiny that brought him to the West Cajon Valley.
When he was a boy in South Korea, he said recently, a U.S. soldier had given him chocolate candy. The memory stuck in his mind.
"America must be a great place," he remembered thinking.
As a young adult Yun worked, saved his money and left South Korea in 1982 with his wife and two children — going first to Argentina, where he opened a clothing factory.
About five years later, he sold the business and paid a "coyote" $20,000 to help smuggle the family across the U.S.-Mexico border.
They settled in Los Angeles and soon had green cards. Yun said he discovered Bae's restaurant in the mid-'90s — and came to know and love the valley and the mountains around it.
"I liked the sand, I liked the climate, I liked growing vegetables, I liked the ski slopes, I liked the snow. Everything," he said.
He bought several acres and started his own jujube fruit farm. His wife and kids stayed behind in L.A. and visited on weekends.
"My wife is a city lady," Yun said in Korean. "I'm a total country boy."
Little by little, he realized other South Korean immigrants were living in the valley.
"It was good to see other farmers, and to see that they were Korean was a happy thing for me," Yun said.
The combination of Bae's restaurant and farmers opening to the public turned the region into a getaway destination. Some farms started renting rooms to out of town visitors. They offered karaoke.
By 2000, more South Koreans began moving to the area. Churches sprouted to minister to them.
It was a small-scale version of what happened in L.A.'s Koreatown, according to Chang.
"On Olympic Boulevard, there was a small Korean market. People went to that market to buy goods and fruits and, naturally, it became a gathering place," Chang said. "And as time grew, more immigrants arrived and more businesses popped up — and that's how the Korean community began in the Olympic and Normandie area."
After the Blue Cut fire tore through the West Cajon Valley, it was the churches and organizations like Mea Ola's Place, a sanctuary for abused and sick horses, that helped provide locals with food and clothing and raised money for recovery efforts.
On a narrow dirt road called Dusty Lane are the ruins of a prayer retreat center operated by the Phelan Garden Church, a Korean Christian church. Some of its buildings had served as temporary housing for those who sought spiritual healing from addiction, depression and other problems.
Inja Pak, 46, said the center was started by her husband, Pastor Hyong Pak, who died five months before the Blue Cut fire.
"We have no insurance," she said, adding that she and her children were living off $20,000 in savings — not enough to restore the retreat.
Nearby is a large jujube farm run by Jong Ku Kim and his wife, Young Hee.
The couple, both in their mid-70s, learned about the West Cajon Valley from farmers in Garden Grove. In 2005 they moved here, leased the land and began planting rows of jujube trees.
The jujube is like a date, used for medicinal purposes, as a snack and an ingredient for Korean recipes like ginseng chicken soup.
Jong Ku Kim said the Blue Cut fire destroyed 550 of their 1,000 trees. Others did not get watered during the weeks that the region was without the electricity needed to operate the farm's well pump.
This year, Kim said, he would be able to harvest about 20% of his usual crop. He's not sure he can bounce back from the devastation.
"It's not only me, but the people in this area affected by the fire, they're going through a lot of difficulty," Kim said. "Most urgent is cleaning all this up … that way we can resume what farming there's left to do."
We need to get through these difficult times.
— Jong Ku Kim
On a recent hot afternoon, Yun and two women sat under a canopy. Nearby, piles of clothes, silverware, plates and other items lay on a blue tarp for fire victims to sift through and take. Stacks of dry kimchi noodle soup, chips and soy bean sauce sat on a plastic table.
Seven years ago, another fire had roared through the Cajon Pass, Yun said. He lost 400 goats and dozens of his jujube trees were destroyed. He never quite recovered, he said.
Now his home is gone and his farm obliterated. Yun said he's staying with a friend in Phelan, but plans eventually to move to a retirement home. He and his wife have separated.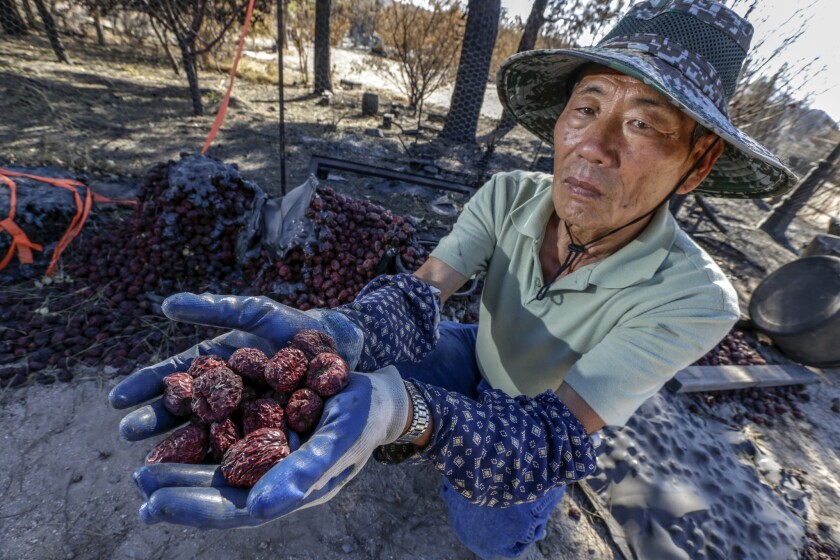 Since the fire, San Bernardino County has used Korean translators at public meetings and has sent out English and Korean fliers to inform residents of the services available.
"Local Korean associations and churches are using fundraising efforts to rebuild their community," Chang said. "Their efforts seem to be helping, but to what extent is the question."
The Chois said they feel lost.
Sitting on a green cot while eating a boiled potato, Michael Choi said he didn't have money now to make his monthly truck payment.
"Not one dollar," he said.
Nearby, his wife carried buckets of water to pour on the remaining fruit trees. Occasionally, she stopped to cry.
For more Southern California news, follow @latvives on Twitter.
ALSO
A judge accused two Orange County jailers of dishonesty, but they're still on the job
Derrick Rose co-defendant testifies in civil rape trial that sex was consensual
Orange County prosecutors file suit against biological suppliers, alleging unlawful pricing of fetal tissue
---
The stories shaping California
Get up to speed with our Essential California newsletter, sent six days a week.
You may occasionally receive promotional content from the Los Angeles Times.