Bomb threats in Los Angeles and San Diego appear to be part of nationwide hoaxes, authorities say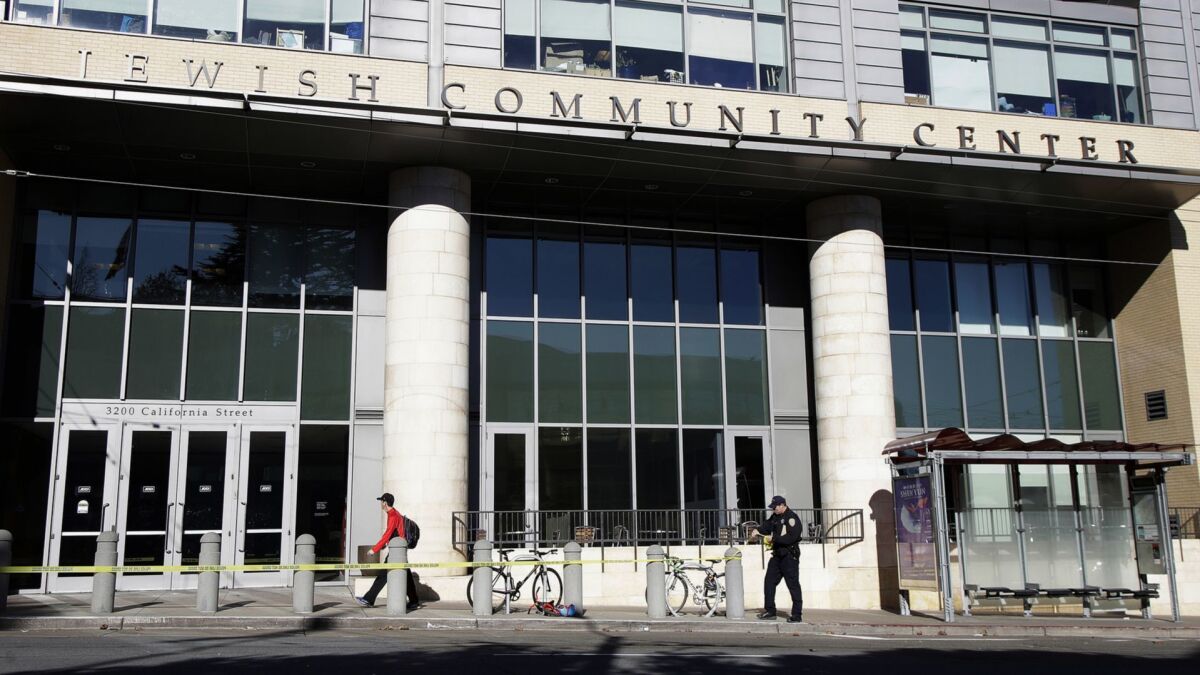 Authorities say bomb threats sent to dozens of schools, universities, consulates and other locations across the United States appear to be hoaxes.
At least 13 false threats were received across Los Angeles at major businesses and government entities, the Los Angeles Police Department said Thursday. The targets were told they would be bombed unless they immediately paid a ransom in bitcoin, police said.
The phony threats are part of a massive nationwide scheme by someone trying to force a company or entity to pay an untraceable sum, the LAPD said, with the message being received by dozens of supposed targets.
"These are robo-messages with no means to deliver upon the threat," LAPD Deputy Chief Horace Frank said.
Federal and local cybercrime experts are working to trace the source of the messages, he said.
In San Diego County, law enforcement agencies were busy checking out a flurry of bomb threats emailed to commercial buildings around the region.
Similar threats were reported in other states, including New York, Oklahoma, Tennessee and Iowa.
The New York City Police Department said the threats were meant to cause disruption and compel recipients into sending money, and are not considered credible.
In San Diego, the first calls came in around 10:40 a.m., said San Diego Police Officer Joshua Hodge.
Building managers told police they had received email threats that warned there were explosive devices planted in their buildings. The emails warned that if the people making the threats didn't receive money within a certain amount of time, they would detonate the devices.
By 11:30 a.m., the city had received more than a half a dozen reports of building managers receiving emailed threats, Hodge said.
San Diego County Sheriff's Department deputies responded to similar calls in their jurisdiction.
By 11:50 a.m., sheriff's officials said they had received reports of nine businesses receiving the threatening emails, including several auto body shops. In some cases, employees and customers evacuated the targeted buildings.
San Diego police officers were checking out the threats and had not found any explosive devices, Hodge said.
"We are going out to evaluate it like it is the real deal," he said. "They went into the buildings and they have not seen anything that would deem it to be a credible threat. However, they are still doing bomb-threat reports, because it is a crime."
Police in El Cajon and National City also received calls, said sheriff's Lt. Karla Menzies.
"We are treating every call like a bomb threat," Menzies said. "Once [businesses] are receiving the email, they are basically calling 911 to report it and we are responding as we can."
Menzies said the emails demand cash and say that if the money isn't paid, a bomb hidden in the building would be detonated. Some ask for $20,000 to be paid in bitcoin, Menzies said.
The Palm Beach County, Fla., Sheriff's Office and the Boise, Idaho, police said they had no reason to believe that threats made to locations in those areas were credible.
Across the country, some schools were closed early and others were evacuated because of the threats. Pennsylvania State University notified students via a campus alert. Near Atlanta, people were ushered out of a courthouse.
Los Angeles Times staff writer Winton contributed to this report from Los Angeles, and Kucher, who writes for the San Diego Union-Tribune, contributed from San Diego. The Associated Press also contributed to this report.
The stories shaping California
Get up to speed with our Essential California newsletter, sent six days a week.
You may occasionally receive promotional content from the Los Angeles Times.