As students protest, Cal State trustees seek more state funding to avoid tuition increase
CSU students protest of a controversial proposal to increase tuition for the first time in six years.(Mark Boster / Los Angeles Times)
A small but boisterous group of students donned zombie face paint and set up a mock graveyard outside a meeting of the California State University Board of Trustees in Long Beach on Tuesday. It was their depiction of the future of the university system should its leaders approve tuition increases they say may be needed to fill a state funding gap.
They chanted, "Students not customers!" and "The more we pay, the longer we stay!" and carried signs that said, "We are the Walking Debt."
Many had arrived before 5:30 a.m. from Dominguez Hills, Fullerton and other campuses across the state to set up tombstones representing the system's 23 campuses. "R.I.P. Fresno State," one read. Another one, covered in fake cobwebs, said: "Here lies San Diego State."
"We're going for something big, something visual…. It's important for students to come out and fight this," said Courtney Yamagiwa, a member of Cal State Long Beach's Associated Students and the grass-roots activist group Students for Quality Education, which led the protest. The group pledged to "shut down any plans to increase student tuition that will force more students to drop out of college."
Inside, trustees seemed to have gotten the message.
Trustee Lateefah Simon, a single mother of two children, said she empathized with the steady drumbeat of student chants that continued throughout the daylong meeting.
"As we continue pondering this issue, moving forward, I'm going to think about our undocumented students, I'm going to think about single parents, I'm going to think about our foster youth," she told fellow trustees and university leaders. "I deeply appreciate the voices outside, and we should let these young people know that we hear them."
No decision on whether to increase tuition will be made until after January, officials said. But the idea has raised the ire of many students and faculty members, who plan to continue demonstrations Wednesday at the downtown offices of Chancellor Timothy P. White.
The proposed increase, which could amount to $270 for the 2017-18 school year, was introduced as a last resort to help address Cal State's budget shortfall.
Cal State administrators said more tuition revenue from students and their families may be needed to preserve the quality and opportunities provided by the nation's largest public university system. Officials have been under pressure to increase enrollment and graduation rates as well as hire more faculty — all with a smaller share of state dollars than in years past.
State funding has fallen from about 80% of Cal State's operating costs in the 1990s to about 50% today, administrators said. The system relies on tuition and student fees to cover the other half.
Students argue they're already strapped by the highest tuition in history — from 2006 to 2011, tuition had more than doubled to $5,472. The state had slashed nearly one-third of its support to Cal State after the recession but has steadily restored funding in the last six years. Gov. Jerry Brown pledged annual increases in exchange for a freeze on raising tuition until next year.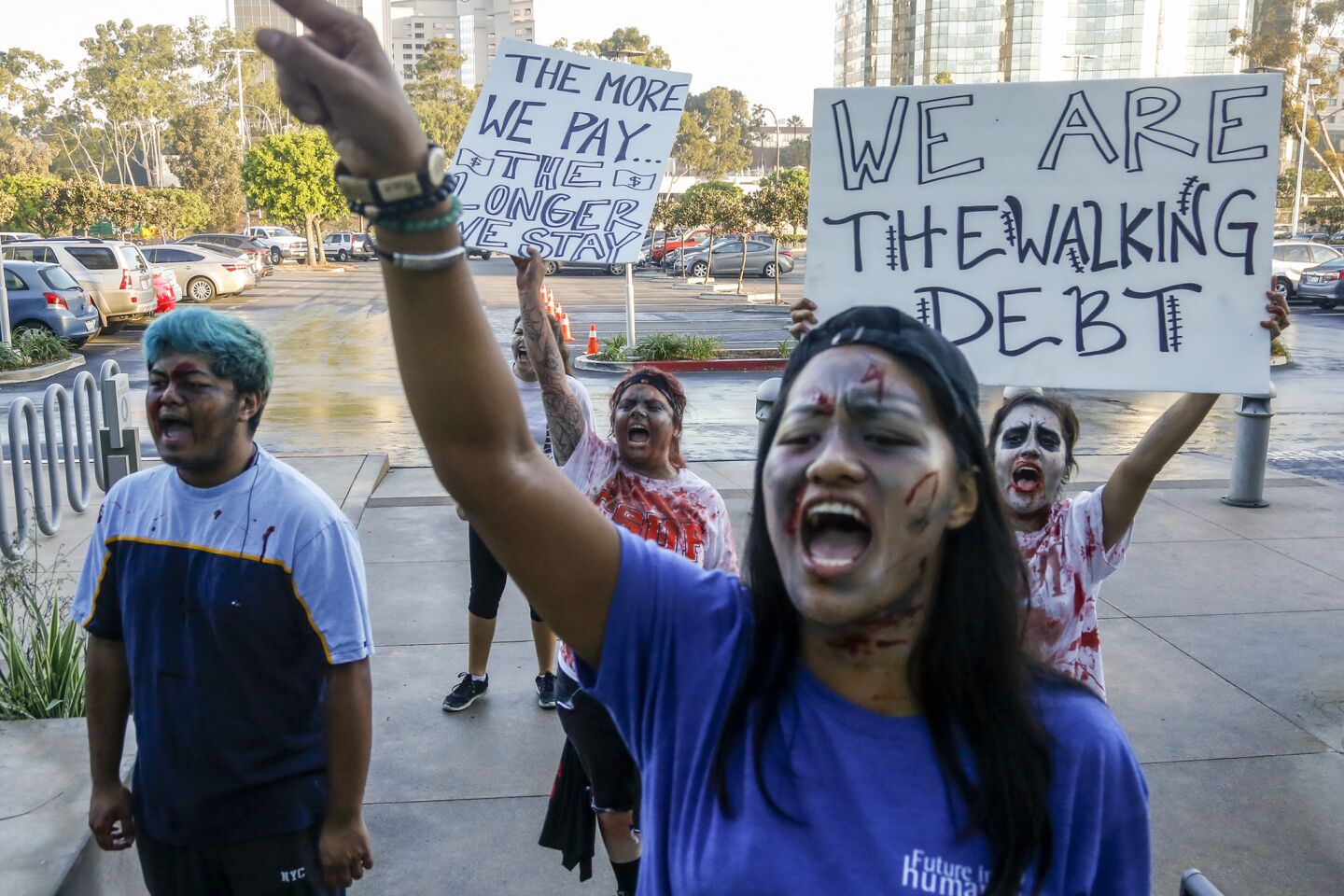 Cal State Fullerton student Ginny Dolores, along with several dozen other students, protested the possible tuition hike during the Board of Trustees meeting in November.
(Mark Boster / Los Angeles Times)
A mock graveyard featuring the headstones of Cal State Universities sets the scene for a protest of the possible tuition hike in front of the Cal State University Chancellor's office in Long Beach.
(Mark Boster / Los Angeles Times)
Cal State Fullerton student Ginny Dolores, left, leads students outside a trustees meeting this week in Long Beach protesting a possible tuition hike and calling on the university to protect students who came to the U.S. illegally.
(Mark Boster / Los Angeles Times)
Cal State University Fullerton student Liz Sanchez shouts her message at several people entering the Cal State University chancellor's office in Long Beach.
(Mark Boster / Los Angeles Times)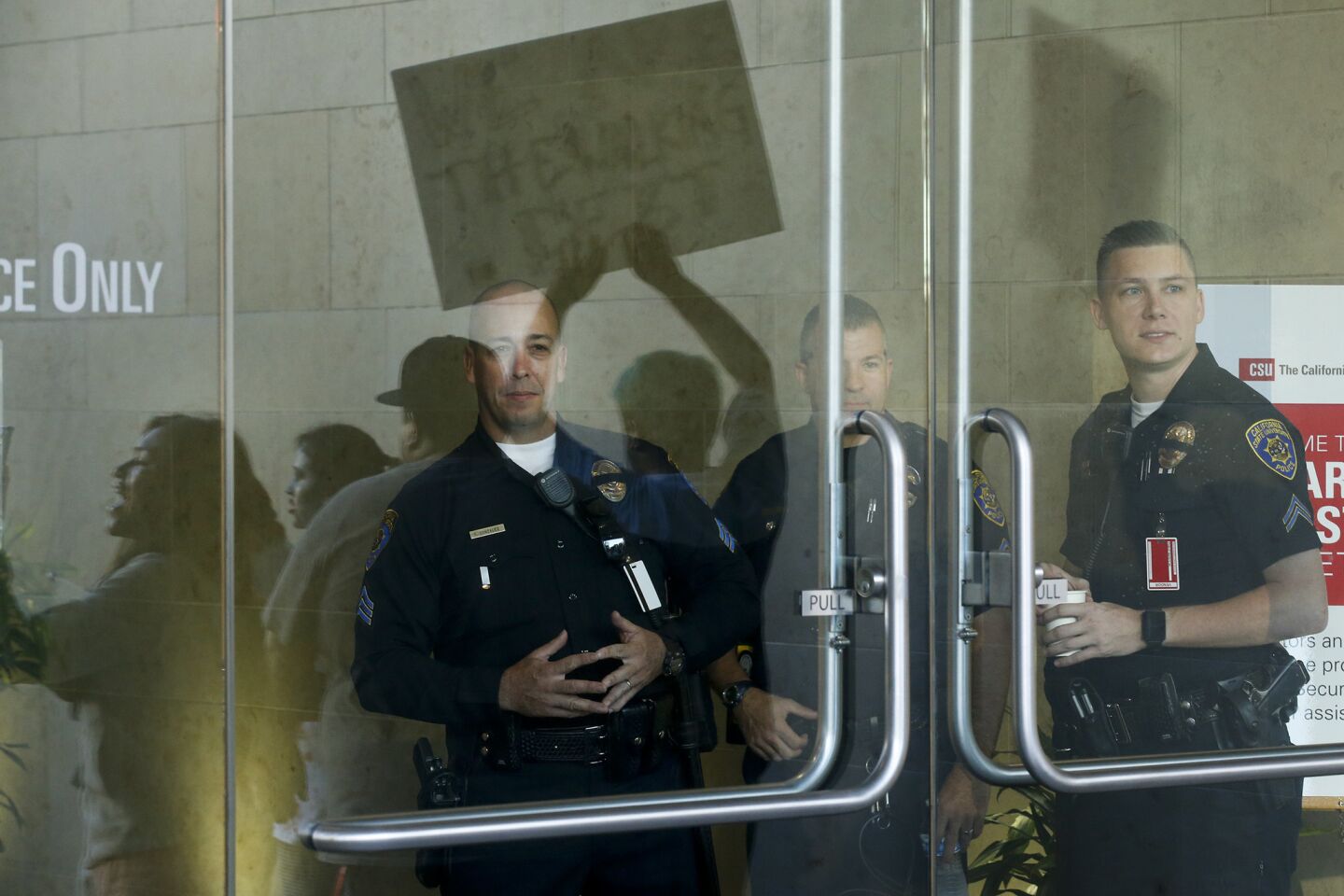 Cal State University police officers keep an eye on a small but vocal group of Cal State students protesting the possible tuition hike in front of the Cal State University chancellor's office in Long Beach.
(Mark Boster / Los Angeles Times)
Cal State University police officers keep an eye on a group of Cal State students protesting the possible tuition hike in front of the Cal State University chancellor's office in Long Beach.
(Mark Boster / Los Angeles Times)
Yamagiwa, a fourth-year undergraduate studying German and consumer affairs, said she and her classmates are concerned that ending the tuition freeze would make annual increases the new normal.
For many students who are already choosing between buying lunch and paying for gas, $270 is a significant amount, she said, citing a recent study that found that as many as 1 in 5 of Cal State's 470,000 students do not have steady access to food and about 1 in 10 are homeless.
Norberto Lopez, a fifth-year student at Cal State Long Beach, said that as an undocumented student, he understood how much any increase in tuition could affect fellow classmates. Over the years, he has had to work more than 40 hours a week as a cook at Buffalo Wild Wings while juggling enough classes to graduate this May.
"I'm here to fight for those that aren't here and are working hard to make it to the university level. They don't have a voice in this," he said. "Once you start increasing tuition to a point where students can't afford it, you're privatizing the university system.... And it shouldn't be like that. Education should be something that's accessible and affordable for all folks."
David Lopez, president of the California State Student Assn. and a second-year graduate student at Cal State East Bay, said he and his peers are focusing the rest of the year on collecting testimonials from students and lobbying lawmakers to secure the funding needed to avoid a tuition increase. If the Board of Trustees decides to move forward with one, he said students will take more "aggressive action."
White emphasized that raising tuition is something that "none of us want to do" and that no decision will be made until after the governor proposes a new budget in January. Financial aid would cover additional costs for most Cal State students, he added.
More than 60% of Cal State students have tuition fully covered by grants and waivers, administrators added in a presentation Tuesday, and those students would not be affected by a tuition increase. For those who take out loans, the average Cal State student debt, at $14,388, is half the national average.
Compounding Cal State's financial challenges are faculty salary increases, a $2-billion backlog of building upgrades, not to mention the promise to double Cal State's four-year graduation rate from 19% to 40% by 2025. But efforts to do so — such as hiring more faculty to teach required courses and increasing academic tutoring and bridge programs — all require money.
Enrolling more students is another sticking point: Cal State has enrolled 20,000 additional students since the recession but still lacks the resources to make room for everyone who wants to attend a Cal State school, White said. Only once in the last four years has the state fully funded Cal State's budget request, and the number of qualified students seeking higher education has continued to grow. Administrators this fall had to turn away more than 30,000 applicants who fulfilled all admissions requirements.
The tuition discussion came as the trustees Tuesday approved a state funding request for 2017-18. Administrators expect the governor will allocate about $157.2 million in new funding next year — which would raise total state support for the university system to about $3.6 billion.
But current estimates indicate that Cal State would need $324.9 million in additional state money for the next fiscal year. This leaves a gap of about $167.7-million between expected state funding and the real needs of the university, officials said.
Cal State hopes to receive enough money next year to allocate $75 million toward improving four-year graduation rates and about $55 million for hiring more staff and faculty.
The top priority in the coming months is to lobby lawmakers to close the funding gap, White said. "Having the resources, one way or another, is going to be essential for us to make good steps on admitting students, and getting them to degree sooner."
Follow @RosannaXia for more education news
ALSO
Los Angeles students stage walkouts to protest President-elect Trump
Remedial classes might be the biggest roadblock to success for community college students
UC and Cal State will consider the first tuition hikes in six years
---
UPDATES:
7:25 p.m.: This article was updated with details from the Board of Trustees meeting.
8:25 a.m.: This article was updated with details of the student protest.
This article was originally published at 4 a.m.
The stories shaping California
Get up to speed with our Essential California newsletter, sent six days a week.
You may occasionally receive promotional content from the Los Angeles Times.