A killing at a gas station, a videotape and an extraordinary prosecution against a deputy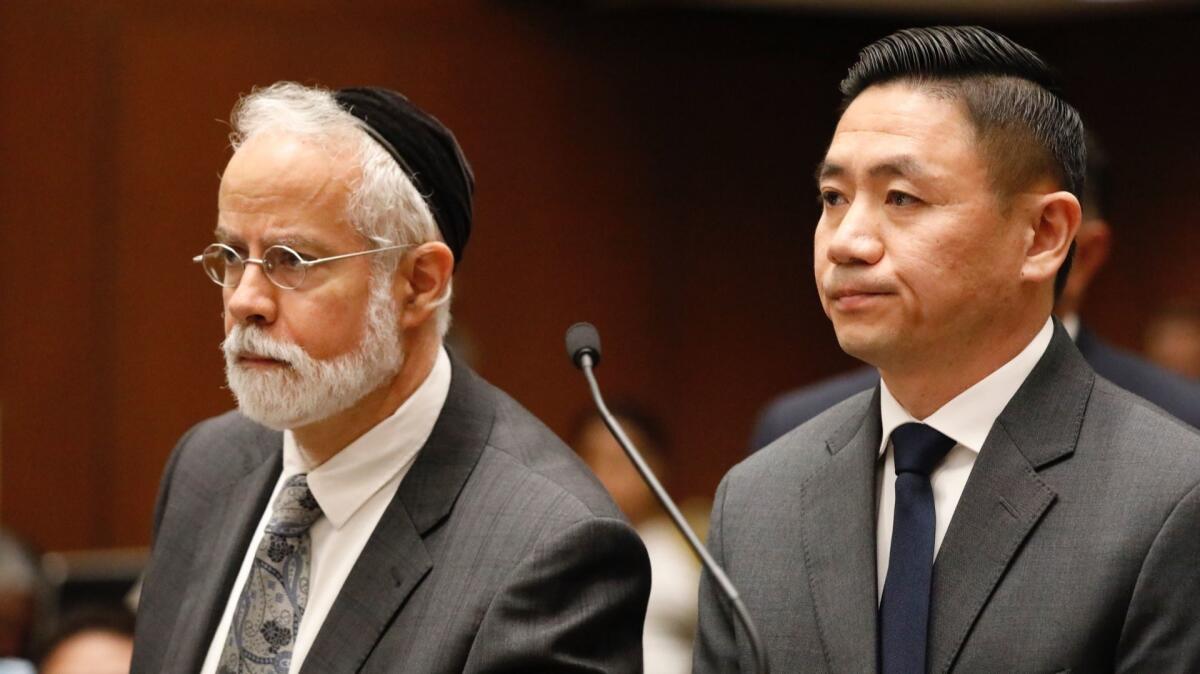 As shootings by officers go, the killing of Francisco Garcia at a Norwalk gas station in 2016 spurred little media attention or street protesting.
Authorities say Los Angeles County Sheriff's Deputy Luke Liu confronted Garcia driving a vehicle he believed may have been stolen and opened fire after the man tried to drive away.

For the record:
12:25 p.m. Dec. 12, 2018
A previous version of this article stated that Rob Saltzman is an associate law school dean at USC and a former Los Angeles Police Commission member. Saltzman is a retired associate dean at the USC law school.
Dist. Atty. Jackie Lacey decided this shooting merited extraordinary action, and Liu on Tuesday became the first Los Angeles County law enforcement officer in nearly two decades to be charged in an on-duty shooting.
Liu, 40, appeared in a downtown courtroom Tuesday and pleaded not guilty to a charge of voluntary manslaughter and to a special allegation of intentionally discharging a firearm, which caused death to the victim.
In an era of growing public awareness of police violence, Lacey has been under pressure for years to take more aggressive action against officers who use force. But she has been reluctant.
Earlier this year, Lacey decided not to charge a Los Angeles Police Department officer in the high-profile killing of a Venice homeless man even though then-Chief Charlie Beck issued an unprecedented public call for the officer to be prosecuted. The district attorney's office also rejected charges against officers in two other cases that had sparked protests and calls for justice in recent years.
A Times analysis in 2016 found that in the roughly 2,000 Southern California police shootings since 2004, only one officer had been charged. And he was acquitted.
The law is heavily weighted in favor of officers if they reasonably perceive a threat to themselves or others when they open fire — even if that belief turns out to be mistaken.
In announcing the charges against Liu, Lacey emphasized how significantly she believed the officer's actions deviated from the law.
"We believe the officer's use of deadly force was unjustified and unreasonable under the circumstances," she said. "There is an inherent danger for law enforcement officers every time they put on the uniform. We applaud their dedication and bravery to make split-second decisions in potentially life-threatening situations. But we also must hold them accountable when their conduct is unlawful."
That officers have such wide latitude to use force makes the charge brought by Lacey all the more remarkable, said Seth Stoughton, a University of South Carolina criminal law professor and former police officer.
"Police officers involved in shootings are afforded things others aren't," he said. "They get to wait to tell their story typically several days. They often get to review any video and they also get to have their union lawyer."
In weighing whether to file charges, prosecutors also have to consider that jurors overwhelmingly believe officers over other witnesses, Stoughton added.
According to prosecutors, Liu was on patrol when he approached Garcia, who was near a vehicle that Liu believed may have been stolen.
The gas station in the 10900 block of Alondra Boulevard was the site of a fatal shooting the day before.
Liu stood near the driver's side door before walking to the rear of the car, according to prosecutors. When Liu returned to the door, Garcia, 26, began driving away at approximately 5 mph, prosecutors said.
Liu drew his service weapon, ran alongside the car and fired seven shots at Garcia, who was struck four times and killed, according to prosecutors. Garcia was pronounced dead at a hospital.
A sheriff's report issued this year indicated that as Garcia pulled away, the vehicle struck Liu in both knees.
Several civilians witnessed the incident, a portion of which was captured on video.
At the time of the shooting, Sheriff's Department policy generally discouraged shooting at vehicles. A few months after Garcia's death, the department's policy was revised to say that deputies should not fire at stationary or moving vehicles unless a person in the vehicle is imminently threatening someone with deadly force using something other than the vehicle itself.
No weapons were recovered on Garcia or in the car he was driving. The case was presented by sheriff's homicide investigators to prosecutors on Jan. 31, 2017.
A statement issued by Assn. for Los Angeles Deputy Sheriffs defended Liu, saying the deputy's actions were justifiable in dealing with a person who disobeyed orders. Liu had no prior disciplinary issues, the statement said.
Michael Schwartz, Liu's attorney, said Garcia ignored his client's orders to put his hands on the wheel and drove away instead, clipping the deputy with the car. Before driving away, Schwartz said, the driver reached behind the seat. Schwartz said his client believed his life and others' lives were threatened by Garcia.
Schwartz said Liu learned only recently that he would face criminal charges.
"It came as a shock to my client and even his captain," Schwartz said, describing Liu as a quiet, hardworking, award-winning deputy.
Schwartz is experienced in defending police officers charged with crimes. In 2007, he represented Ivory John Webb Jr., a former San Bernardino County Sheriff's deputy charged with shooting an unarmed Iraq war veteran who was a passenger in a car that led authorities on a high-speed chase. Webb was acquitted.
In 2014, Schwartz defended Fullerton Police Officer Jay Cicinelli against charges of excessive force and involuntary manslaughter in the death of a homeless man, Kelly Thomas. Cicinelli and another officer were acquitted of second-degree murder in the case.
In April, the county paid $1.75 million to settle a wrongful death lawsuit brought by the family of Garcia, who worked at a moving company. The lawsuit claims Liu fired his weapon without issuing a warning that shots would be fired.
"The family is deeply gratified that prosecutors are filing charges in this case," said Kent Henderson, an attorney for Garcia's family. "The family always felt this was an unnecessary taking of their son's life. It didn't have to happen. He wasn't threatening anyone. If anything, he was driving away from [the deputy]."
Although about 1,500 officer shootings have occurred since 2000, no officers had faced prosecution since LAPD Officer Ronald Orosco was accused of shooting an unarmed motorist in the back in September 2000 during a dispute over a traffic citation. Orosco pleaded no contest to a felony charge of shooting into an occupied vehicle. The motorist survived. Orosco was sentenced to five years in prison.
Steve Cooley, who served as Los Angeles County district attorney from 2000-12, said almost every shooting he reviewed was justified, but acknowledged he had a term for cases that were highly questionable but lacked the evidence to charge the officer: "awful but lawful."
A crucial component to building public trust is seeing that officers are held accountable, said Rob Saltzman, a retired associate law school dean at USC and a former Los Angeles Police Commission member.
"It is important people have confidence in the system that police are acting constitutionally," he said.
Sheriff Alex Villanueva said the incident was a tragedy for the deputy and for Garcia's family.
He said it also highlights the need for deputies to work in pairs, when possible, because the setup tends to be safer for officers and the public. Liu was working alone.
"It points to the perils of the profession," he said.
"I sincerely doubt that five minutes prior to the incident that the deputy was intending to do something that would cause him to be charged for voluntary manslaughter."
Liu, who served with the sheriff's department for more than 10 years and was assigned to the Cerritos Station, was placed on administrative leave Monday, said agency spokeswoman Nicole Nishida
Liu's bail was set at $1.1 million and he was released after making a bond payment. If convicted, he faces a possible maximum sentence of 21 years in state prison.
Twitter: @mayalau
Twitter: @lacrimes
Twitter: @marisagerber
Sign up for Essential California for news, features and recommendations from the L.A. Times and beyond in your inbox six days a week.
You may occasionally receive promotional content from the Los Angeles Times.