102 million dead California trees 'unprecedented in our modern history,' officials say
Dead and dying trees turn to brown amid healthier green trees in El Portal on the banks of the Merced River, a few miles south of Yosemite.
(Robert Gauthier / Los Angeles Times)
The number of dead trees in California's drought-stricken forests has risen dramatically to more than 102 million in what officials described as an unparalleled ecological disaster that heightens the danger of massive wildfires and damaging erosion.
Officials said they were alarmed by the increase in dead trees, which they estimated to have risen by 36 million since the government's last survey in May. The U.S. Forest Service, which performs such surveys of forest land, said Friday that 62 million trees have died this year alone.
"The scale of die-off in California is unprecedented in our modern history," said Randy Moore, the forester for the region of the U.S. Forest Service that includes California. Trees are dying "at a rate much quicker than we thought."
Scientists say five years of drought are to blame for much of the destruction. The lack of rain has put California's trees under considerable stress, making them more susceptible to the organisms, such as beetles, that can kill them. Unusually high temperatures have added to the trees' demand for water, exacerbating an already grim situation.
The majority of the dead trees are in the southern and central Sierra Nevada region, officials said, though they warned that high mortality levels are also creeping into forests in Northern California, notably Siskiyou, Modoc, Plumas and Lassen counties.
Adrian Das, an ecologist with the U.S. Geological Survey, needs only to step outside his office in Sequoia National Park to see the extent of the damage.
"You look across the hillside on a side of the road, and you see a vast landscape of dead trees," he said. "It's pretty startling."
Das said the parts of the forest at lower elevations — about 5,000 to 6,000 feet — continue to get hit the hardest. In the higher elevations, it can sometimes appear as if there is no drought and the trees are much healthier.
"We have sugar pines here — grand trees that can live for 500 years," he said. "Everywhere you walk, through certain parts of these forests, at least half of these big guys are dead."
Although California enjoyed a wet start to the water year in Northern California, the central and southern parts of the state remain locked in what federal officials classify as "extreme" and "exceptional" drought.
"This staggering and growing number of tree deaths should be concerning for everyone," said Max Gomberg, the climate and conservation manager at the State Water Resources Control Board. "It helps us realize just how intense and extreme this drought has been — particularly for Central and Southern California."
A single year of average precipitation, which parts of the state got last year, would not end the drought or cause trees to stop dying, experts said.
Even with a historic deluge this winter, Moore said, die-off would continue for at least a year or two.
Dead trees create various hazards for Californians. For example, such trees are weak and can fall more easily than healthy trees. In October 2015, Gov. Jerry Brown declared a state of emergency and formed a tree-mortality task force to help mobilize additional resources for the safe removal of fallen and dying trees.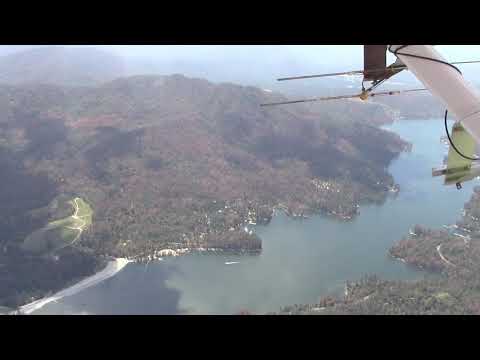 In May 2016, an aerial survey of was conducted in Placerville, near the Sacramento area.
Meanwhile, the U.S. Forest Service has reallocated $43 million in California this fiscal year to "conduct safety-focused restoration along roads, trails and recreation sites," the agency said in a statement.
Then there is the wildfire danger.
California was struck this summer by a series of deadly wildfires that destroyed hundreds of homes and forced thousands to flee. Officials at the time said some of those fires were fueled by dead trees.
When a lot of dead fuel remains on the ground, fires burn hotter and damage the soil, experts said. Whenever rain eventually arrives, the water cannot filter through the soil as easily, so it moves the top layer, creating the potential for mudslides and destroying root systems.
"Like a sheet of glass," said Scott McLean, a battalion chief with the California Department of Forestry and Fire Protection. "Where's that water going to go? Quickly downhill."
Once fires burn through the fuel on the ground, they can climb up a "ladder" of dry branches and timber until they get into the crown of the tree, McLean said. And once a fire gets to the top of a tree, it can spread quickly — hopping from tree to tree rather than winding more slowly across the ground.
The forest service said longer, hotter fire seasons are likely to continue for years to come. Officials said this and increased development in forested areas is driving up the cost of fighting fires.
Some experts, however, have questioned whether there's a correlation between high levels of dead trees and fire severity. Officials say that fire management consumed more than half of the Forest Service's budget last year.
A blaze in Monterey County this summer burned for months, making it one of the costliest fires to fight in U.S. Forest Service history.
"These dead and dying trees continue to elevate the risk of wildfire, complicate our efforts to respond safely and effectively to fires when they do occur, and pose a host of threats to life and property across California," U.S. Agriculture Secretary Tom Vilsack said in a statement.
ALSO
Man pleads not guilty to vandalizing Trump's Walk of Fame star
Border Patrol union welcomes Trump's proposed wall as a 'vital tool'
Los Angeles couple reported missing during camping trip found safe in Mexico, police say
Sign up for Essential California for news, features and recommendations from the L.A. Times and beyond in your inbox six days a week.
You may occasionally receive promotional content from the Los Angeles Times.