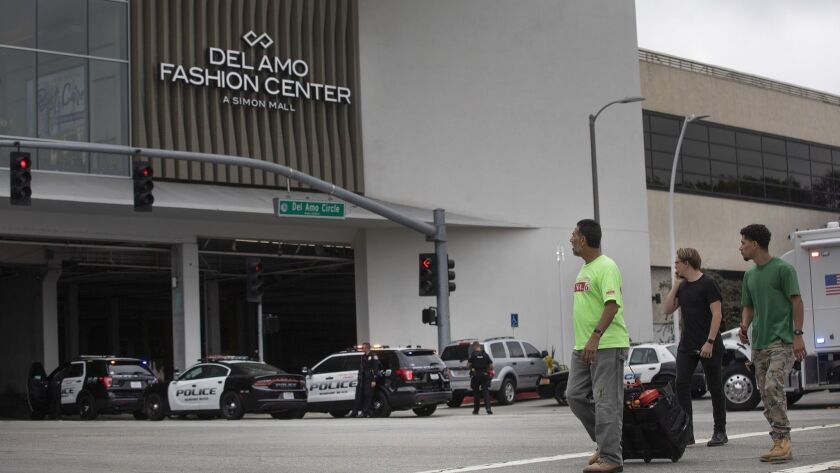 Detectives on Tuesday were still trying to identify the gunman who opened fire and wounded a person inside Del Amo Fashion Center in Torrance a day earlier.
Despite a massive manhunt that lasted well into the night, the shooter has eluded authorities. Investigators are examining surveillance video at the mall and interviewing witnesses in an effort to identify a suspect, Torrance police Sgt. Ronald Harris said.
The Torrance Police Department responded at 2:56 p.m. Monday to reports of shots fired at the large mall at 3525 Carson St. When initial reports came in, many feared it would be another mass shooting.
About an hour after heavily armed officers swarmed the mall, authorities said they were not dealing with an active shooter. Law enforcement sources said shots were fired near the mall's food court and one person was injured.
"The events leading up to the [shooting] are still under investigation," Harris said, "but it appears to be an isolated incident."
A video posted to social media showed a person bleeding on the floor of the shopping center as other mall visitors appeared to be trying to stop the blood flow. The person was taken to a hospital for treatment and was expected to survive, authorities said.
Law enforcement agencies from across the South Bay spent hours Monday clearing the mall, going store to store to check possible hiding places and escorting out shoppers and employees who had taken shelter inside during the evacuation.
A source told The Times on Monday that police believed the gunman fled or was hiding in the mall, but after an exhaustive search, authorities were unable to find him. The suspect is described by police as a 20- to 25-year-old man with a shaved head. He was wearing a black shirt and checkered shorts at the time of the shooting.
The area outside the mall had quieted by Tuesday morning as shops inside prepared to open as usual. The scene stood in stark contrast to the heavy police presence and confusion that surrounded the mall hours earlier.
Claudia Barrera, an employee at a skincare boutique, told reporters Monday she heard a loud bang before two people ran into her store to tell her there had been a shooting.
She and other employees locked the doors. About 15 minutes later, officials in SWAT gear evacuated everyone in the boutique.
"People stormed out," she said. "Less than five minutes later, the Torrance Police Department was [at] the doors."
Shana Alexander, who works at the Body Shop, said she heard one loud shot. An alarm came over the speaker system telling people to leave the mall, she said.
"Everyone started running out," Alexander said.
Times staff writers James Queally and Richard Winton contributed to this report.
Twitter: @Hannahnfry
---