L.A. school board member Ref Rodriguez is arrested on suspicion of public intoxication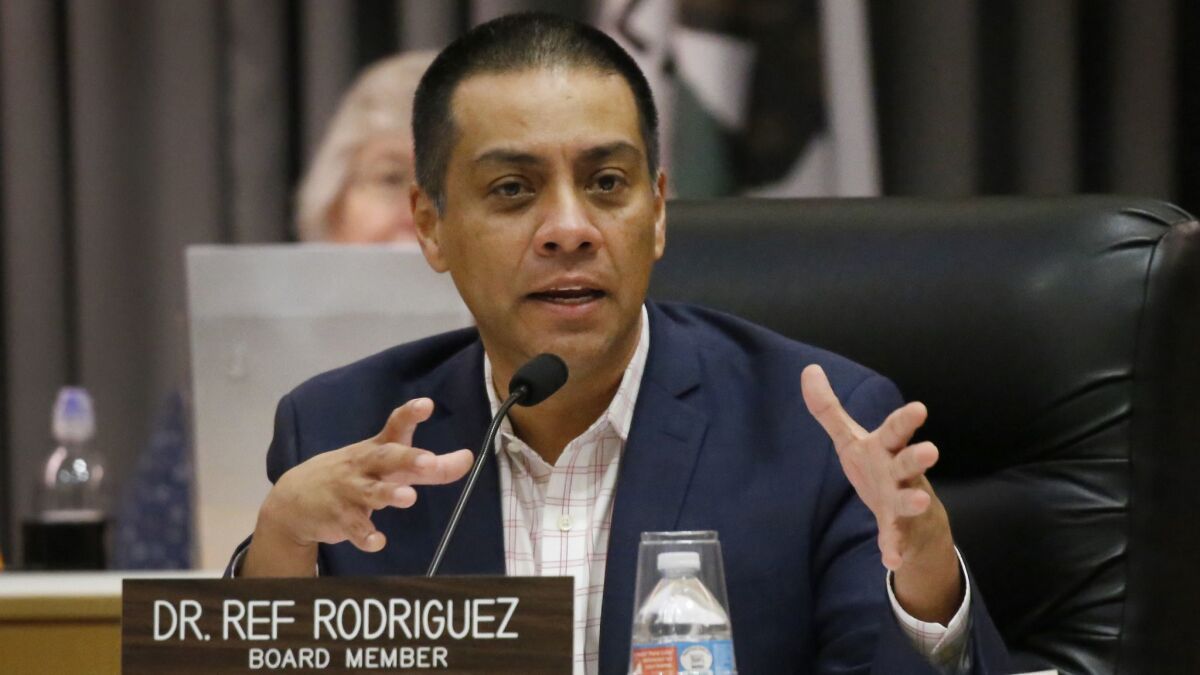 Los Angeles school board member Ref Rodriguez was arrested recently on suspicion of being drunk in public at a Pasadena restaurant, the latest trouble for an elected official who faces political money-laundering charges.
Pasadena police took Rodriguez into custody on March 16, according to city spokeswoman Lisa Derderian. Officers arrested Rodriguez at about 4:30 p.m. at the Yard House restaurant and bar at the Paseo Mall and held him in jail for more than five-and-a-half hours.
Rodriguez was ultimately released without being cited or charged, Derderian told The Times. Other details about the arrest were not available, she said.
Rodriguez, 46, acknowledged the incident in a statement to The Times.
"I was detained for being intoxicated at a restaurant and released a few hours later without further action," Rodriguez said. "According to the officers, although I was not a danger to myself or anyone else, I was simply detained for my own safety, and I was released without incident."
He added: "I want to thank the officers involved for being kind and seeing this for the non-event that it was."
Rodriguez said it was his understanding that the detention was not to be classified as an arrest.
A witness who was inside the restaurant at the time said Rodriguez had been at the eatery for about an hour when police were called. The witness, who spoke on condition of anonymity, said officers escorted the school board member outside.
"In an abundance of caution," said Rodriguez, "I am currently in counseling and have joined a support group to ensure that this does not happen again.… I realize that as a public figure I am held to a higher standard, and I take full responsibility for my actions."
The episode, while embarrassing, is not the major personal challenge facing Rodriguez.
He faces three felony charges of conspiracy, perjury and procuring and offering a false or forged instrument, as well as 25 misdemeanor counts related to allegations that he laundered political donations during his successful 2015 school-board campaign.
Prosecutors allege Rodriguez carried out a scheme in which friends and relatives donated more than $24,000 to his campaign, with the understanding that Rodriguez would reimburse them. Rodriguez allegedly broke the law by concealing the true source of the contributions.
He has pleaded not guilty.
Rodriguez stepped down as school board president after he was charged in October but did not give up his board seat. He could be forced to resign from his $125,000-a-year post if convicted. Rodriguez's next court hearing is scheduled for May 9, when his case is expected to be assigned to a trial judge.
Between now and then, a majority on the Board of Education is trying to wrap up a search for a new L.A. schools superintendent. Rodriguez's vote could prove pivotal in the decision.
Separately, his former employer alleged in a complaint filed in October with the state that Rodriguez had a conflict of interest when he signed or co-signed checks totaling more than $285,000. That employer, Partnerships to Uplift Communities, operates charter schools in Los Angeles. Rodriguez co-founded the organization.
Rodriguez said the drinking incident would not deter him from his duties.
---
The stories shaping California
Get up to speed with our Essential California newsletter, sent six days a week.
You may occasionally receive promotional content from the Los Angeles Times.