Here are the essential supplies you should keep on hand in case of a natural disaster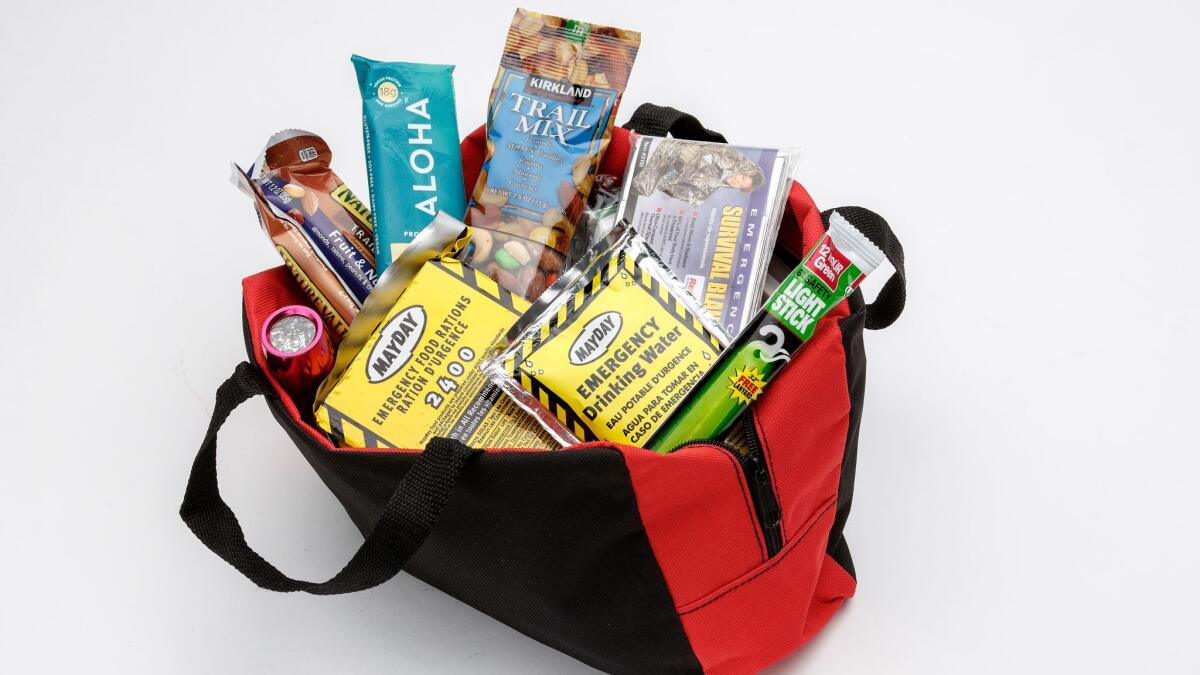 While many grocery stores have generators that allow them to remain open during a power outage, it's still a good idea to stock up on basic supplies.
Here's a suggested list:
Nonperishable food: These include canned goods (with hand-operated can opener), ready-made baby formula, not powdered or concentrate; pet food; powdered or evaporated milk; instant coffee; tea. Buy fresh fruit and vegetables just before the storm is expected.
Water-storage containers: You will need a gallon per person per day for drinking and sanitation. Food-grade plastic containers that have screw caps, such as 2-liter soda bottles, are best.
Freezer bags for making ice: Fill them with water and freeze as many as you can a few days before the storm.
Tools: Hammer and nails; ax or hatchet; crowbar; screwdrivers; pliers; a drill (battery-powered) with screwdriver bits and adapters to install bolts; extra fasteners and bolts for shutters; a knife; a handsaw; duct tape and masking tape
Cash: ATMs and credit card devices may not be working.
Flashlights: One for each family member, with extra batteries. Do not store the batteries in the flashlights from year to year.
First-aid kit: Sterile adhesive bandages in assorted sizes, scissors and tweezers. Bars of soap in their own plastic bags or waterproof containers, moist towelettes, antiseptic spray, hydrogen peroxide, rubbing alcohol, iodine, thermometer, petroleum jelly to relieve itching, aspirin, acetaminophen and antacid tablets, ointments for babies' teething.
Battery-powered radio, with extra batteries.
Charcoal or gas grill with a supply of fuel.
Plastic eating utensils to avoid using water for cleaning up.
Toilet paper: Keep it dry in plastic bags.
Prescription medicine, enough for a month.
Disposable diapers, wipes and diaper cream.
Fleshler writes for the Sun-Sentinel.
Twitter: @DavidFleshler
ALSO
Mexico got early warning before deadly earthquake struck. When will California get that system?
Houston offers a grim vision of Los Angeles after catastrophic earthquake
Op-Ed: My kids are out of college, but I still have diapers in my earthquake kit. Houston has a message for me
Sign up for Essential California for news, features and recommendations from the L.A. Times and beyond in your inbox six days a week.
You may occasionally receive promotional content from the Los Angeles Times.