FAA to change John Wayne Airport flight path over Newport Beach after noise complaints, city says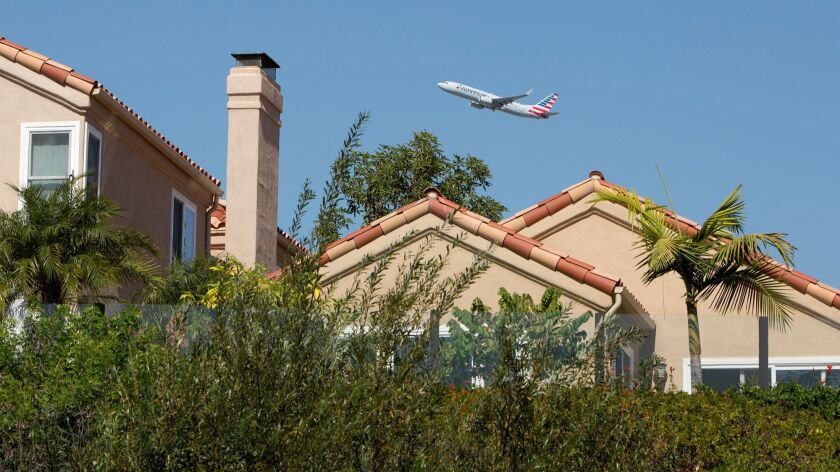 Relief could be coming soon for Newport Beach residents who live under departure flight paths from John Wayne Airport.
City Manager Dave Kiff, who works extensively with the airport and the Federal Aviation Administration, told the City Council on Tuesday that the aviation agency in October will again tweak its prescribed flight path for planes heading northwest in response to noise concerns.
He acknowledged he didn't know what next month's new path would look like, but he will be monitoring flights.
He'll also have his eyes peeled in December, when the FAA will nudge a departure path for eastbound planes and possibly implement a new path that navigates Upper Newport Bay's contours to minimize noise effects on both sides of the water.
The technology exists for the curving path, though only the newest planes have it, Kiff said. And he wasn't certain how noise levels could change.
Flight path alterations made earlier this year are part of the FAA's Southern California Metroplex project. The FAA says the new air traffic system covering the region's airports, including John Wayne in Santa Ana, will address inefficiencies, save fuel and reduce carbon emissions and flight delays.
But flight path adjustments are a source of angst for Newport Beach residents, especially those close to Upper Newport Bay, who say shifts of a few hundred feet have brought the roar from jets too close to their rooftops.
Because of a lawsuit the city filed against the FAA last year challenging the agency's environmental assessment of the Metroplex project — which concluded there would be no significant effects on surrounding communities — the FAA is willing to try the curving procedure, Kiff said.
He said the city's "most important goal" in its relations with the airport is to protect locals' quality of life.
Other objectives include protecting a longstanding agreement that caps the number of yearly passengers, sets a curfew and limits the number of the loudest flights.
Norman Myers, a physician and resident of the Bluffs neighborhood on the bay's east side, told the council that articles in medical literature connect airport noise to serious health issues, including psychological stress that can lead to high blood pressure, heart disease, heart attacks and strokes.
"All of those things are higher in people who live near airports," Myers said. "And if you come in already having those diseases and you live near an airport, especially if you're near a flight path, those diseases progress more rapidly."
He said studies also show that children's cognitive development can be impaired by airport noise.
Davis writes for Times Community News.
ALSO
Hundreds of homeless people rousted as San Diego battles hepatitis A outbreak that has killed 17
Did the D.A.'s office accidentally tip off L.A. gang member to witness' address where two people were later shot?
CBS pondering sale of historic Television City studios in Los Angeles
---
For reporting and exclusive analysis from bureau chief John Myers, get our California Politics newsletter.
You may occasionally receive promotional content from the Los Angeles Times.