Malibu campground where father fatally shot is closed down as safety precaution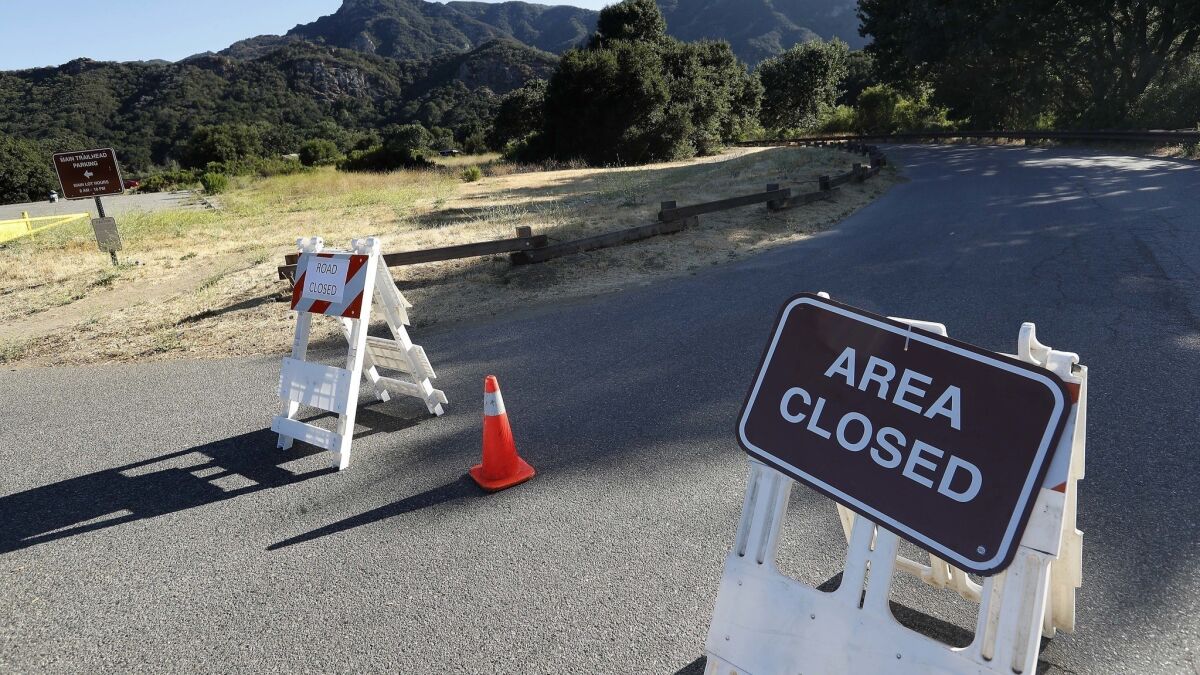 Officials on Monday closed down a campground in Malibu where a father was fatally shot inside his tent while he was camping with his young daughters.
"The safety of park visitors is our top priority," state parks officials said in a statement. "Our hearts go out to the victim and his family during this difficult time."
As they try to solve last week's shooting at Malibu Creek State Park, Los Angeles County sheriff's investigators are examining several unsolved earlier shootings in the area.
Tristan Beaudette, a renowned scientist who worked in pharmaceuticals, was camping at the state park in Calabasas just off Las Virgenes Road on Friday when he was fatally shot before dawn inside his tent where he was sleeping with his 4- and 2-year-old daughters.
Los Angeles County Sheriff Jim McDonnell said detectives are examining whether the killing is connected to prior shootings at the state park. Officials stressed that they have not found any evidence linking Beaudette's death to the other shootings.
A wildlife biologist hiking the Backbone Trail and sleeping overnight in a hammock in Tapia Park, just south of Malibu Creek State Park, was hit by bird shot from a shotgun on Nov. 3, 2016.
James Rogers told The Times that he needed surgery to remove the many pellets that struck him.
"I heard a loud bang and then felt a burning sensation in my arm and fell to the ground," he said. "Before I could look at my wound I did a quick check of the perimeter and I saw nothing."
Rogers said he did not realize the seriousness of the injury until he got to a hospital.
"I sleep with my arm up by my head, and I suspect I was shot at close range," he said.
Rogers said there had been no headway in the shooting investigation, and he offered to set up wildlife cameras to capture images of someone moving through the area. Rogers said he was not sleeping in a formal campground and was about 200 yards from Malibu Canyon Road when he was shot in his right arm.
Rogers said he fears the shooter may have refined his or her skills and be responsible for last week's killing.
"I was told by those working out there, there have been several other shootings," he said.
Meliss Tatangelo was camping in her Honda when she heard a loud noise around 5 a.m in January 2017. She and another camper did not go outside, but she later found part of an ammunition round in the back of her car where she had been sleeping. She reported the incident to authorities, she noted on her Facebook page.
She wrote that she believes a shotgun was fired about 20 feet away and if the line of fire had been an inch higher, she would have been struck as she slept.
Beaudette, an Irvine resident and a veteran of the outdoors, was camping to allow his wife, an Orange County obstetrician, some quiet time to study for an examination. Before 5 a.m., sheriff's deputies responded to a shot fired call from the area and found Beaudette bleeding. He died before he could be taken to a hospital.
Deputies with K-9s scoured the campground and surrounding trails for clues.
Los Angeles County Sheriff's Lt. Rodney Moore said investigators are sifting through evidence from the scene and that the firearm has not been found. Detectives have begun reviewing other shootings in the area but have no evidence yet that ties any prior incidents to the killing, he said.
"The theory we are working with is he was shot inside the tent," Moore said. "The children were inside the tent too."
The Beaudette family said they were trying to come to terms with the loss. The couple had been preparing to move to Northern California. A GoFund Me account has raised more than $91,000 for the family.
"We are heartbroken by the loss of our beloved friend, husband, and father, Tristan Beaudette, whose life was tragically cut short by a senseless act of gun violence while on a camping trip with his two young daughters. The grief and trauma this loss has caused our close-knit family is indescribable," the family said in a statement.
Beaudette was a scientist with numerous patents, the family said. He "loved cooking and micro-brews. Tristan was happiest out in nature and spent every chance he could hiking, biking, snowboarding and camping with his family. Married to his high school sweetheart, Tristan was a supportive and generous husband, a full partner in every sense of the word."
Campsites at Malibu Creek State Park will remain closed until further notice, officials said. Parts of the crime site remaining taped off Monday.
Twitter: @lacrimes
---
UPDATES:
5:10 p.m.: Updated with park campground closed.
2:40 p.m.: This post was updated with additional information from the Sheriff's Department.
This post was originally published at 11:45 a.m.
The stories shaping California
Get up to speed with our Essential California newsletter, sent six days a week.
You may occasionally receive promotional content from the Los Angeles Times.