Poway synagogue suspect charged with murder and hate crime allegations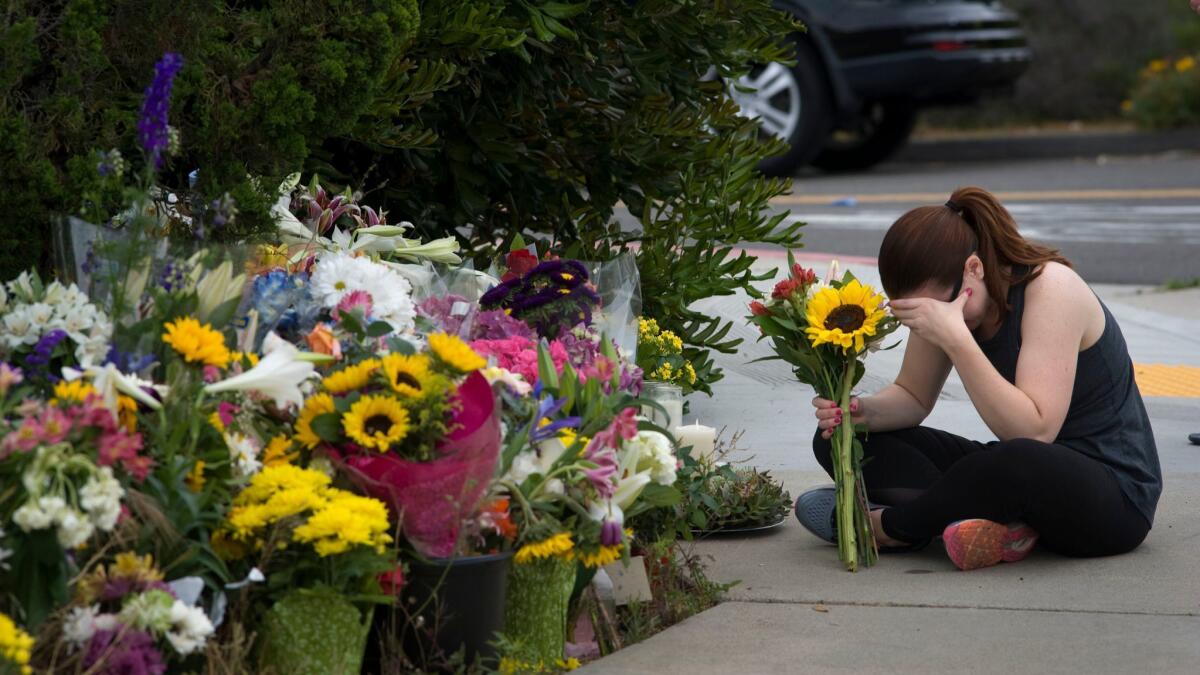 The man accused of opening fire at a Poway, Calif., synagogue was charged Monday with murder and three counts of attempted murder — all with hate crime allegations — as well as arson for a fire at an Escondido mosque.
According to the district attorney's office, John T. Earnest, 19, has been charged with one count of murder with a hate crime special circumstance and gun allegations, three counts of attempted murder with hate crime and gun allegations, and arson of a house of worship.
Earnest will be arraigned Tuesday in San Diego County Superior Court. He will be represented by the public defender's office, and attorneys there met briefly with him Monday morning.
Meanwhile, the FBI said Monday that it had received a tip about a manifesto written by Earnest minutes before he opened fire, but that it was too late to take action.
The FBI told the Associated Press that the tips included a link to a post, but didn't offer specific information about its author or the location threatened. The bureau says its employees immediately took action to identify who wrote the post, but the shooting took place before they finished.
The attack Saturday morning killed one person and injured three others, including the chabad's rabbi.
Authorities say Earnest planned his attack on the Poway synagogue for weeks, inspired by the horrific acts that preceded the Poway attack: mass shootings at a synagogue in Pittsburgh and at two mosques in New Zealand. Authorities arrested him soon after the shooting in Poway.
Earnest appears to have left a nine-page manifesto filled with racist rants and details of his personal life. The Rancho Peñasquitos resident wrote that he is a nursing student from the "depths" of California.
In the document, titled "an open letter," Earnest said he was inspired by Brenton Tarrant, the Australian white nationalist who is accused of killing 50 people in attacks on mosques in Christchurch, New Zealand, on March 15. It was the worst mass shooting in that country's modern history.
That shooting, Earnest wrote, led to his decision four weeks ago to attack the Chabad in Poway.
"How long did it take you to plan the attack? Four weeks. Four weeks ago, I decided I was doing this. Four weeks later, I did it," the manifesto said.
An anti-Semitic letter revealed the author's "disgust" for Jews and a desire to kill them. Earnest, who is white, said he was willing to sacrifice his future "for the sake of my people."
The suspect also championed Robert Bowers — who is accused of killing 11 people and wounding six more in the Tree of Life shooting in Pittsburgh six months ago — as well as Nazi leader Adolf Hitler.
He identifies himself as a man of European descent. He does not claim any political labels, but asserts that Jews seek to "doom" the white race.
In the screed, which is filled with quotes from the Bible, Earnest also appears to take credit for an arson attack at an Escondido mosque the week after the New Zealand shootings.
The Earnest family issued a statement Monday saying it was shocked by the Poway attack and that they were cooperating with investigators.
"Our sadness pales in comparison to the grief and anguish our son has caused for so many innocent people. Our son's actions were informed by people we do not know, and ideas we do not hold.
"How our son was attracted to such darkness is a terrifying mystery to us."
The San Diego Union-Tribune contributed to this report.
Sign up for Essential California for news, features and recommendations from the L.A. Times and beyond in your inbox six days a week.
You may occasionally receive promotional content from the Los Angeles Times.