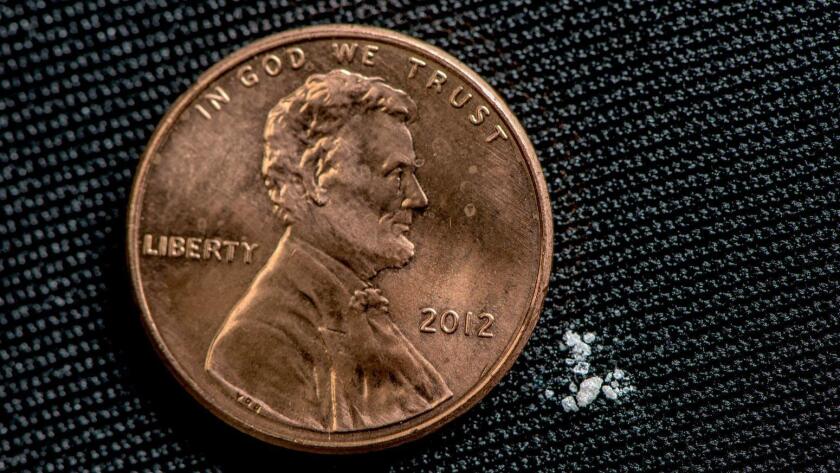 Reporting from san diego —
A 19-year-old Tijuana man was charged Monday with trying to smuggle nearly 80 pounds of fentanyl into the United States after one of the largest seizures of the deadly drug at the border with Mexico, authorities said.
Flavio Rivera Davalos tried to cross the border at the San Ysidro Port of Entry about 9:30 a.m. Saturday, according to court documents and the San Diego U.S. attorney's office. Customs and Border Protection officers searched Davalos' 2010 Ford Focus after a drug-sniffing dog reacted to the rear of the car.
During the search, officers found 31 packages of fentanyl hidden throughout the car — in the quarter panels, rear seats, firewall and a speaker box, prosecutors said. The drug load weighed about 77 pounds in total.
Authorities say that even trace amounts of fentanyl can be lethal. It is often disguised as other medications or mixed with heroin.
Fentanyl-related deaths in San Diego County have been on the rise since 2012, according to data from the county medical examiner's office.
In June, officers at the San Ysidro Port of Entry intercepted a shipment of more than 66 pounds of fentanyl, a record for the U.S.-Mexico border at the time.
Davalos has a detention hearing set for Thursday.
Hernandez writes for the San Diego Union-Tribune.
ALSO
Trump wants to hire 5,000 more Border Patrol agents. Here's how the agency plans to fill those jobs
L.A. agrees to pay nearly $300,000 to settle case of woman who died in LAPD jail cell
Thousands freed from L.A. gang injunctions that controlled their movements, friendships, even dress choices
---