Mendocino fire becomes biggest in modern California history as weary firefighters brace for more
The erratic conflagration has chewed through more than 273,000 acres and 68 homes in 10 days, making it the second-largest wildfire on record in California.
Reporting from REDDING, Calif. —
It's day 11 for Omar Estorga on the front lines of California's firestorm.
Some nights, the captain and his crew have slept — sitting up — in the seats of their fire engine as the Carr fire raged. Other nights, they've stayed at the base camp in Shasta County. On their days off, they've snagged dorm rooms at Shasta College or, if they're lucky, a hotel room when another fire crew has checked out.
As some 14,000 firefighters wrap up their second week battling more than a dozen destructive wildfires across the state, fatigue is setting but the fires show few signs of letting up.
To the south, the sprawling Mendocino Complex inferno on Monday became the largest fire ever recorded in California, burning more than 283,000 acres in just 11 days. The Ferguson fire has closed parts of Yosemite National Park indefinitely. Large swaths of the Sacramento Valley have been choked by smoke for days.
While the Carr fire in Redding is easing after destroying more than 1,000 homes and killing seven people, new fires brought threats elsewhere. In the Cleveland National Forest, a fire exploded amid hot conditions in Southern California, quickly burning 4,000 acres and creating ominous smoke visible as far away as Avalon on Catalina Island. And in Stanislaus National Forest, a fast-moving fire burned down the historic Dardanelle Resort, which had stood for nearly 100 years.
For Estorga, the conditions mean he can't tell his family when he's coming home.
"We can't give them a day we're going to see them because we have no idea," said Estorga, a captain with the Los Angeles County Fire Department who made the 10-plus hour drive to Redding on July 28. "We belong to state for 21 days ... They could possibly call us to go to the Mendocino fire or any new fire that breaks out between us and home."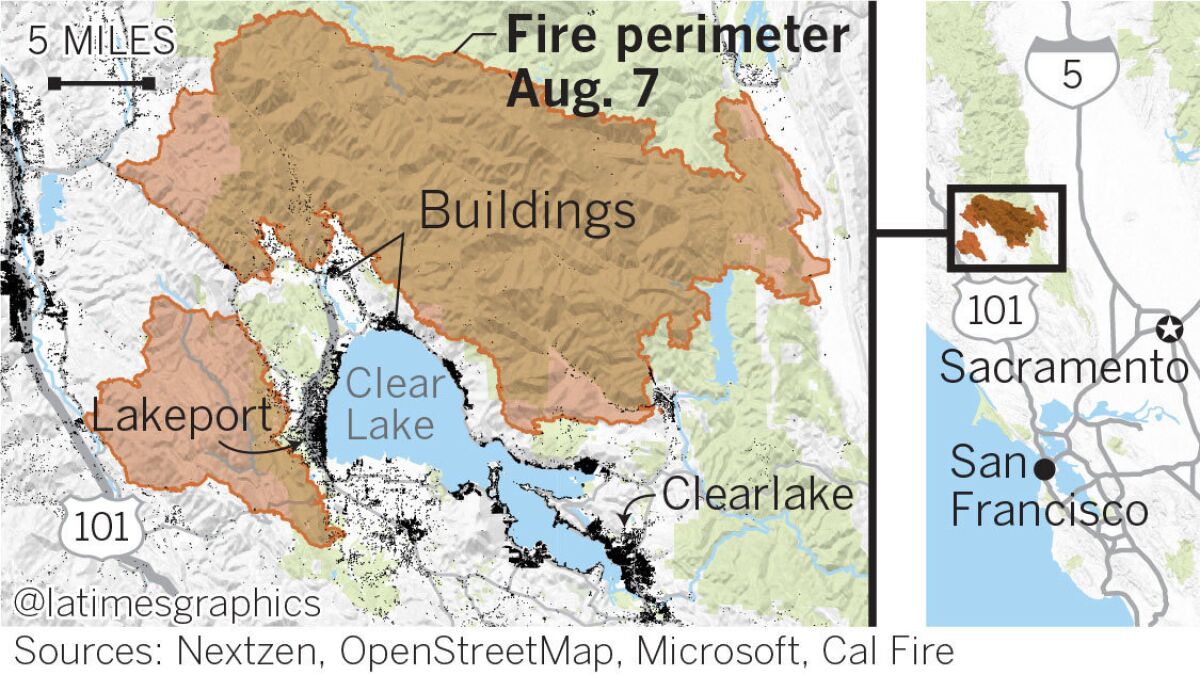 It's been that kind of year on the California fire lines. Since October, the state has experienced unprecedented devastation as fires burned thousands of homes and killed more than 40 people in wine country. Two months later, the Thomas fire in Santa Barbara and Ventura counties became the largest fire in recorded state history.
But that record was shattered in just eight months, as a pair of fires burning on both sides of Clear Lake raced into the record books, fueled by extreme heat and bone-dry vegetation. Of the five largest wildfires in modern state history, four have occurred since 2012.
"It's been pretty crazy — they're calling this the new norm," Estorga said. "In years past, there were one or two big fires a year. Now they're doing three to four huge fires in a week."
Full coverage: California's summer siege of wildfires »
The Ranch and River fires, which at 235,000 and 48,800 acres make up the stubborn complex fire, have frustrated firefighters as flames continue to leap across creeks, roads and bulldozer-cut fire lines. While the two blazes have not touched, they broke out an hour apart and fire officials have been treating them as one event.
Years of drought have created ripe conditions for large-scale wildfires that spread rapidly. The complex was only 30% contained by Monday night. If there were any silver lining, the Mendocino Complex fire is burning mostly in forest areas in three counties and largely away from communities. Fewer than 100 homes have been destroyed, and there have been no reported fatalities.
The Carr fire, where Estorga is stationed, has caused far more damage but is finally slowing down. Firefighters increased containment to 47% by Monday night. The blaze chewed through about 1,200 more acres Monday as crews continued to build up containment lines. That fire has proved to be the deadliest in the state this year, claiming the lives of four residents, a Redding firefighter, a private bulldozer operator and a Pacific Gas & Electric utility worker.
Rescue crews there have been repeatedly hamstrung by intense heat and difficult terrain. The fire jumped the Sacramento River more than a week ago and raced into subdivisions in western Redding. Officials said Monday that shifting winds, steep canyons and rocky terrain on the fire's northern edge along the Shasta and Trinity county border have made it difficult to attack the flames on the ground.
Bulldozers have scraped in defensive lines miles to the north and east, far from the fire's edge. With Trinity Lake providing a natural barrier that has slowed the fire's advance to the northwest, crews will spend the next several days tightening that perimeter until they find a position to make a final stand, officials said.
While winds will be lighter over the next several days, firefighters are still facing blistering temperatures and bone-dry, smoky conditions.
"The two kind of work against each other a little bit," said Robert Baruffaldi, a meteorologist with the National Weather Service in Sacramento.
During the first few days battling the Carr fire, Estorga said he couldn't see the sun as he and his team sifted through the devastation, logging addresses of destroyed homes while looking for bodies in the rubble. More recently, he's been digging out smoldering tree roots and cooling them — and other hot spots — with water.
Estorga and his crew members carry about 30 pounds of equipment each, plus a shovel or Pulaski hand tool, when hiking and hunting for hot spots in the searing heat.
In a strikingly ignorant tweet, Trump gets almost everything about California wildfires wrong »
"We're constantly sweating, we're constantly drinking water and Gatorade to try to hydrate ourselves," Estorga said. "The problem is the terrain — it's never a nice, mild climb. It's usually pretty steep."
Fire officials are also concerned about the growth of the Donnell fire, which has scorched more than 11,000 acres since it ignited last week in the Stanislaus National Forest. The fire began along the Stanislaus River and has triggered mandatory evacuations, but like several other blazes around the state, the fire is in steep terrain that has made containment efforts difficult, according to a news release issued by the U.S. Forest Service. The blaze was only 2% contained as of Monday.
As the fires raged in Northern California, meteorologists issued red flag warnings in the Los Angeles area, where temperatures will reach the triple digits in several neighborhoods and cities this week.
Woodland Hills could see a high of 108, while Santa Clarita and Burbank could all see the mercury rise above 100 before Tuesday, according to the National Weather Service. Farther north, other cities that could experience triple-digit heat are Ojai in Ventura County and Paso Robles in San Luis Obispo County.
alene.tchekmedyian@latimes.com | Twitter: @AleneTchek
james.queally@latimes | Twitter: @JamesQueallyLAT
joseph.serna@latimes.com | Twitter: @JosephSerna
The stories shaping California
Get up to speed with our Essential California newsletter, sent six days a week.
You may occasionally receive promotional content from the Los Angeles Times.