Fountain Valley, with aid from Rep. Dana Rohrabacher, backs federal lawsuit against 'sanctuary' laws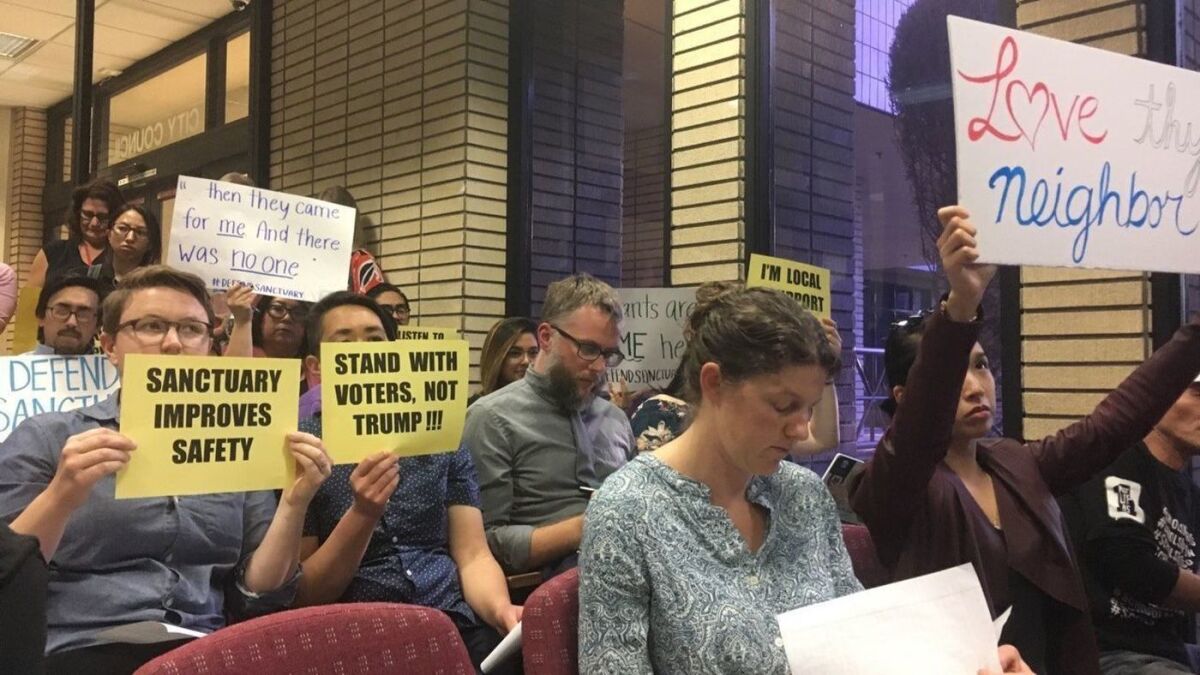 The Fountain Valley City Council on Tuesday overcame a reluctance to spend public funds on joining the growing Orange County movement against California's so-called sanctuary immigration laws, voting to file a court brief supporting a federal lawsuit after Rep. Dana Rohrabacher (R-Costa Mesa) offered to foot the bill.
During a Tuesday night meeting, Councilwoman Cheryl Brothers said any action to fight the state laws would be "purely symbolic."
Brothers said it cost the city $3,000 in legal time just to get the item on the agenda and that a brief would cost about $5,000 to $6,000 more. She said such an expenditure would be unwise, given Fountain Valley's recent tight budgets.
Mayor Pro Tem Steve Nagel said he opposes the sanctuary laws, but added, "I also have made a pledge to the residents of Fountain Valley to only spend our money wisely. I'm not sure if this is a wise move to get into lawsuits."
Rohrabacher, however, appeared at the speaker's microphone to try to persuade the council to do just that. If money is an issue, he said, he would help raise it or would donate some of his own funds.
"Criminals that come here illegally do not deserve the type of protection that this law says," said Rohrabacher. "On top of it, the Constitution of the United States has been established to protect ordinary Americans."
The sanctuary laws, which expand protections for people in the country illegally, include a mandate that in many cases prohibits state and local police agencies from notifying federal officials when immigrants in their custody who may be subject to deportation are about to be released.
The vocal crowd at the Fountain Valley meeting spent much of Tuesday night volleying one-liners, shushing one another and urging speakers to sit down after their allotted time was up.
With the offer to cover the city's lawyers' fees, Jessica Runfola said, there was no longer an issue.
"This is all about morals now and what's right," she said. "Rule of law of our Constitution? That's what's right. That's what you guys need to be supporting."
But some sanctuary supporters referred to the anti-illegal immigration sentiment expressed at the meeting as racism.
After about three hours of discussion, Brothers moved to take no action. "We can't resolve any of this issue here locally," she said.
Mayor Michael Vo supported her, but council members Nagel, Larry Crandall and John Collins did not.
Crandall said he wanted the city to accept the offer of outside funding so Fountain Valley can go on record as supporting federal law.
"The federal law trumps — supersedes — state law, and we don't have any other choice but to do that," Crandall said.
The council voted 3-2 to move forward.
The city has until Friday to file.
The stories shaping California
Get up to speed with our Essential California newsletter, sent six days a week.
You may occasionally receive promotional content from the Los Angeles Times.