As a young cop, Golden State Killer suspect was aloof, ambitious, 'always serious'
Reporting from Visalia, Calif. —
In the mid-1970s, the police department in the Central Valley farm town of Exeter was small, with fewer than 10 officers patrolling what was a population of about 5,000.
One officer was Joseph DeAngelo, who arrived in 1973. He worked there for three years, known for his professionalism and ambition in the field and his aloof, cool nature to his colleagues.
For the record:
5:50 a.m. May 1, 2018A caption in an earlier version of this article identified a police sketch as being part of the East Bay Rapist case. It was part of the Original Night Stalker investigation.
"He was just over-educated for the small department of Exeter. He just knew anything you wanted to talk about," said Farrel Ward, who worked in the department for 30 years. "I think he had a bachelor's degree, all kinds of training. He didn't fit in with the other guys. We liked to joke and screw around and take the stress off of what we were doing. He was always serious."
Ward said he had forgotten about DeAngelo until last week, when he was named as the suspect in one of California's most notorious spates of serial killings. Authorities allege DeAngelo was the Golden State Killer, who in the 1970s and 1980s is believed to have killed at least 12 people and raped at least 46 in a cycle of terror that stretched from Sacramento to Orange County.
In the four-decade hunt for the killer, there was much speculation that he might be a police officer. Investigators marveled at how he was able to elude capture, hiding in backyards and behind bushes as the police arrived. They said the killer seemed to understand the way police were looking for him, and some victims said he had the demeanor of a cop or military man.
But Ward and others who worked with DeAngelo during his law enforcement days said they were stunned that he is now an accused serial killer.
After his time in Exeter, DeAngelo moved north to the Auburn Police Department, near Sacramento. He served three years before being fired for shoplifting dog repellent and a hammer from a hardware store. His time in both communities coincided with attacks that authorities now attribute to DeAngelo. But colleagues in Auburn also say they can't square the man they knew with the Golden State Killer.
Larry Pool, a retired Orange County Sheriff's detective who led that county's probe into four slayings there attributed to the killer, said DeAngelo was not in a databank of 8,000 names of potential suspects investigators had culled over the years. But it did not surprise him that the suspect turned out to have law enforcement and military training.
"I don't think this guy was really ever a cop," said Pool, now a senior investigator in the Riverside County district attorney's office. "He used that to further what he really did."
Juggling a career as a cop with his attacks took a certain level of finesse.
"I don't know how he ever slept," Pool said. "He was always casing houses. He'd sever phone lines, turn off air conditioners so he could hear every sound."
Like many police officers of his generation, DeAngelo entered law enforcement after military service. He completed combat operations off the North Vietnam coast for the Navy, and afterward went to Sierra College and Cal State Sacramento, where he earned a bachelor's degree in criminal justice. He met his wife there, and they married in 1973.
That year, he moved to Exeter, located east of Visalia near the Sierra Nevada foothills leading into Sequoia National Forest.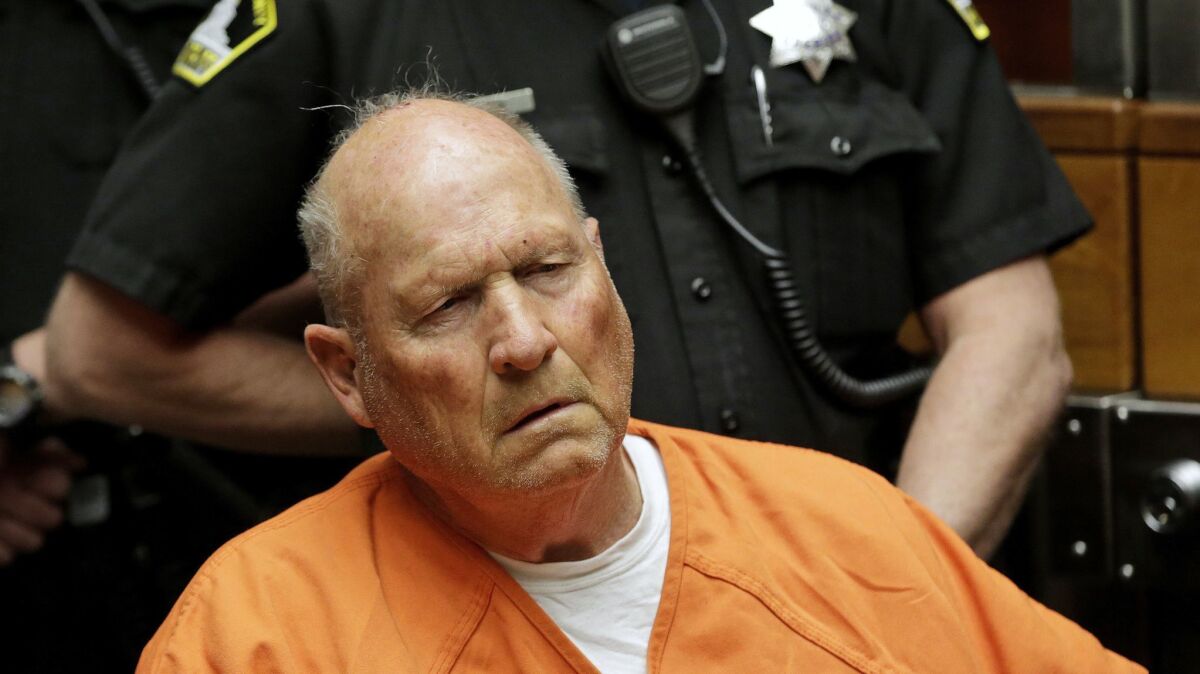 The officers there considered themselves a family, and DeAngelo, who was 27 or 28 when he joined the department, stood apart, Ward said.
Sometimes during slow periods on a shift, Exeter police officers would radio to each other to meet up in a place where they could shoot the breeze until they had a place to go.
Ward said he'd do that with DeAngelo, but the conversations were mostly one-sided and strained.
"I liked him, but he's not the type of guy that I'd have over for a barbecue. He's just … stand-offish. Too serious. Seems like he's always thinking," Ward said.
DeAngelo had a good rapport with the public and treated them well, Ward said. But he never revealed personal details. Ward didn't even know where DeAngelo came from before arriving in Exeter. He did say that he had to put in his time in the small department so he could move higher in law enforcement. He wanted to go on to "bigger and better things," Ward recalled.
He jokingly suggested that DeAngelo consider the FBI, Ward said.
Even after DeAngelo's arrest, Ward said, nothing about their interactions had appeared odd or sinister.
"I couldn't believe it. I was devastated. At first I thought it was someone with the same name. 'It can't be the same guy,' " he said. "I worked side by side with that guy. I could've been one of his victims, really easily.
"It's kind of scary."
Authorities believe DeAngelo was responsible for several attack sequences in different parts of the state that were given names: the Golden State Killer, East Area Rapist and Original Night Stalker, as well as the Visalia Ransacker, who hit during the time DeAngelo was in Exeter.
In 1975, a masked man woke up the teenage daughter of Claude Snelling, a local journalism professor, and attempted to kidnap her. Snelling interrupted the abduction and was fatally shot by the assailant, who escaped without the girl.
A week later, police had beefed up their presence in the neighborhood, expecting that Snelling's killer would try to strike again. He did, and police had him cornered in a resident's backyard, Ward said.
An officer trained his flashlight on the man, who shot it out, hopped a fence and escaped.
Ward and officers from neighboring departments with police dogs swarmed the area.
"He just disappeared into thin air. He was good," Ward said.
DeAngelo was fired from the Auburn department in 1979 after he was caught shoplifting dog repellent and a hammer.
"He violated the trust of the people, and it was clear from our investigation he'd committed a theft. And there's no room in law enforcement for someone who steals," Nick Willick, former chief of the Auburn Police Department, said in an interview with Fox 40 in Sacramento.
But like others, Willick said there was nothing in DeAngelo's background that suggested he was a serial killer. In a strange way, the theft even made sense.
"Law enforcement would carry dog repellent too because, like a mailman, officers go to doors and dogs chase after them. So it wasn't anything that sent up a red flag," he said.
It's hard not to look back at DeAngelo's years in Exeter now and see clues and curiosities.
An edition of the Exeter Sun quoted him as speaking about the importance of law and order. Without it, the newspaper said, "there can be no government and without a democratic government there can be no freedom…. Law enforcement is his career, he says, and his job is serving the community."
A Visalia Times-Delta story reported how DeAngelo and other officers were part of a new burglary task formed in 1976. The police reported a 15% decline in burglaries six months after the program started.
For Pool, who tracked the Golden State Killer for years, the conclusions are obvious.
"He was always a wolf in sheep's clothing," he said.
Parvini reported from Visalia, Serna and Winton from Los Angeles. Times staff writer Paige St. John in Sacramento contributed to this report.
joseph.serna@latimes.com | Twitter: @JosephSerna
richard.winton@latimes.com | Twitter: @LAcrimes
sarah.parvini@latimes.com | Twitter: @sarahparvini
---
The stories shaping California
Get up to speed with our Essential California newsletter, sent six days a week.
You may occasionally receive promotional content from the Los Angeles Times.