Authorities identify man killed in car-to-car shooting in Hawthorne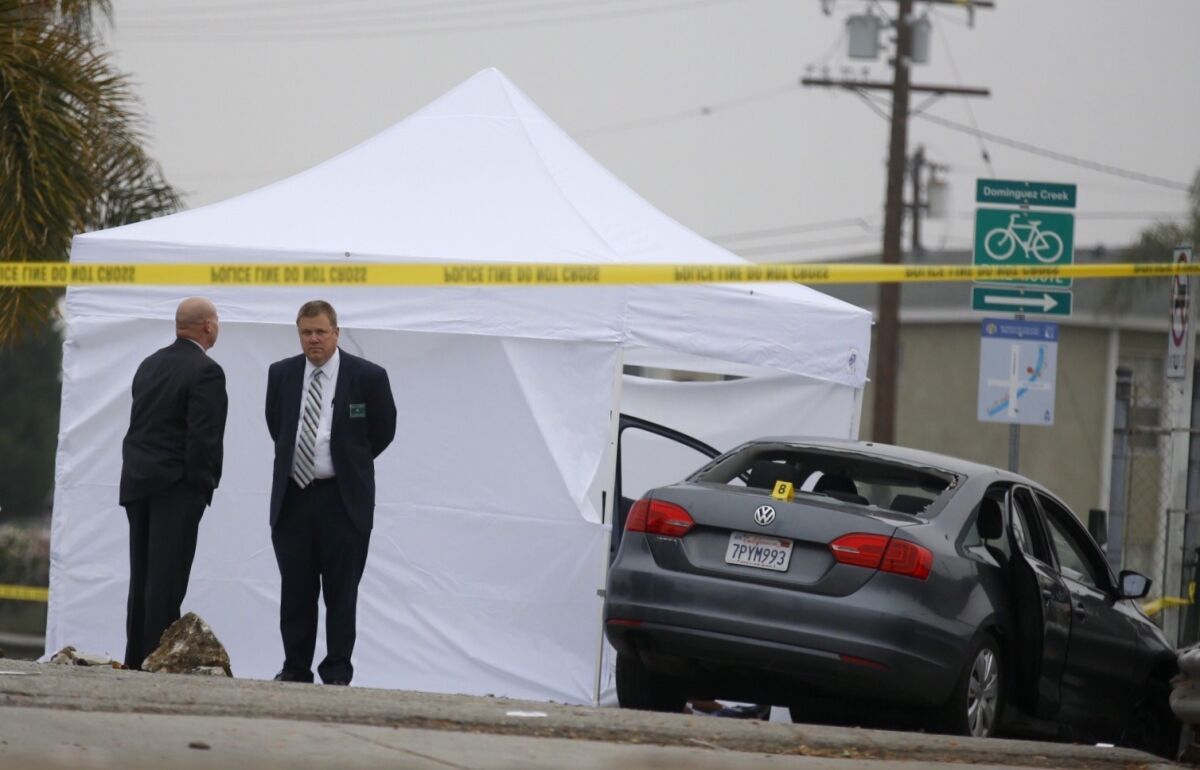 Authorities are continuing to search for the assailants in a car-to-car shooting in Hawthorne early Sunday that left one man dead and two others wounded.
The three men and one woman were returning home after a church function in Torrance when a dark-colored sedan pulled up and opened fire on the victims' Volkswagen Jetta about 2:15 a.m., Los Angeles County sheriff's officials said.
The driver of the Jetta, identified by the L.A. County coroner's department as William Fifita, 20, of Adelanto, was pronounced dead at the scene, authorities said. The two male passengers were also struck in the upper torso and taken to a hospital. Their condition was not immediately known.
The female passenger was not hit, authorities said.
The group had been traveling east on Rosecrans Avenue and were about to make a left onto Crenshaw Boulevard when the sedan pulled alongside and fired multiple shots, said Sheriff's Lt. Steve Jauch. The sedan then fled east on Rosecrans.
Family and friends gathered around the crime scene at the usually busy intersection Sunday morning. They watched from across the street as the deceased man's parents spoke to investigators near the gray Jetta, which had crashed into a guardrail overlooking the Dominguez Channel.
Fifita's car remained in the parking lot outside the Lucky Star Cafe, its windows completely blown out, until it was towed shortly after 11 a.m.
The shooting occurred near the border between Gardena and Hawthorne. Mourners placed votive candles, with images of St. Jude and the Virgin Mary, on a large concrete sign that read, "Thank you for visiting Gardena."
Interested in the stories shaping California? Sign up for the free Essential California newsletter >>
Fifita, who was a member of the Church of Jesus Christ of Latter-day Saints, had recently completed two years of missionary service that is often undertaken by young parishioners, a relative said.
He grew up mostly in Adelanto and graduated from Silverado High School in Victorville, according to a website set up to raise money for Fifita's funeral expenses.
"He's a good boy," said a man who identified himself as the victim's uncle by marriage. "It was a shock for everybody."
Fifita had attended a dance for young Latter-day Saints members in Torrance earlier in the evening, the man said. He and the others in the Jetta had eaten dinner afterward and appeared to be heading for the freeway to return to San Bernardino County when the shooting occurred.
"Good people die like this, sometimes you wonder and ask why," said another man, who declined to be identified other than as a family member.
A man who said he was the driver's father declined to give his name Sunday morning, citing the investigation and fears of reprisal.
"Just trying to prevent anything else from happening," he said.
Authorities said they have no description of the assailants, and it's not known whether the incident was gang-related.
"Anything's possible; we just do not know the motive," Jauch said. It's also unclear how many people were in the shooter's car, he said.

Times staff writers Gale Holland and Matt Hamilton and photographer Francine Orr contributed to this report.
ALSO
What's drawing millennials to downtown L.A.'s Broad museum
Hulk Hogan verdict raises crucial privacy issues in the digital age
Santa Monica firm says it has found a way to salt away electricity, literally
The stories shaping California
Get up to speed with our Essential California newsletter, sent six days a week.
You may occasionally receive promotional content from the Los Angeles Times.