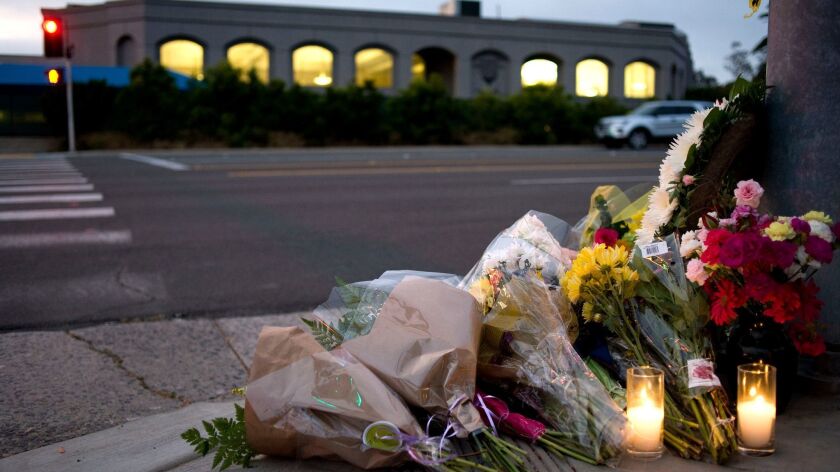 As John T. Earnest was charged in the Poway synagogue attack Monday, a clearer portrait began to emerge of a troubled 19-year-old consumed by hate.
"To our great shame, he is now part of the history of evil that has been perpetrated on Jewish people for centuries," the man's family said in an open letter. "How our son was attracted to such darkness is a terrifying mystery to us."
Earnest has been charged with one count of murder with a hate-crime special circumstance and gun allegations, three counts of attempted murder with hate-crime and gun allegations and arson of a house of worship.
Rabbi wounded in synagogue attack becomes global messenger of faith »
Here is what we know from reporting in the Los Angeles Times and the San Diego Union-Tribune:
Suspect trained at health system where victim's husband is a doctor
Earnest briefly trained at a Scripps hospital, according to a memo sent Monday to all staff by the health system's chief executive officer.
In a passionate email to all staff and physicians, Chris Van Gorder, Scripps Health's president and CEO, expressed rage at the violence visited on the wife of one of his colleagues.
"My rage only got worse once I learned the shooter was a nursing student who had performed some of his clinical training at a Scripps hospital," Van Gorder said. "How can anyone who is training or has been trained to save lives take the life of another — because of hate?"
While he did not address Earnest by name, Van Gorder did say Monday that the man performed some of his nursing clinical work at Scripps Memorial Hospital Encinitas.
Janice Collins, senior director of media relations at Scripps Health, said in an email that Earnest's time at the facility was short.
"Like all nursing students at the beginning of their studies, he trained at the hospital for short amounts of time as part of his introduction to health care," Collins said in an email. "We don't have any observations regarding his performance. A nursing student's college instructor is the best person to offer those insights."
Anti-Semitic assaults tripled in 2018, says a new Anti-Defamation League report »
Meanwhile, Scripps was in the process of coping with the slaying of Lori Gilbert-Kaye, the wife of Dr. Howard Kaye, a respected clinician who practices in Scripps Coastal Medical Group's Vista office.
The attack Saturday morning killed Gilbert-Kaye, 60, and injured three others, including the Poway synagogue's rabbi.
Hate manifesto at the center of the case
Authorities say Earnest planned his attack on the Poway synagogue for weeks, inspired by horrific acts that preceded it: mass shootings at a synagogue in Pittsburgh and at two mosques in New Zealand. Authorities arrested Earnest soon after the shooting in Poway.
Earnest appears to have left a nine-page manifesto filled with racist rants and details of his personal life. The Rancho Peñasquitos resident wrote that he is a nursing student from the "depths" of California.
In the document titled "an open letter," Earnest allegedly said he was inspired by Brenton Tarrant, the Australian white nationalist who is accused of killing 50 people in attacks on mosques in Christchurch, New Zealand, on March 15. It was the worst mass shooting in that country's modern history.
That shooting, the author wrote, led to his decision a month ago to attack the Chabad in Poway.
"How long did it take you to plan the attack? Four weeks. Four weeks ago, I decided I was doing this. Four weeks later, I did it," the manifesto said.
An anti-Semitic letter revealed the author's "disgust" for Jews and a desire to kill them. Earnest, who is white, said he was willing to sacrifice his future "for the sake of my people."
The suspect also championed Robert Bowers — who is accused of killing 11 people and wounding six more in the Tree of Life synagogue shooting in Pittsburgh six months ago — as well as Nazi leader Adolf Hitler.
He identifies himself as a man of European descent. He does not claim any political labels, but asserts that Jews seek to "doom" the white race.
In the screed, which is filled with quotes from the Bible, Earnest also appears to take credit for an arson attack at an Escondido mosque the week after the New Zealand shootings.
The FBI said Monday that it had received a tip about the manifesto minutes before the Poway attack, but that it was too late to take action.
Federal authorities said the tip included a link to a post but didn't offer specific information about its author or the location threatened. The bureau says its employees immediately took action to identify who wrote the post, but the shooting took place before they finished.
Earnest family: Son now part of 'history of evil'
The Earnest family issued a statement Monday saying that they were shocked by the Poway attack and that they were cooperating with investigators.
Here is the full statement:
"We are shocked and deeply saddened by the terrible attack on the Chabad of Poway synagogue. But our sadness pales in comparison to the grief and anguish our son has caused for so many innocent people. He has killed and injured the faithful who were gathered in a sacred place on a sacred day. To our great shame, he is now part of the history of evil that has been perpetrated on Jewish people for centuries.
"Our son's actions were informed by people we do not know, and ideas we do not hold. Like our other five children, he was raised in a family, a faith, and a community that all rejected hate and taught that love must be the motive for everything we do. How our son was attracted to such darkness is a terrifying mystery to us, though we are confident that law enforcement will uncover many details of the path that he took to this evil and despicable act. To that end, our family is cooperating with investigators. We ask only that the media and the public respect our privacy and allow the criminal justice system to work.
"Our heavy hearts will forever go out to the victims and survivors. Our thanks go to the first responders who prevented even greater loss of life and the well-wishers who have supported us. And we pray for peace."
A voice of hope emerges
Hours after leaving the hospital, his own wounded hands wrapped in blue bandages, Rabbi Yisroel Goldstein steeled himself to face the national media, delivering an emotional recitation of the tragedy.
His message from the shooting, intimately bound as it is to the message of Chabad-Lubavitch, is that heroism is needed to find the light.
"The heroism is standing up to evil, standing up to darkness," he said. "We can't just be a bystander; we need to be an activist and get out there and be a hero. And light pushes away darkness."
---