A state official overseeing Koreatown bars was on the take for years, prosecutors say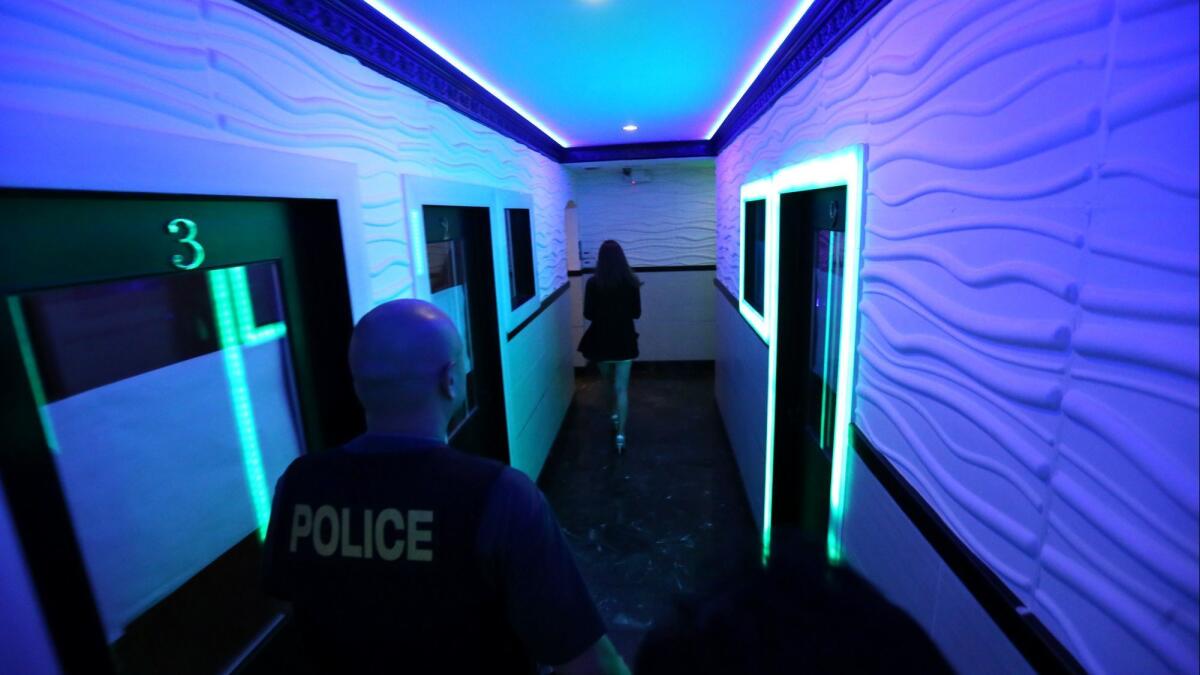 A California official who enforced the state's liquor laws in Koreatown schemed with a businessman to shake down karaoke bar owners as part of a brazen ploy that went on for years, federal prosecutors alleged Friday.
Wilbur M. Salao, 46, and Scott Seo, 49, appeared in court this week on an array of federal crimes stemming from the fraud allegations. Both men pleaded not guilty and were released on bond, the U.S. Attorney's Office said in a statement.
The alleged con was detailed in a 26-page indictment handed down by a grand jury last month and unsealed this week.
Salao, a long time employee of the California Department of Alcoholic Beverage Control, awarded valuable liquor licenses, directed investigations and meted out punishments to bar owners in Los Angeles' Koreatown for several years until he left the agency in 2017, the indictment said.
According to prosecutors, Salao accepted more than $28,000 in bribes and kickbacks from Seo, a former ABC employee who owned a consulting business that targeted Koreatown bars that needed help navigating the state's stringent liquor laws and licensing requirements.
In exchange for the money, Salao allegedly took his cues from Seo on which karaoke bars and other businesses should be targeted for raids and investigations. Once they were in ABC's crosshairs, Seo would offer to help bar owners resolve their problems for a fee, according to the indictment.
Seo's attorney, Stanley L. Friedman, declined to comment. A lawyer for Salao could not be reached.
As part of the scam, Salao would expedite license applications for Seo's clients and delay those of owners who refused to work with the consultant, the indictment said. He also tipped off Seo when Los Angeles police officers were conducting undercover operations at Koreatown bars, prosecutors alleged. He once sent Seo a photo of an undercover LAPD officer, prosecutors said, so Seo could warn his clients to keep an eye out for him.
"We will not tolerate the shakedown of local businesses by corrupt public officials and their cohorts," said U.S. Atty. Nick Hanna. "All businesses subject to enforcement and licensing requirements should be able to play on the same level field."
The men's dealings involved at least eight businesses in Koreatown, according to the indictment.
One was a bar ABC officers raided in 2011. Afterward, Seo allegedly charged the owners $60,000 to help them avoid losing their liquor license, which is required to serve alcohol. Prosecutors said Seo used some of the money to pay off Salao, who issued a temporary license that allowed the establishment to continue operating.
In text messages included in the indictment, Seo and Salao openly discussed their scheme, referring to it as "Asian Persuasion Control" and "Asian Persuasion Coalition."
Some karaoke bars and clubs in Koreatown are often cited for, among other violations, serving liquor after the legal last call at 2 a.m., serving minors and exploiting doumi — for-hire women who are paid by bar patrons for their company.
Los Angeles officials have said the Koreatown area has the highest concentration of liquor licenses in the city. For years, it had a reputation for its anything-goes nightlife — indoor smoking, after-hours bars and doumi — that operated exclusively for and by Koreans, out of view to law enforcement and state authorities.
As Koreatown's nightlife became increasingly popular with non-Koreans, vice squads operating out of LAPD's Olympic station attempted to crack down on some of the practices. Yet the enforcement was largely a cat-and-mouse game, based on random checks by police and the ABC team in the area, which was led by Salao.
Salao was part of a compliance check in 2015 at a karaoke bar that was observed by a Times reporter. Seeing hostess girls in the private rooms with windows taped over with paper, Salao told the owner at the time he was facing a 15-day suspension and fines for the violation.
Follow @joelrubin on Twitter
---
UPDATES:
5:55 p.m.: This article was updated with additional information about enforcement activities in Koreatown.
This article was originally published at 3:15 p.m.
Sign up for Essential California for news, features and recommendations from the L.A. Times and beyond in your inbox six days a week.
You may occasionally receive promotional content from the Los Angeles Times.