Nipsey Hussle was one victim among many as South L.A. violence takes its toll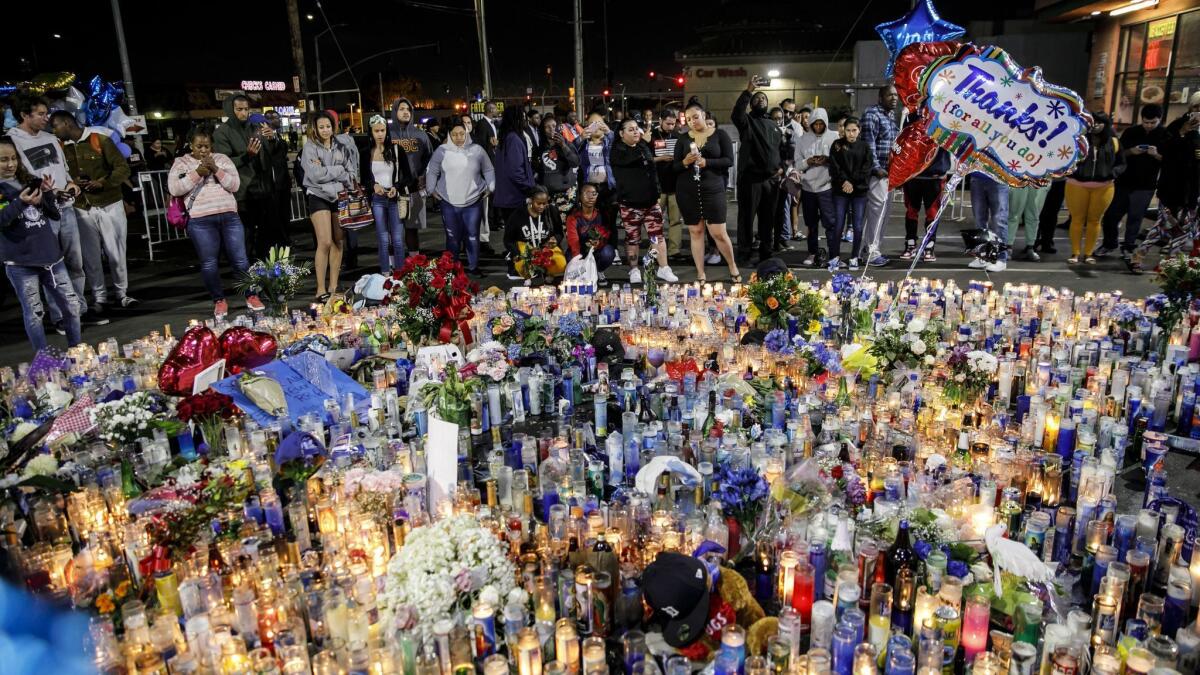 As storm after storm dumped rain on Los Angeles, the streets grew quiet.
Like most everyone else, criminals retreated indoors.
This spring, with the end of the plentiful rains, violence bloomed along with the wildflowers.
The famed rapper Nipsey Hussle was just one of many casualties as Angelenos emerged into the sunshine and scores were finally settled.
Compared with the calm at the beginning of the year, the recent rise in homicides and shootings was more of a return to an unfortunate norm than anything out of the ordinary — a steady drumbeat of death and injury primarily afflicting black and Latino men in the poorest parts of the city.
Hussle's fatal shooting brought profound grief, along with a sense of hopelessness. A hero of South L.A. — who rebounded from his early years as a member of a notorious street gang and used his fame and fortune to help young people — he, too, had been gunned down.
But as people regrouped, they were determined to push ahead, to make headway against a curse that had claimed so many lives. The key, many said, was the area's youth and how to teach them to resolve disputes with words, not guns.
"What they're emulating is, 'How do I settle this conflict I have,' and when you see the outcome of how they're settling their conflicts, it's by killing somebody," said Kevin "Twin" Orange, who works to prevent gang violence in South L.A. "We've got to change the narrative. We're 50 years behind with this violence and dealing with trauma and conflicts in our community."
RELATED: How the Nipsey Hussle shooting has affected students at schools blocks away »
::
In the week leading up to Hussle's death, 11 people were murdered in Los Angeles — more than double last year's weekly average.
About half the killings occurred in South L.A. All the victims were black or Latino.
They included a 38-year-old woman whose body was found in a Leimert Park alley and two brothers shot dead in San Pedro while walking to a liquor store.
On the last day of the month, a 31-year-old homeless man was fatally stabbed in a fight near the railroad tracks at West Imperial Highway. Hours later, about 3:20 p.m., Hussle was standing outside his clothing store in Hyde Park when a man fatally shot him and injured two others in what detectives believe was a personal dispute.
Eric Holder, 29, was charged Thursday with Hussle's murder and the attempted murders of the two other men. He was an aspiring rapper and had ties to the Rollin' 60s Crips, as did Hussle, whose legal name was Ermias Asghedom.
Non-fatal shootings, too, spiked in March, particularly in the Los Angeles Police Department's 77th Division. In that part of South L.A., shooting victims tripled to an average of nearly 15 a week in March, compared with just fewer than five a week earlier in the year.
Some of the gun violence can be traced to gang feuds. But, as in Hussle's case, much of it stemmed from disagreements between friends or acquaintances.
Police initially suspected that the fatal shooting of 40-year-old Shaun Stevenson near the Nickerson Gardens housing development on March 28 was a gang-related retaliation for the killing of a man in Jordan Downs the previous day.
RELATED: Nipsey Hussle's brother found him dying. These are his final moments »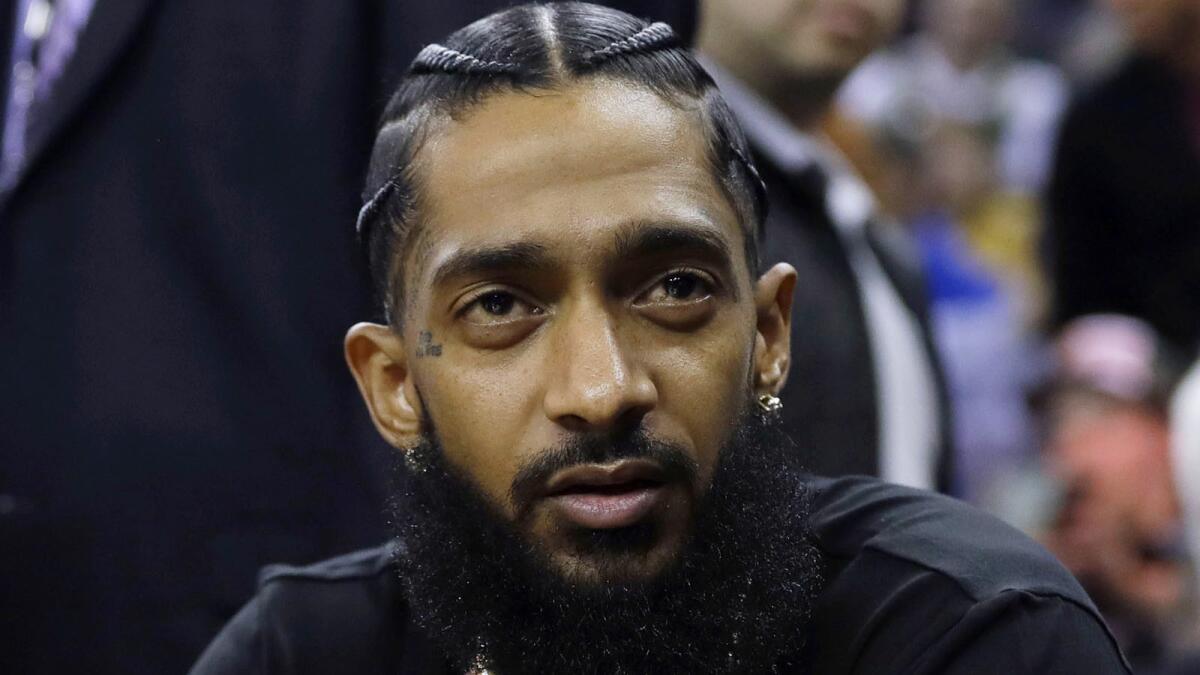 It quickly became clear that Stevenson, a father of three, was likely targeted because of a dispute involving an ex-girlfriend, said LAPD Deputy Chief Dennis Kato, who heads South Bureau.
"We're not seeing the 'I hate you because you're a Crip' kind of shooting," Kato said.
At the end of February, homicides were down 30% and gang-related crime was down 52% citywide compared with the same time last year, which ended with homicides at near-record lows.
But those familiar with the patterns of violence in the city knew the respite was likely temporary.
Ben "Taco" Owens, a gang interventionist, said he told people to "brace yourself" for the end of the rainy season.
The wet weather kept shooters indoors as well as the victims they wanted to target, Owens said. It is difficult to spray-paint gang graffiti, which can spark conflicts, in the rain.
"When the graffiti goes up, the bodies go down," Owens said.
In response to increases in violence, the LAPD deploys officers in areas where they might act as a deterrent. The department works with gang interventionists like Owens and Orange to mediate feuds and tamp down possible retaliation, also attempting to rally community members with peace vigils and other public events, Kato said.
But with the downsizing of the LAPD's elite Metropolitan Division and a directive from Mayor Eric Garcetti to cut back on vehicle stops after criticism that Metro pulls over a disproportionate number of black drivers, Kato said there are fewer resources to send to crime hot spots.
The recent crime trends are especially worrying as summer approaches. In past years, hot weather and school vacations have sometimes combusted into violence.
"If this is where I'm at right now, and we can't stem it, we're in for a not very good summer," Kato said.
Hussle himself was an advocate for young people in South L.A., purchasing small businesses to provide jobs and promoting creative ideas about entrepreneurship as an alternative path to gangs.
At a news conference with city officials on Tuesday, Los Angeles County Supervisor Mark Ridley-Thomas called the uptick in violence "intolerable." He said the county public health department's Office of Violence Prevention will be open late, until 7 p.m., to help people coping with Hussle's death or other violence.
"We have to be vigilant in our pushback and imaginative," both through traditional police techniques and community involvement, he said.
FULL COVERAGE: Nipsey Hussle gunned down in South L.A. »
RELATED: How Nipsey Hussle saw Slauson Avenue »
At a Wednesday night meeting of Cease Fire, a group dedicated to reducing violence in L.A., Jaime "RareBreed" Gregory said his phone has been ringing off the hook about Hussle's death.
Gregory, a gang interventionist and Cease Fire board member, said he hoped the high-profile tragedy would serve as an inspiration to stop the shootings that go unnoticed by the rest of the world but cause lasting damage to the victims' loved ones.
"We've got to leave here and really marinate on solutions, like what are we going to do when we get up from this table after tonight?" he said. "What's the next level of losing sleep? We're going to have to lose sleep over this."
Kathy Wooten, who lost two sons to gun violence in 2008, said she was shaken not only by Hussle's death but also by the shooting death of a close friend's son last week. Like many in the room, she has spent years trying to steer young people away from gangs and violence.
Yet she wondered if that hard work has been in vain.
"I feel hopeless at this point. I came here tonight for a recharge," she said. "With everything everyone is doing in the community, people are still dying."
RELATED: O.J. Simpson prosecutor's new legal drama: Defending Nipsey Hussle slaying suspect »
Elsewhere, families were just starting to grieve loved ones.
Michael Stevenson, the father of Shaun Stevenson, was working in his yard in Watts last Thursday morning when he heard popping noises.
He rushed to his son's car and found him slumped in the driver's seat with a gunshot wound to his forehead.
Stevenson confirmed the LAPD's account that the killing was likely motivated by a "love triangle" rather than gang violence.
The younger Stevenson was a devoted father who had been working temporary jobs and was trying to find steady work to support his children. He lived with his mother but often spent time at his father's house.
"This guy meant to do what he did to my son," Michael Stevenson said.
In San Pedro, Cheryl Montes was hit with a double tragedy.
Her sons Jason Montes, 24, and Justin Montes, 25, were both killed Thursday night when someone got out of a vehicle and shot them.
They had served their mother Mexican noodle soup that one of them had made, then left on foot, saying they would be right back.
The oldest of six siblings, the brothers had been close since childhood. Both were fathers of young children and recently took a family trip to Disneyland together.
Jason worked at a car wash, and Justin was supposed to start a new job at an Italian restaurant in El Segundo the next day.
"I always tell my kids, all the time … 'Be careful,'" Montes said. "People are out shooting … Something's always happening."
For more news on the Los Angeles Police Department, follow me on Twitter: @cindychangLA
Sign up for Essential California for news, features and recommendations from the L.A. Times and beyond in your inbox six days a week.
You may occasionally receive promotional content from the Los Angeles Times.