Anaheim police excessive use-of-force rate outpaces many cities, ACLU report alleges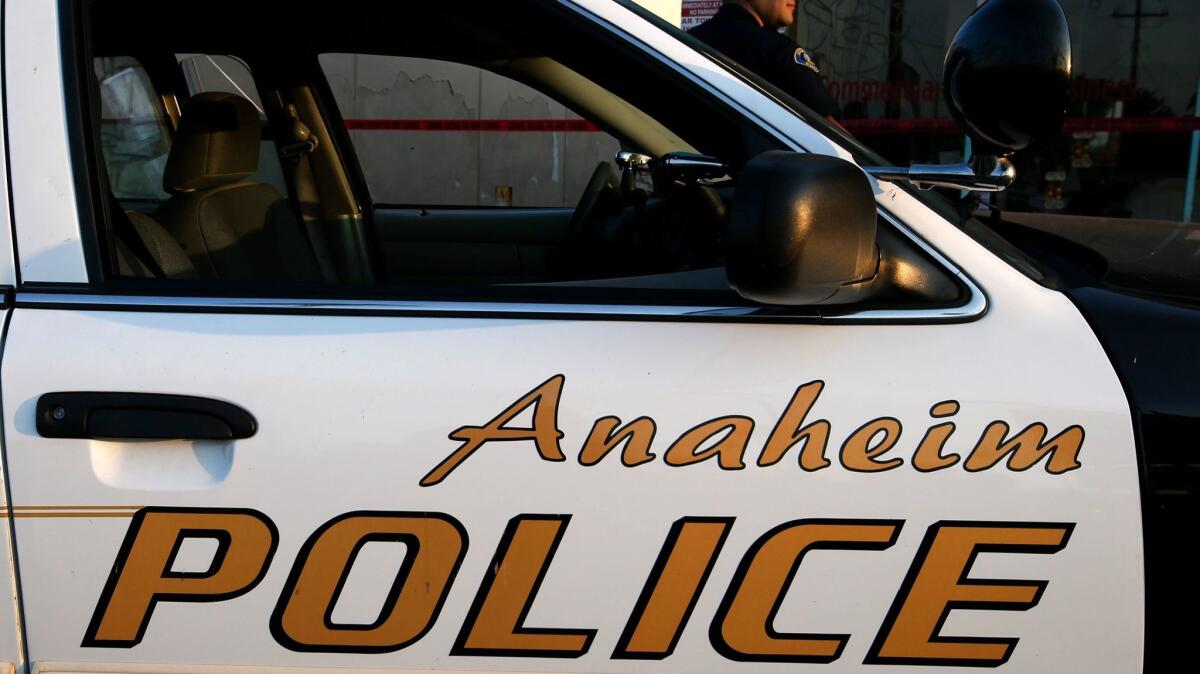 Anaheim Police officers use excessive force at a rate that far outpaces law enforcement agencies in most similar-sized or larger cities, according to a report released Monday by the American Civil Liberties Union of Southern California.
In 2015, Anaheim ranked ninth among the 60 largest U.S. cities in the rate of officer-involved deaths during arrests, based on FBI data. Last year, Anaheim's rate of police-involved deaths per million residents outpaced those of Los Angeles, Atlanta, Boston, New York and San Francisco.
"Anaheim, which likes to call itself the 'City of Kindness,' must grapple with the disparate impact of deadly use of force by its police department on low-income communities of color," said Jennifer Rojas, co-author of the report and the organization's Southern California community engagement and policy advocate. "It's critical that true, independent civilian oversight, not beholden to the city, be established to examine the actions of the police department."
In researching the report, the ACLU examined police and coroner reports, newspaper stories and data collected by the California attorney general's office and the U.S. Department of Justice.
The main focus is on 2003 to 2016, a period during which 33 people died following on-duty Anaheim officers' use of force. One had been placed in a chokehold, 29 were shot and three had been zapped by Tasers.
Over that period, nearly 40% of the victims of arrest-related force were unarmed.
The vast majority of those killed during those years were black or Latino, surpassing the population percentage of those racial groups in the city. Though blacks represent less than 3% of Anaheim's population, 12% of those who died from police use of force were black.
The rate of police homicides is not connected to the city's crime rate, the report points out. In fact, the report states, FBI data in 2014 showed Anaheim was the second safest from violent crime of the 50 largest cities in the country.
City officials said the ACLU review does not reflect Anaheim's success in community policing.
"Few public safety agencies have initiated as much internal review and brought about as much positive change as the Anaheim Police Department has in recent years," said the city's acting police chief, Julian Harvey. "Our major incident review process is now a model for California. We have brought our officers closer to the neighborhoods they serve and created new ways for the community to share their concerns with us."
Harvey said the report had inaccuracies.
"We welcome open and honest assessment of how we are doing. Unfortunately, this report falls short with misstatements designed for maximum impact rather than honestly portraying our city," he said.
Among the report's errors, Anaheim spokesman Mike Lyster said, was classifying one death in 2015 as an officer-involved shooting when officials later determined that the victim had died from his own weapon.
Harvey said he looks forward "to clarifying the record" next month when the Anaheim council meets to talk about expanding the work of the city's public safety board.
Councilman Jose Moreno, who won his seat last year after the city switched to a new election system intended to give Latinos more representation, said he hoped the release of the report "will provide more urgency to getting the board up and running." He credited former police Chief Raul Quezada with creating a neighborhood advisory council and making online complaint forms available to citizens.
City officials hired Quezada and asked him to undertake numerous reforms after the fatal shootings of two young Latino men in 2012 sparked a riot and days of unrest in downtown Anaheim. More than 1,000 people confronted police, threw rocks and bottles, leaving 20 businesses damaged. That year, there were nine deaths from police shootings.
Quezada pushed for officers to wear body cameras. Last month, he stepped down from his job after receiving a vote of no-confidence from officers.
Anaheim's police department has about 400 sworn officers — with just 50 officers involved in the 33 homicides occurring between 2003 and 2016, according to the ACLU.
Its report also highlights officers who have been involved in multiple shooting incidents. Just over half the Anaheim Police Department's fatal shootings were by officers involved in at least one other shooting, according to its analysis.
"The number of killings involving repeat shooters raises questions about Anaheim PD's handling of shootings, how effectively they identify officers that use deadly force too easily and their inability to keep officers involved in one fatal shooting from killing again," it states.
Moreno urged city officials to look at the report with an open mind.
"Let's be proactive," he said. "Let's learn the data and see how we can strengthen oversight in a way that builds trust."
Sign up for Essential California for news, features and recommendations from the L.A. Times and beyond in your inbox six days a week.
You may occasionally receive promotional content from the Los Angeles Times.