Beach pollution surges after massive wildfires and heavy rains, report finds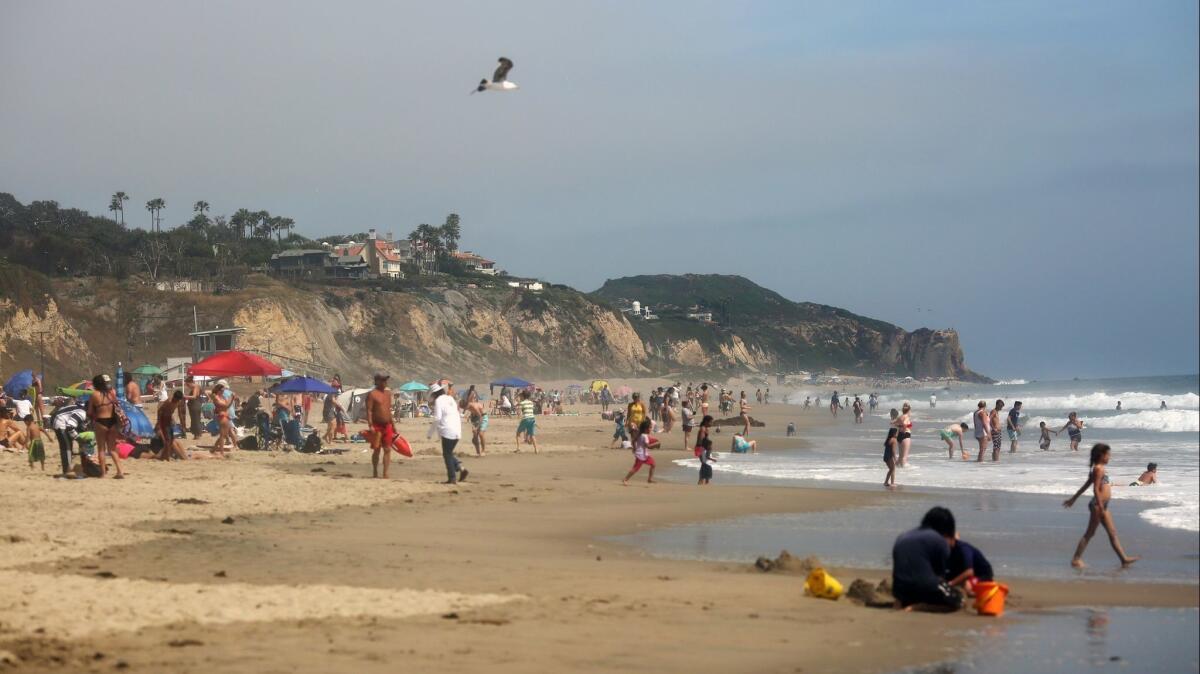 If there was one upside to the severe drought that plagued California for seven years, it was how the lack of rain and dirty runoff improved beach water quality.
But ocean pollution has surged once again at some Southern California beaches because of an unusually wet winter and the effects of the massive Woolsey fire, which added pollutants and worsened runoff.
The findings, contained the annual Heal the Bay report card, underscore how much ocean water quality is tied to other environmental factors.
Overall, Southern California beaches have been getting clearer amid stronger environmental protections and more awareness about the dangers of dumping into storm drains. And experts believe this year's pollution increases could be temporary.
"These are all transient events, so it doesn't change the quality of the water forever," said Seth John, a professor of earth sciences at USC. "One of the interesting things about water quality is that we're able to have a quick and positive impact from people adjusting their behavior and more regulations being put into place."
An annual survey of about 500 California beaches released Wednesday showed that water quality sagged significantly across the state with below-average wet weather grades for beaches in 11 of 17 coastal counties.
In Los Angeles County, water quality at beaches in Malibu — which for years consistently ranked among the cleanest in Southern California — declined sharply after the Woolsey fire.
"These are the lowest winter grades we've seen in five years in Malibu," said Shelley Luce, president of Heal the Bay. "Those beaches are starting to recover now, but it's slower than other places. We still need to check the beach report card before we get in the water."
Heal the Bay's report card assigns letter grades A-plus through F based on weekly beach water sampling conducted by county health agencies, sanitation departments and dischargers. Samples are analyzed for three fecal indicator bacteria that signal pollution from numerous sources, including human and animal waste.
All beaches in Malibu received A and B grades during a seasonal period Heal the Bay defines as "dry winter" in the year before the fire. This year, only 57% of the same beaches received those marks.
Major wildfires have a significant effect on water quality because the blazes damage sewage infrastructure and increase the amount of runoff into the ocean because of vegetation loss, especially when they burn along the coast. Those effects become more memorable during exceptionally wet years, experts say.
Above-normal precipitation in Southern California sent billions of gallons of runoff polluted with such things as trash, fertilizer, pet waste, metal and automotive fluids into storm drains and out into the ocean. This resulted in just half of the region's beaches scoring higher than a C, according to the report.
Los Angeles County reported even worse conditions, with only 30% of its beaches ranking higher than a C after rains. Beachgoers who swim in those conditions have an increased risk of ear infections, eye infections, upper-respiratory infections, skin rashes and gastrointestinal illness, according to the report.
"It is crucial that government bodies work to improve their water-quality monitoring programs and invest in projects and technology that will improve water quality to keep the public safe in a changing environment," Luke Ginger, a water quality specialist for Heal the Bay, wrote in the report.
The state's 10 dirtiest beaches this year include five in Southern California.
Those on Heal the Bay's so-called "Beach Bummer" list include Long Beach at Coronado Avenue, Marina del Rey's Mother's Beach and the harbor side of Cabrillo Beach in Los Angeles County. The San Clemente Pier in Orange County topped the list, while Monarch Beach at Salt Creek came in sixth.
Researchers say it's not clear how long the effects of the Woolsey fire will last. However, experts say climate change is leading to more extreme wildfires and unpredictable periods of rainfall, which the report notes will lead to dirtier ocean water.
In addition, water quality typically takes a dive after large rainstorms and rebounds as pollutants that flowed into the ocean from storm drains, rivers and creeks dissipate amid recirculation and exposure to sunlight. However, in Malibu, poor water quality persisted even after it stopped raining.
"We're getting more and more concerned about it," Luce said. "I think it's going to be really important to continue to monitor and report this to the public so we know when it's safe to be in the water."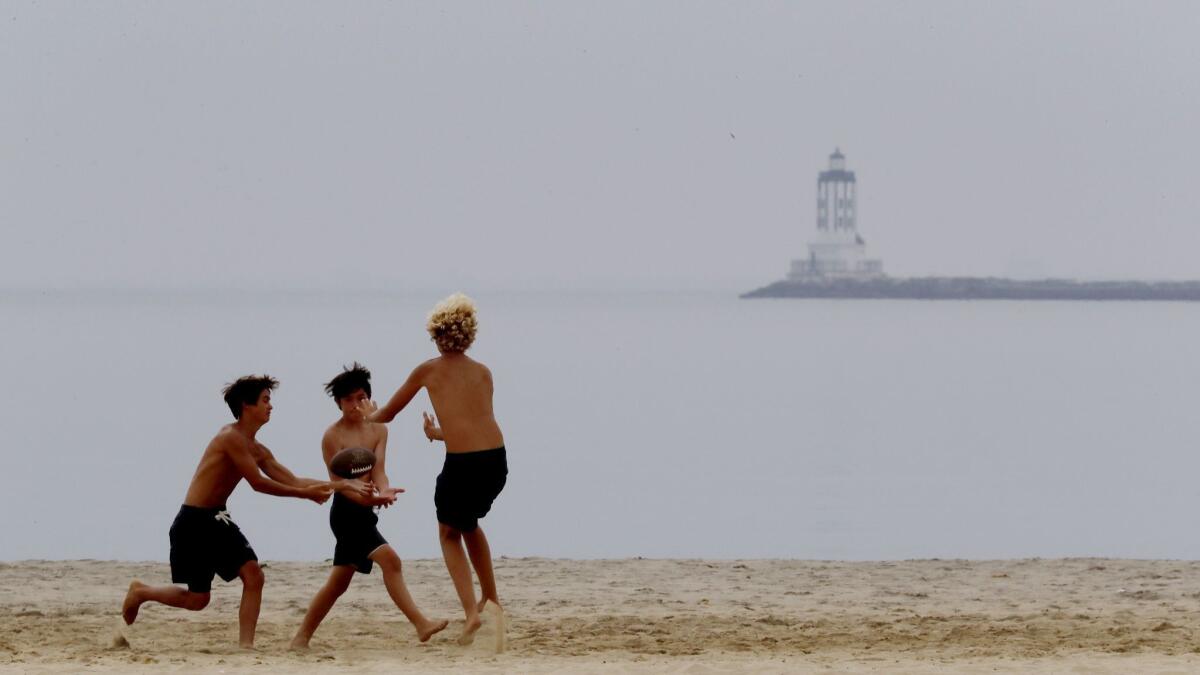 RELATED: Firefighters' fateful choices: How the Woolsey fire became an unstoppable monster »
About 95% of Southern California beaches scored high marks for water quality during last year's warm summer months, when sandy shores across the Golden State typically see the biggest crowds. But those scores dropped sharply after heavy winter weather set in.
Despite lackluster water quality in much of Los Angeles County, two beaches — the ocean side of Cabrillo Beach in San Pedro and Las Tunas Beach at Pena Creek in Malibu — received an A+ grade every week, during all seasons and weather conditions.
The list of cleanest beaches in California marks a sharp decline from last year's report, when a record 37 beaches, including eight from L.A. County, received a top grade every week. The so-called "honor roll" is typically dominated by Southern California beaches because many counties in Northern and Central California do not monitor beach water quality year-round.
This year only 33 beaches made the "honor roll," including the ocean side of Cabrillo Beach in San Pedro, Las Tunas Beach at Pena Creek in Malibu and a number of beaches in Carlsbad, San Clemente and Huntington Harbour. Three of the four Malibu beaches featured last year fell off the list, along with all three Palos Verdes Peninsula beaches.
The report applauded steps such as the passage of Measure W in Los Angeles County, which will result in $300 million in new annual parcel-tax revenue to be used to capture storm runoff and reduce pollutants entering the ocean, to improve water quality. Heal the Bay endorsed the measure last year.
Luce emphasized the need for additional nature-based solutions such as parks and bioswales that filter debris from surface runoff water.
"It's better than more paved areas that shoot untreated water right into our ocean," she said. "That's the way L.A. County and all of our cities have to go."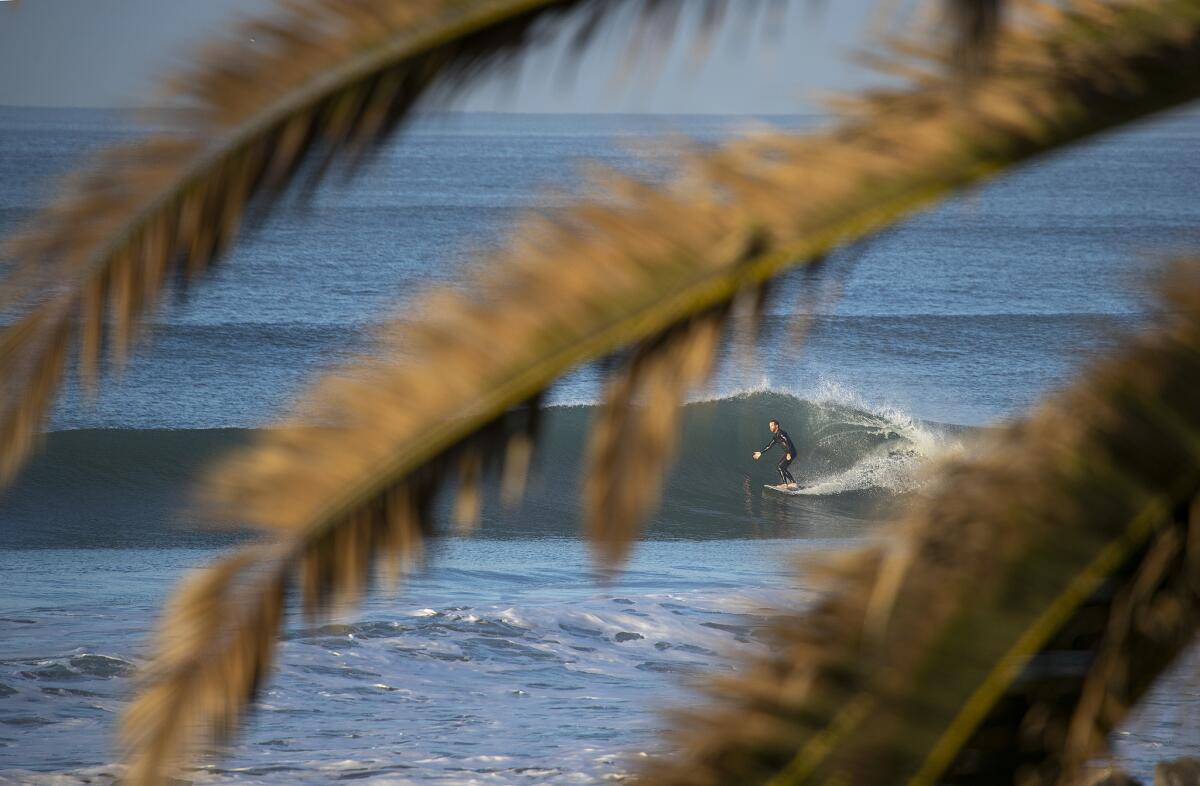 Twitter: @Hannahnfry
Sign up for Essential California for news, features and recommendations from the L.A. Times and beyond in your inbox six days a week.
You may occasionally receive promotional content from the Los Angeles Times.