Getting a last hike in before Runyon Canyon Park trail closes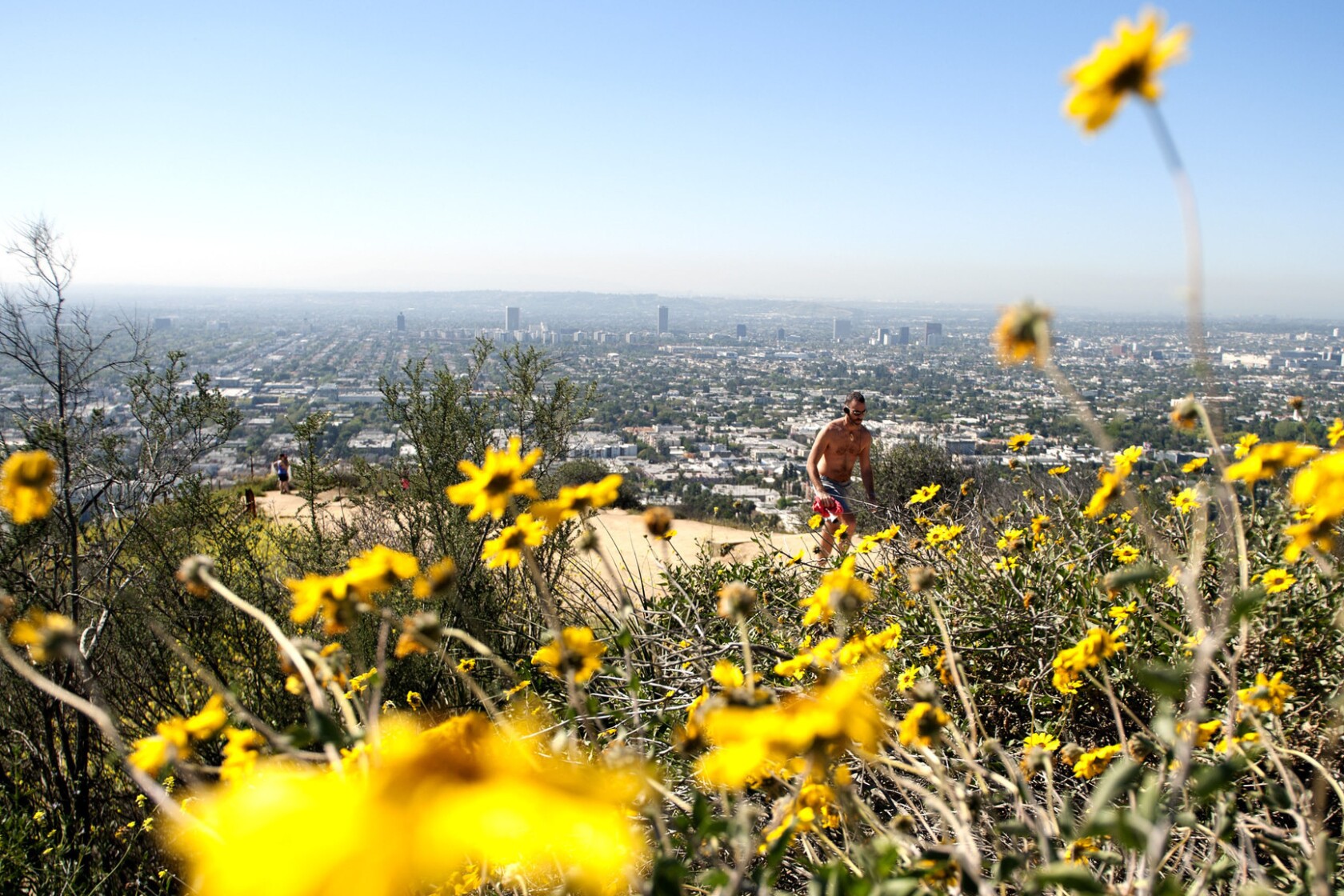 Hikers enjoy the last day at Runyon Canyon Park before the trail closure begins on April 1, 2016. The closure will last four months while the city replaces the aging 6-inch water main.
(Mariah Tauger / For The Times)
Whittier resident Michael Showalter gets in a workout during the last day at Runyon Canyon Park.
(Mariah Tauger / For The Times)
Hikers enjoy the last day at Runyon Canyon Park before the trail closure begins.
(Mariah Tauger / For The Times)
Hollywood residents Alexander Bajic, left, and Brent Tyler take in the views from Runyon Canyon Park.
(Mariah Tauger / For The Times)
Hollywood resident Alison Beal and her dog, Eddie the Bettie, during the last day at Runyon Canyon.
(Mariah Tauger / For The Times)
West Hollywood resident Victoria Hervey holds her dog, D'artagnan while Eddie the Bettie jumps up to say hello during the last day at Runyon Canyon Park.
(Mariah Tauger / For The Times)
Runyon Canyon Park is one of the spots many Los Angeles transplants learn about right away.
The 130-acre expanse in the heart of the city has wildflowers and cacti for nature lovers and seriously steep climbs for six-pack seekers. Dogs are allowed to romp its trails off leash.
It also possesses a postcard-like wow factor — with killer views of the downtown skyline, the Hollywood sign, hillside-mansion swimming pools and celebrities sleek with sweat.
Even on weekdays, when much of the working world is cubicle-bound, Runyon's trails remain peopled by those with more supple schedules: Models in Spandex and plunging sports bras. Buff, bare-chested actors. Tattooed bartenders. Screenwriters. Movie stars.
Where will they all go for the next four months, while the park is off-limits?
Starting Friday, Runyon will be closed except for the yoga field at its southern end. The Los Angeles Department of Water and Power has plans to replace a stretch of aging 6-inch-round pipe that snakes under the park's trails — work necessary to ensure adequate fire protection and water quality, as well as prevent future pipe ruptures.
Most Runyon regulars seem to accept that. But Thursday, when they came out to take their last hikes, many wondered why the park had to be shut for so long and why trails away from the construction couldn't be kept accessible.
"I'm very, very upset," said Lady Victoria Hervey, a British aristocrat, socialite and writer who said she's at the park five days a week with her Norfolk terrier, D'Artagnan, "a big star in England."
Wearing denim shorts studded with leather and a leather jacket tied around her waist, Hervey, 39, stood beside a wooden fence halfway up a steep stretch of trail, urging D'Artagnan to drink from one of the numerous water bowls people have placed around the park.
"I mean, I noticed in the summer that there were always leaks," she said of the pipe project.
"There was a water shortage in L.A., but there was this river running down Runyon."
Luckily, she said, for much of the closure she would be in Monaco. Otherwise, how would she cope?
"It's just so peaceful," she said of the park. "It's just kind of like my sanity."
Monnae Michaell, 50, an actress and jewelry maker, said knowing it was her last day in the park until August made her fully appreciate it.
"It's just changed my life. For me, it's like that metaphor mountain. I have to get up to the top," she said. "It's communing with nature and your thoughts, and there's nice people here too. I'm not crazy about the dog poop, but the dogs are wonderful."
On the trails were people speaking Russian and French — one man, on speakerphone, clearly was arguing with a colleague in Paris.
Ashley Willis, 25, who moved to L.A. from Colorado, said she loves Runyon for being "nature in the middle of the city." It's also great for people-watching, she said. Of note: the models she's seen perfecting their posture by balancing water bottles on their heads as they hike.
Some people brought selfie sticks and posed in groups with the park-closure signs as background.
On North Fuller Avenue — at the park's southern entrance, near an honor bar that stocks water, bananas and assorted snacks — someone had propped a large iPhone made of wood against the gate, with "#selfiemountain" in gold letters on its faux screen. At shoulder height, the screen featured feathered white wings. Parkgoers stopped to pose here too, standing between the wings.
Being at Runyon sometimes can feel like stepping into an updated "L.A. Story." On Thursday, hawks and helicopters shared the airspace overhead. Dogs barked and ran off. Their owners called, "Come, Sushi!" "Vino, come here."
Scraps of conversation floated by and then disappeared around bends.
"I told you about my boss' turtles, right?"
"She has buns on her for a skinny little thing!"
"It's like a cult?" a young man asked his female companion. "Lulu Lemon?" she said. "No, it's just like they make really great workout clothes."
Brenton Duplessie, 29, who moved to L.A. from New York a year ago, said he found Runyon just about the day he landed.
The actor, jewelry maker and creator of specialty cocktails said he loves the park for its variety — both in those who come there and in workout options.
"Like there's the easy path on days when you want to show your mom and dad and the hard trails where you take four or five guys and really beat 'em up real hard," he said as he came down a trail, shirt off, the words "Do What Thou Wilt" tattooed in reverse on his chest so he can see them in the mirror in the morning.
Duplessie said he understood the reasons for the park's closure. But still, it would hurt.
Runyon is Runyon. Other parks, well ... they're parks.
Follow Nita Lelyveld on Twitter and Facebook.
ALSO
Hikers lament the end of fun at Runyon Canyon Park
4 Instagram-worthy hikes to try while you wait for Runyon Canyon to reopen
Think Malibu Creek State Park is too crowded for a hike? Here's a sneaky way in
---
The stories shaping California
Get up to speed with our Essential California newsletter, sent six days a week.
You may occasionally receive promotional content from the Los Angeles Times.