Blind man survives being run over by Metro train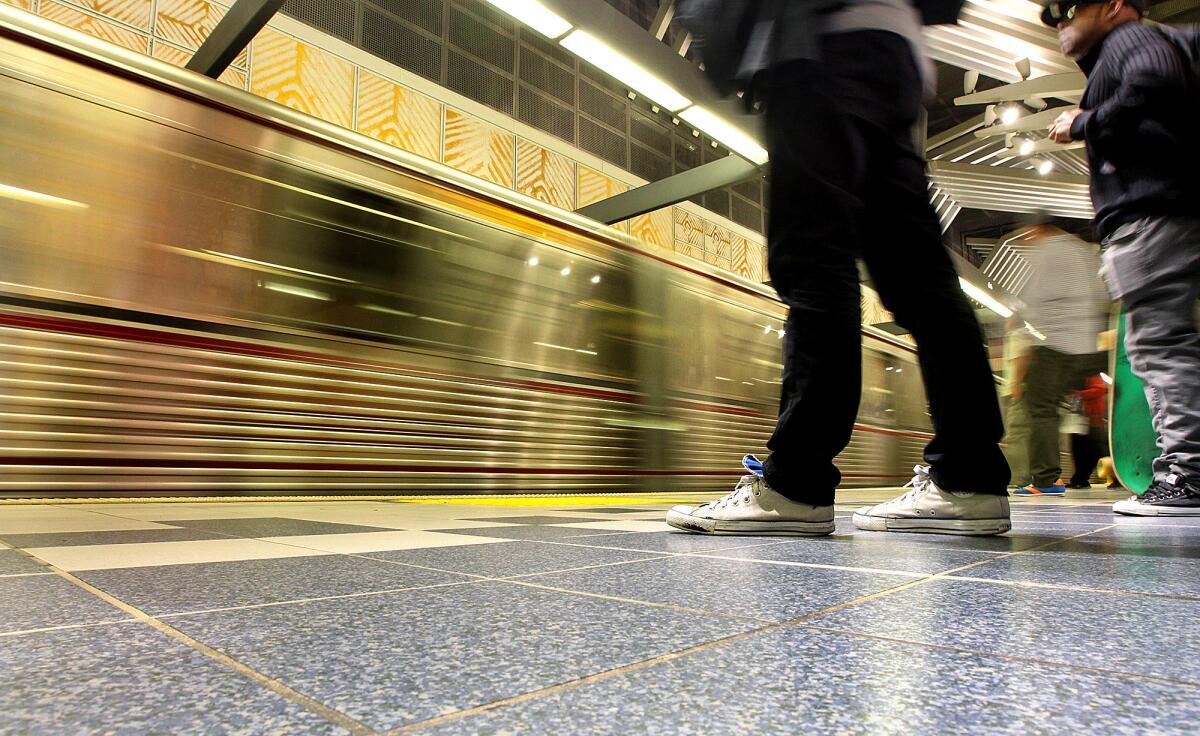 This post has been updated
A blind man who fell off the edge of a subway platform Thursday afternoon and into the path of an oncoming Metro train survived the accident mostly unharmed, officials said.
"It really is a miracle," Los Angeles County Metropolitan Transportation Authority spokeman Paul Gonzales told The Times. "It's something you only see on TV."
The man, an unidentified 47-year-old Los Angeles resident, had been using a cane to feel his way toward the edge of Metro's Wilshire/Vermont subway platform, Gonzales said.
The operator of the incoming Red Line train saw the man and honked to warn him that he was about to reach the edge of the platform, but it was too late: The man fell and tumbled into the track bed as the train approached.
When the eastbound Red Line train slowed to a stop, the man was trapped underneath, Gonzales said.
The Los Angeles Fire Department rescued him about 20 minutes later, shaken but largely unhurt.
Gonzales said the train passed directly over the man, who fell into the track bed between the rail and the base of the subway platform.
A Los Angeles Fire Department spokeswoman said he may have fallen under a small overhang near the base of the platform.
The man was transported to Los Angeles County-USC Medical Center, where he was listed in fair condition, Main said.
He is expected to make a full recovery.
[Updated 7:15 p.m. March 6: Graham Purvis of Santa Monica was in the second car of the Red Line train when it pulled into the station. He said when the train stopped, the doors didn't open.
The operator walked through the train, telling passengers that something was pressed up against the doors and that they would have to be opened manually.
As passengers finally exited, Purvis said the operator and a Metro employee on the platform told them not to look under the train because someone was caught underneath. They weren't told whether the victim had survived.
"I got sort of a sick feeling," Purvis said. "I wanted to look, but also didn't."
Another passenger peered under the train, he said, and indicated that the man might have survived.
"But we didn't know for sure," Purvis said. "The whole thing - I was quite shocked."
Purvis said it was the first time he'd taken the Metro. Though dramatic, he said the experience was otherwise fine, and has no plans to stop riding the train.]
Sign up for Essential California for news, features and recommendations from the L.A. Times and beyond in your inbox six days a week.
You may occasionally receive promotional content from the Los Angeles Times.