State Sen. Robert Huff eyes seat on L.A. County Board of Supervisors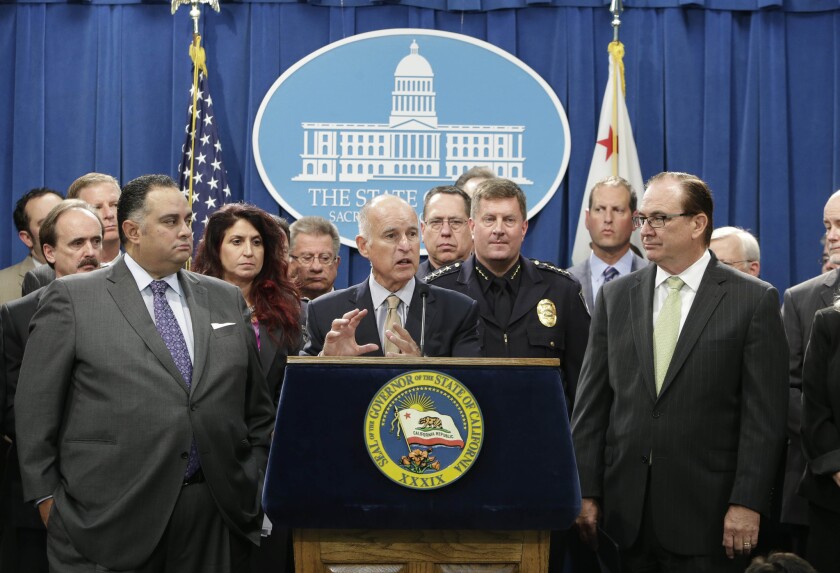 State Sen. Robert Huff (R-Diamond Bar) has filed a statement signaling his interest in running for a seat on the Los Angeles County Board of Supervisors next year.
Huff, who is the Senate's minority leader, has submitted a so-called "501" form, which must be filed with county election officials before a candidate can begin raising money for a campaign.
Huff is not running for the 4th District, which includes his home base, but for the 5th District seat, which stretches from the San Gabriel Valley, through Glendale, to the Antelope Valley.
Supervisor Michael D. Antonovich, who represents the 5th District, and Supervisor Don Knabe, who represents the 4th District, both must leave office next year because of term limits and they are the only two Republicans on the five-member board, which is officially nonpartisan.
Demographics have been shifting in both districts but more markedly in Knabe's, and Democratic Rep. Janice Hahn of San Pedro has been widely considered a top contender since announcing her candidacy for the board this year.
Election law requires supervisor candidates to live in the district they seek to represent, so Huff would need to move from his state Senate district in order to run. A spokesman for prosecutor Elan Carr, another Republican seeking the Antonovich seat, said recently that Carr is moving into the district from the Westside.
Republican Kathryn Barger, a top aide to Antonovich, announced her candidacy several months ago and has her boss' endorsement.
Several local elected officials are said to be considering running for the seat.
Knabe's South Bay and southeast Los Angeles County district also has drawn hopefuls besides Hahn. Republicans Mike Gin, a former mayor of Redondo Beach, and Steve Napolitano, a Knabe deputy and a former Manhattan Beach mayor, have declared their candidacies and filed fundraising committee forms.
The June 2016 primary is still more than a year away, but serious candidates are finding they must get an early start if they hope to be competitive in the battles for seats on the powerful board.
Follow @jeanmerl for the latest in Southern California politics news.
---
The perils of parenting through a pandemic
What's going on with school? What do kids need? Get 8 to 3, a newsletter dedicated to the questions that keep California families up at night.
You may occasionally receive promotional content from the Los Angeles Times.