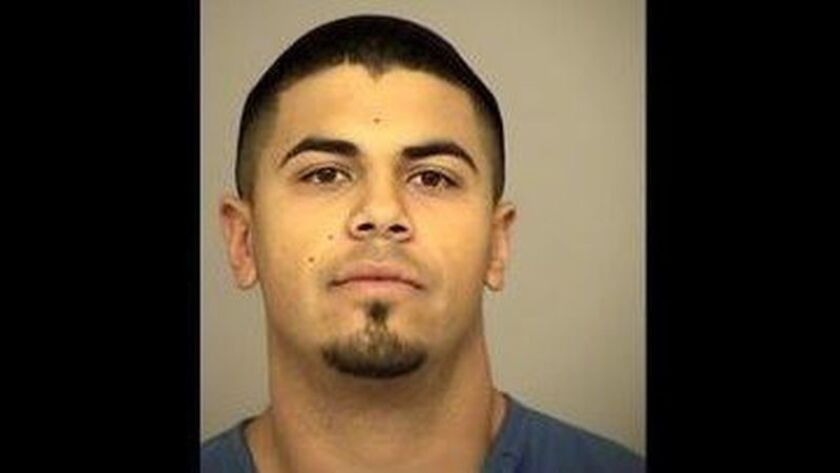 A decomposing body discovered over the weekend in the Angeles National Forest was identified Thursday as a man who authorities say was killed by his roommate in Ventura County last month.
A game warden from the California Department of Fish and Wildlife was patrolling the area around Upper Big Tujunga Road and Colby Ranch Road on Sunday when he found the body. The remains, which were concealed among brush, were later identified as 22-year-old Houston Auer, according to the Ventura County Sheriff's Department.
Officials say Auer's roommate, Cameron Scott Lykins, 23, killed him in their home in Meiners Oaks near Ojai on May 12, loaded the body into his pickup truck and dumped it before police caught up with him more than 200 miles away.
Lykins was arrested and remains behind bars in lieu of $2-million bail. He is facing a count of second-degree murder and a possible sentencing enhancement for use of a deadly weapon. He has not entered a plea, according to Ventura County Superior Court records.
It isn't clear what specifically led to the slaying, but sheriff's officials say it was the result of a "disturbance" at the house. Authorities have not said how Auer was killed.
The two men had lived together for less than six months, sheriff's Capt. Eric Hatlee said.
The investigation began after someone called the sheriff's dispatch center on May 12 to report that Lykins had killed Auer and dumped his body, Hatlee said.
Hatlee said that when deputies arrived at the home, they discovered a bloody scene but couldn't find Lykins or Auer. Meiners Oaks is an unincorporated community adjacent to Ojai, a popular tourist destination where violent crime is uncommon.
Officers from the Inyo County Sheriff's Office and the California Highway Patrol found Lykins hours later in Lone Pine, a town nestled between Sequoia and Death Valley national parks.
Hatlee said Lykins' white Nissan Frontier pickup contained evidence that he had used the vehicle to transport a body, but Lykins wouldn't give them any information about its location.
Twitter: @Hannahnfry
---