Borderline gunman stabbed one victim and fired more than 50 rounds into crowd, officials reveal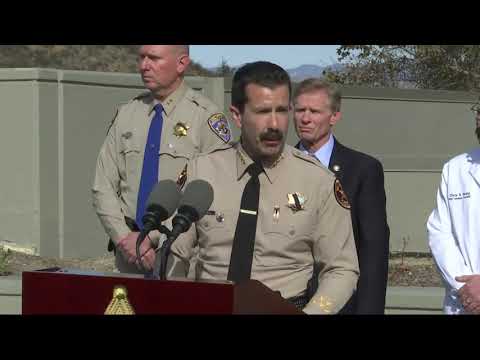 Authorities said the motive behind the mass shooting at the Borderline Bar and Grill in Thousand Oaks remains unknown.
A former U.S. Marine machine gunner who opened fire inside a packed Thousand Oaks bar this month stabbed one of his victims in the neck during the rampage that left 12 people dead, authorities revealed Tuesday.
The Borderline Bar and Grill was hosting line-dancing lessons for college students as young as 18 on Nov. 7 when the crack of gunfire echoed through the business about 11:20 p.m. Authorities said Ian David Long, 28, was armed with a folding knife and a .45-caliber Glock handgun with a laser sight attached.
Long immediately tossed smoke bombs and fired two of his seven high-capacity magazines that packed 30 shots each into the crowd as patrons tried to escape, said Ventura County Sheriff Bill Ayub. He and other officials provided the most detailed account of the incident yet at a news conference Tuesday.
"This was a terrifying experience for everyone involved," Ayub said. "Confusion and chaos can only begin to adequately describe the situation."
Ventura County Sheriff's Sgt. Ron Helus and a California Highway Patrol officer were the first people to run into the bar, minutes after the first 911 call. Long, who was set up in a tactical position to prepare for responding officers, immediately ambushed them.
They exchanged gunfire, and Helus was shot multiple times. Neither the sergeant nor the officer struck Long. The CHP officer dragged Helus out of the building and away from the line of fire.
Long later was found inside the bar with a single gunshot wound to the head. An autopsy determined he had shot himself, authorities said.
Ayub said confusion abounded after bar-goers gave different descriptions of the suspect, leading law enforcement to fear there was more than one shooter. Their concerns peaked when some of the survivors ran into a nearby bar to call 911, leading authorities to think that multiple attacks might be unfolding at different locations.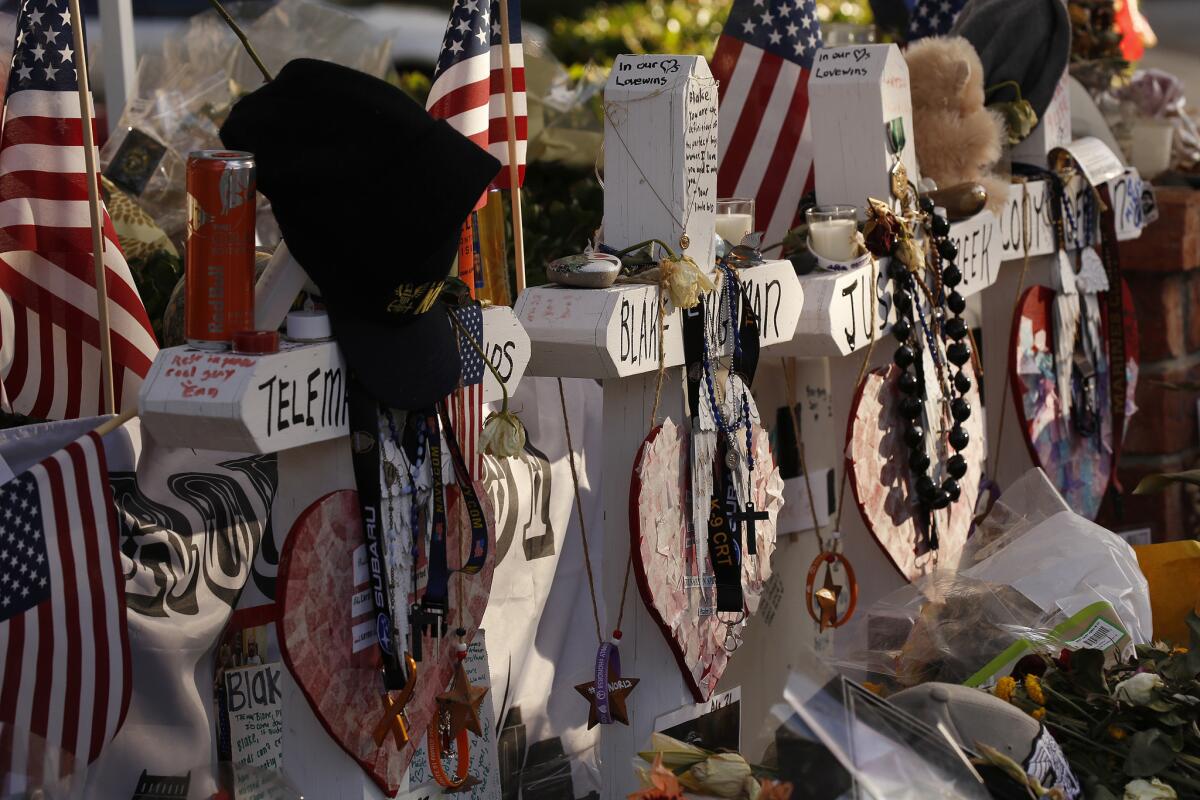 Ventura County Medical Examiner Christopher Young said 12 people who were struck by gunfire at close range died quickly. Only one person who was shot survived.
Authorities said one of the shooting victims also had been stabbed in the neck. Officials declined to elaborate on the injury or whether the person could have been trying to disarm Long.
"I will tell you there were some pretty heroic people in there," Ventura County Sheriff's Capt. Garo Kuredjian said.
Authorities have yet to determine a motive and are exploring all possibilities. Long did not have any connections to terrorist organizations, Assistant FBI Director Paul Delacourt said.
"We have no indication of radicalization," he said. "We have continued to look for any motive. Incidents like this test not only the community at large, but the law enforcement community. There's no light between us … when it comes to a crisis incident like this."
Delacourt said Long previously had gone to Borderline as a customer but did not have ties or conflicts with anyone there. Authorities on Tuesday dispelled a previous theory that Long believed a former girlfriend was at the bar when he opened fire. Officials said there was no evidence to support that claim.
Police said Long had no criminal record. However, yelling and loud banging noises coming from the home Long shared with his mother prompted a neighbor to call authorities in April.
Deputies responded, and a mental health specialist who assessed Long worried he might be suffering from post-traumatic stress disorder but found no grounds to hospitalize him. Authorities said he had been fighting with his mother about money.
Long joined the military after graduating high school and spent seven months overseas in Afghanistan in Operation Enduring Freedom.
Dominique Colell, who coached girls track and field at the high school where Long was a sprinter, remembers an angry young man who could be verbally and physically combative.
In one instance, Colell said Long used his fingers to mimic shooting her in the back of the head as she talked to another athlete. In another, he grabbed her rear and midsection after she refused to return a cellphone he said was his.
"I literally feared for myself around him," Colell told the Associated Press. "He was the only athlete that I was scared of."
The Associated Press contributed to this report.
Twitter: @LAcrimes
Twitter: @Hannahnfry
Sign up for Essential California for news, features and recommendations from the L.A. Times and beyond in your inbox six days a week.
You may occasionally receive promotional content from the Los Angeles Times.