Jahi McMath's mother insists brain-dead girl is 'not a corpse'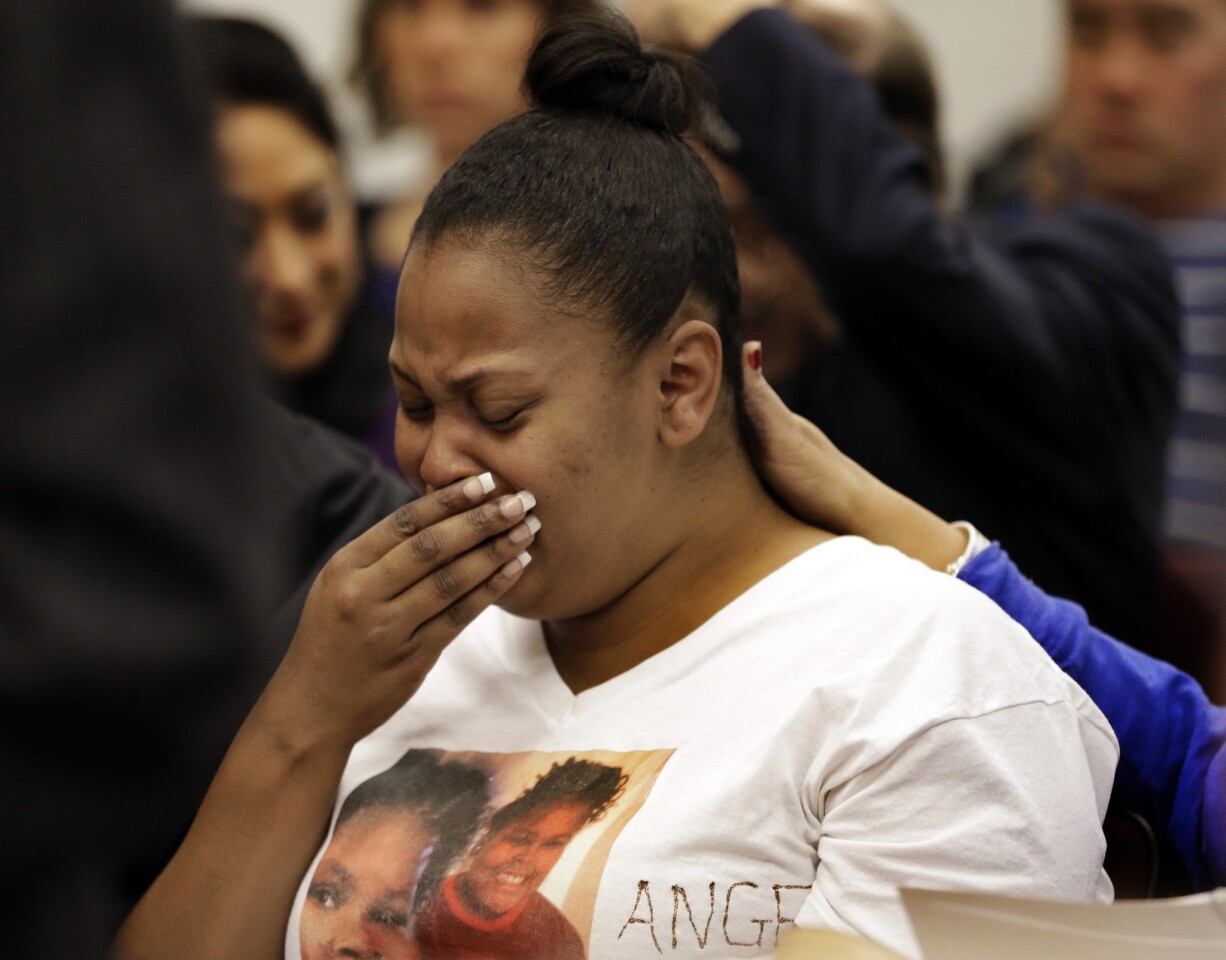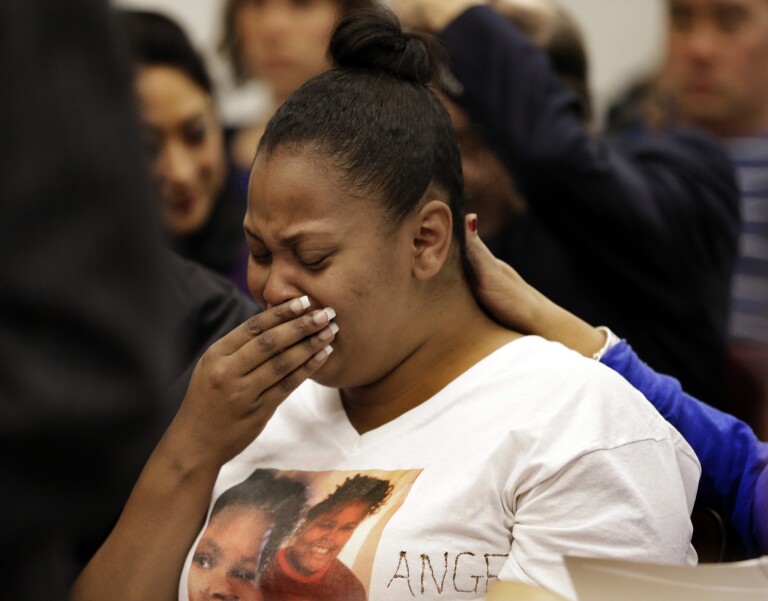 Nailah Winkfield, mother of 13-year-old Jahi McMath, cries before a courtroom hearing regarding McMath, on Dec. 20, 2013, in Oakland.
(Ben Margot / Associated Press)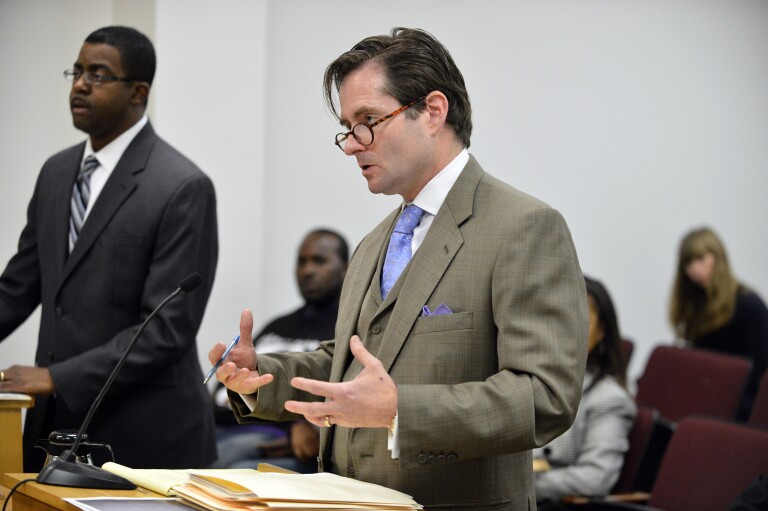 Christopher Dolan, attorney for Nailah Winkfield, mother of Jahi McMath, speaks during a court hearing in Oakland on Dec. 23, 2013.
(Kristopher Skinner / Associated Press)
Marvin Winkfield places his arm around his wife, Nailah Winkfield, mother of 13-year-old Jahi McMath, as they wait outside a courtroom Friday.
(Ben Margot / Associated Press)
Omari Sealey makes a statement to the media on the condition of his niece Jahi McMath on Monday.
(Marcio Jose Sanchez / Associated Press )
The mother of Jahi McMath, the 13-year-old Oakland girl who was declared brain-dead after a complicated surgery that involved removing her tonsils, insisted in a Facebook post this week that her daughter has improved physically, but that it continues to be an "unbelievably difficult time" for the family.
Citing alleged death threats, the family has declined to say where they transferred Jahi's body after she was released by Children's Hospital & Research Center Oakland to the county coroner.
Jahi was declared brain-dead Dec. 12 after surgery three days earlier at the hospital to remove her tonsils, adenoids and uvula.
Family members won a court order keeping her on a ventilator, and eventually won permission to transfer her to an undisclosed care facility, despite broad consensus among medical experts that her body will continue to deteriorate.
The Alameda County coroner issued a death certificate without performing an autopsy.
But in a Facebook message posted Wednesday, Jahi's mother, Nailah Winkfield, wrote that "despite what people say about my daughter being dead and how I must be ignorant not to get that, I can tell you that she is much better physically since she has left Children's Hospital and I see changes that give me hope."
She went on to thank people "who view my daughter as the sweet, innocent, 13-year-old girl that she is and not a dead body or a corpse, I deeply appreciate that."
Medical experts and ethicists have criticized the decision to keep Jahi on a ventilator, saying there is absolutely no chance of recovering from brain death.
Bioethics experts also took issue with news media coverage that often repeated family assertions that the girl was alive, saying it clouded an issue the public already has difficulty grasping.
The Oakland girl underwent surgery Dec. 9. She was declared brain-dead after she went into cardiac arrest and suffered extensive brain hemorrhaging.
At least three neurologists confirmed that Jahi was unable to breathe on her own, had no blood flow to her brain and had no sign of electrical activity in her brain.
A court order kept Jahi's body on a ventilator while independent experts could be brought in to affirm the findings. Even so, the McMath family was able to secure the release of Jahi's body via the county coroner.
Bodies of the brain-dead have been maintained on respirators for months or, in rare cases, years. However, once cessation of all brain activity is confirmed, there is no recovery, Rebecca S. Dresser, professor of law and ethics in medicine at Washington University in St. Louis, told The Times.
The case could have long-term consequences.
Arthur Caplan, director of the division of medical ethics at New York University's Langone Medical Center, told The Times that the case could compel other families to "ultimately say, 'I'd like to take this body home and wait for a miracle.' That would be a public policy of disrespect for dead bodies."
"The ability to get clear about brain death has been a real obstacle," he said. "This hasn't helped at all."
In her Facebook post, Winkfield dismissed those critics, insisting that when it comes to her daughter, "I will never let her suffer."
"God can overcome all things and I believe that his will has yet to be fully revealed," Winkfield wrote. "I love Jahi and where there is love, there is hope."
jason.wells@latimes.com
Twitter: @jasonbretwells | Facebook | Google+
---
The stories shaping California
Get up to speed with our Essential California newsletter, sent six days a week.
You may occasionally receive promotional content from the Los Angeles Times.