Friends mourn Cal State Long Beach student killed in Paris terror attacks
Sylvain Perriot stops to take a picture of the flag at half mast above the Presidential Palace in Paris. France's Sate of Emergency will continue, with flags at half mast.
(Carolyn Cole / Los Angeles Times)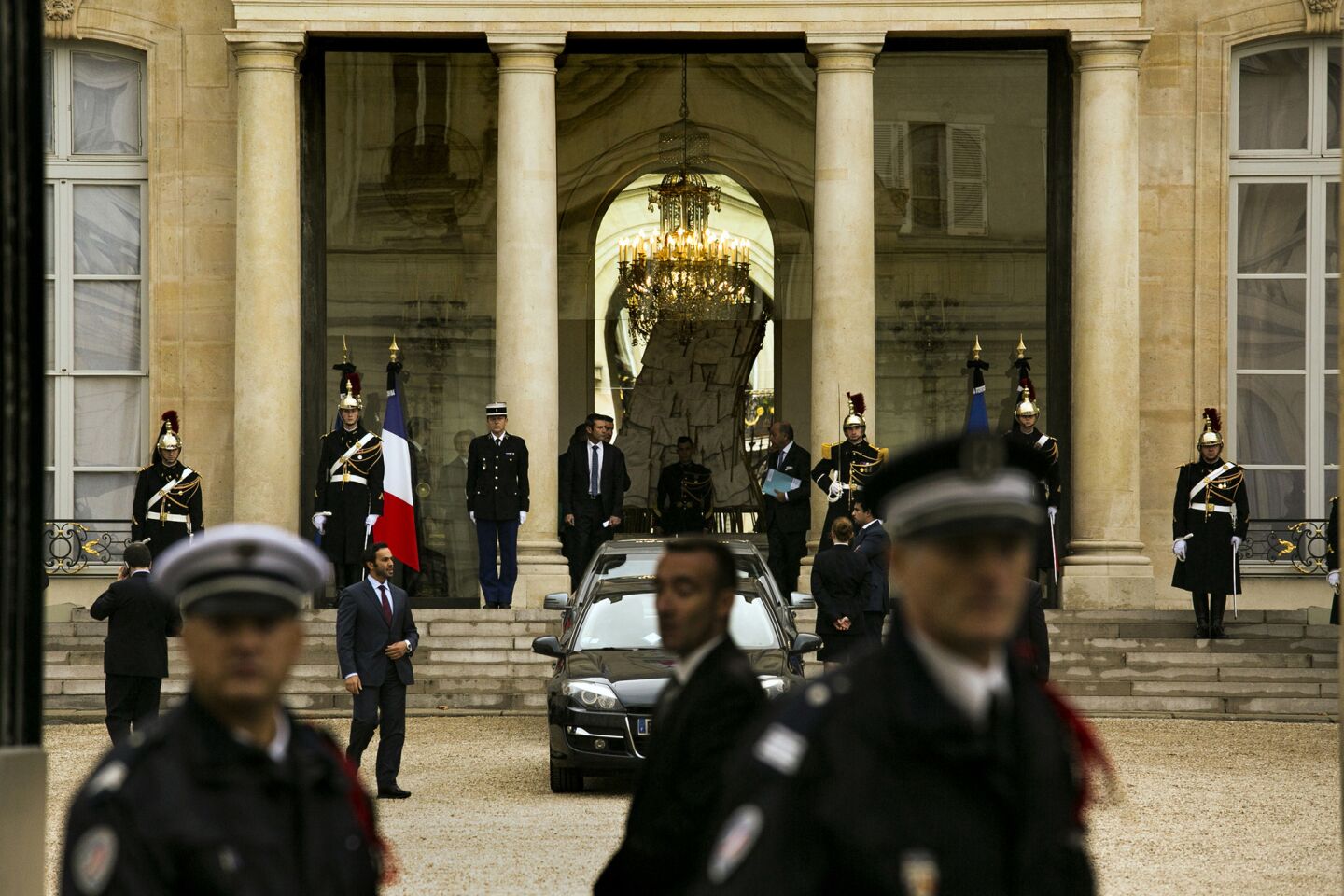 Looking inside the courtyard of the Presidential Palace, guards stand at attention for the departure of Secretary of State John Kerry after his meeting with French President Francois Hollande.
(Carolyn Cole / Los Angeles Times)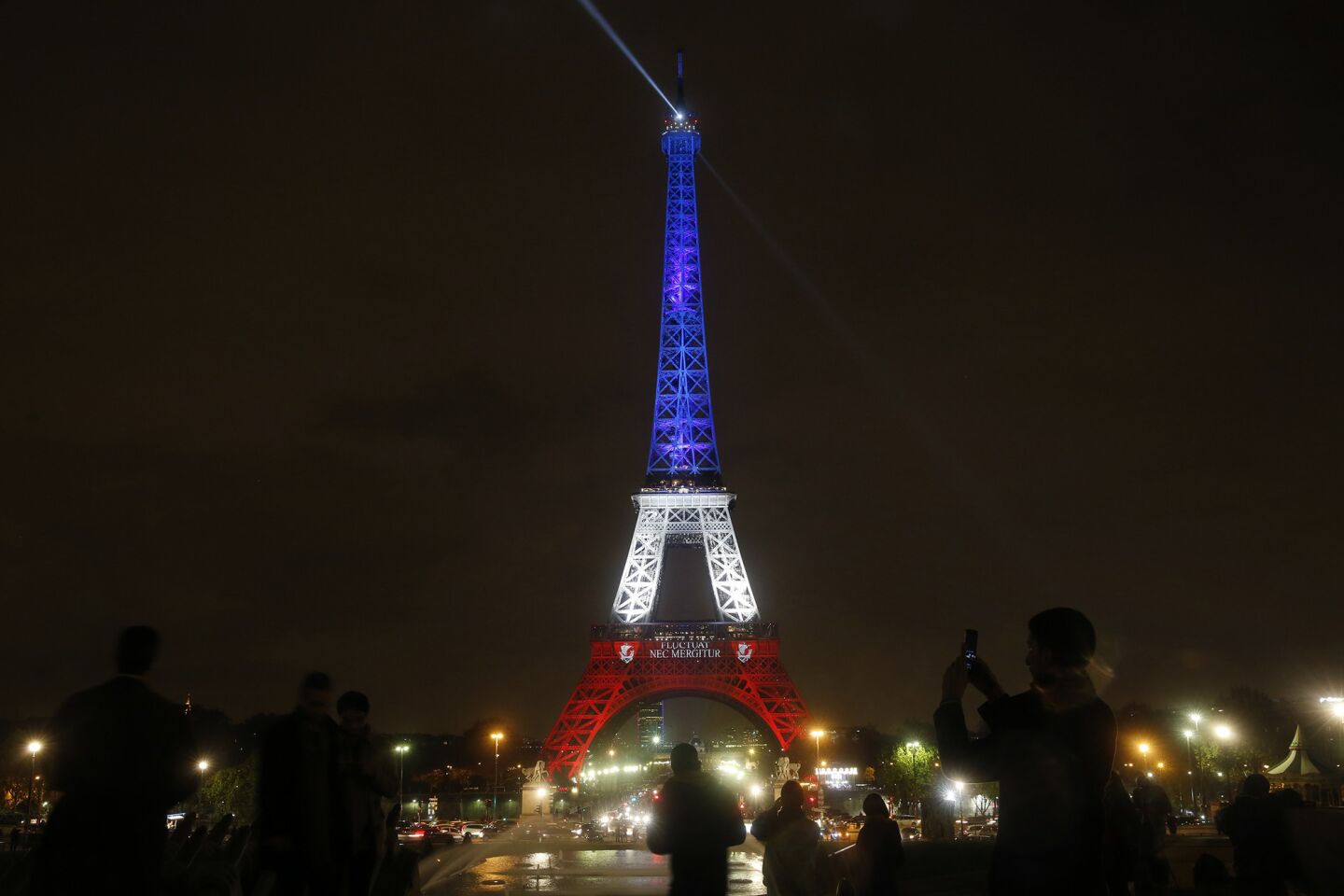 On the third day of national mourning, the Eiffel Tower was illuminated in the colors of the French flag after going dark.
(Carolyn Cole / Los Angeles Times)
On the third day of national mourning, people continue to gather in public places like the Place de la Republique, including Tao Cisse, age 5, and Maya Sutej.
(Carolyn Cole / Los Angeles Times)
People observe a minute of silence in front of the Le Carillon cafe in Paris on Nov. 16, paying tribute to victims of the terror attacks.
(Lionel Bonaventure / AFP/Getty Images)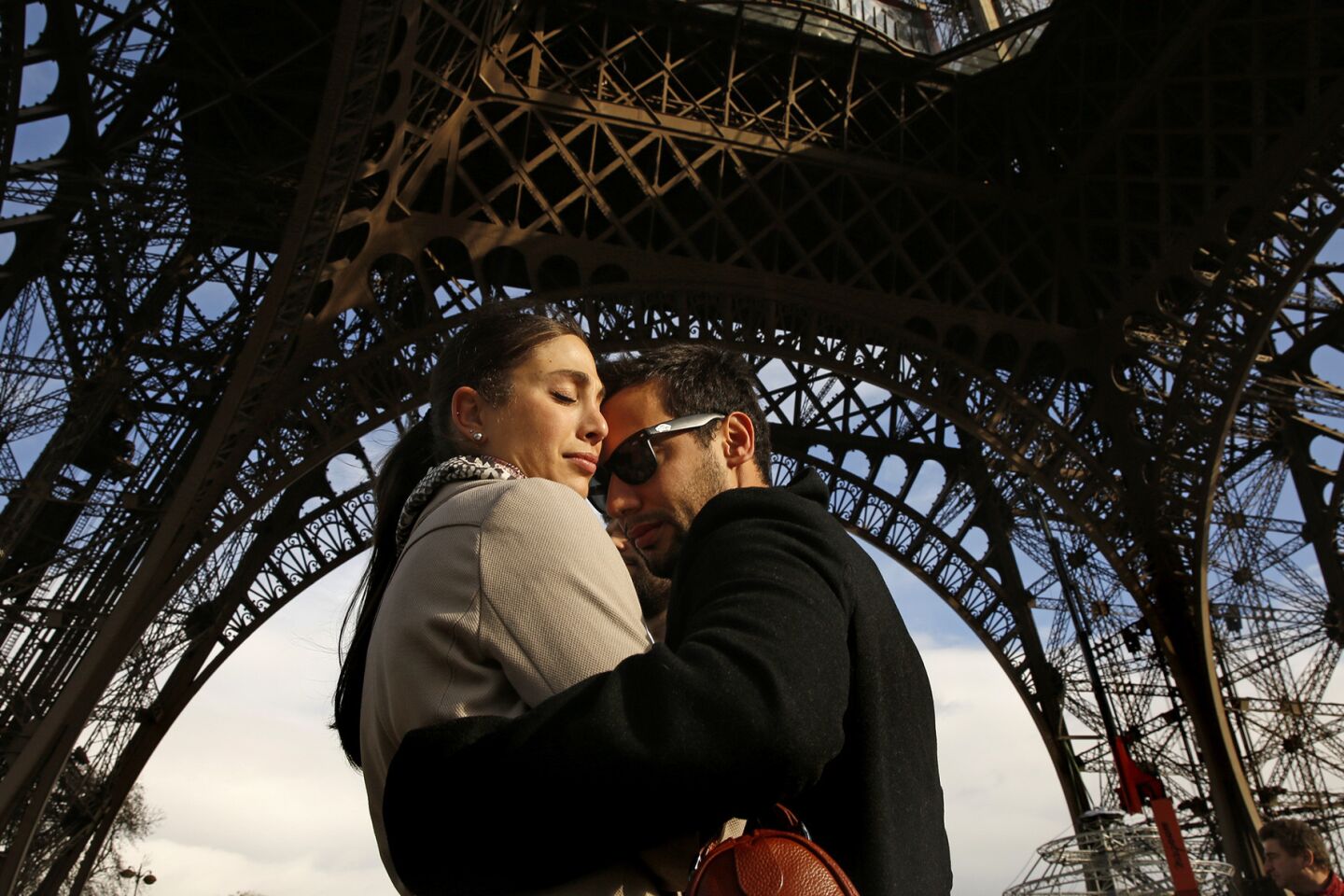 Paris residents take part in a Nov. 16 moment of silence under the Eiffel Tower in observance of those who died during the terrorist attacks three days earlier.
(Carolyn Cole / Los Angeles Times)
French President Francois Hollande, center, stands with government officials to observe a minute of silence Nov. 16 at the Sorbonne University in Paris.
(Stephane De Sakutin / AFP/Getty Images)
Members of the French Foreign Legion stand guard near the Eiffel Tower on Nov. 16.
(Carolyn Cole / Los Angeles Times)
A Paris shopkeeper stays inside Sunday as soldiers guard the street where she works.
(Carolyn Cole / Los Angeles Times)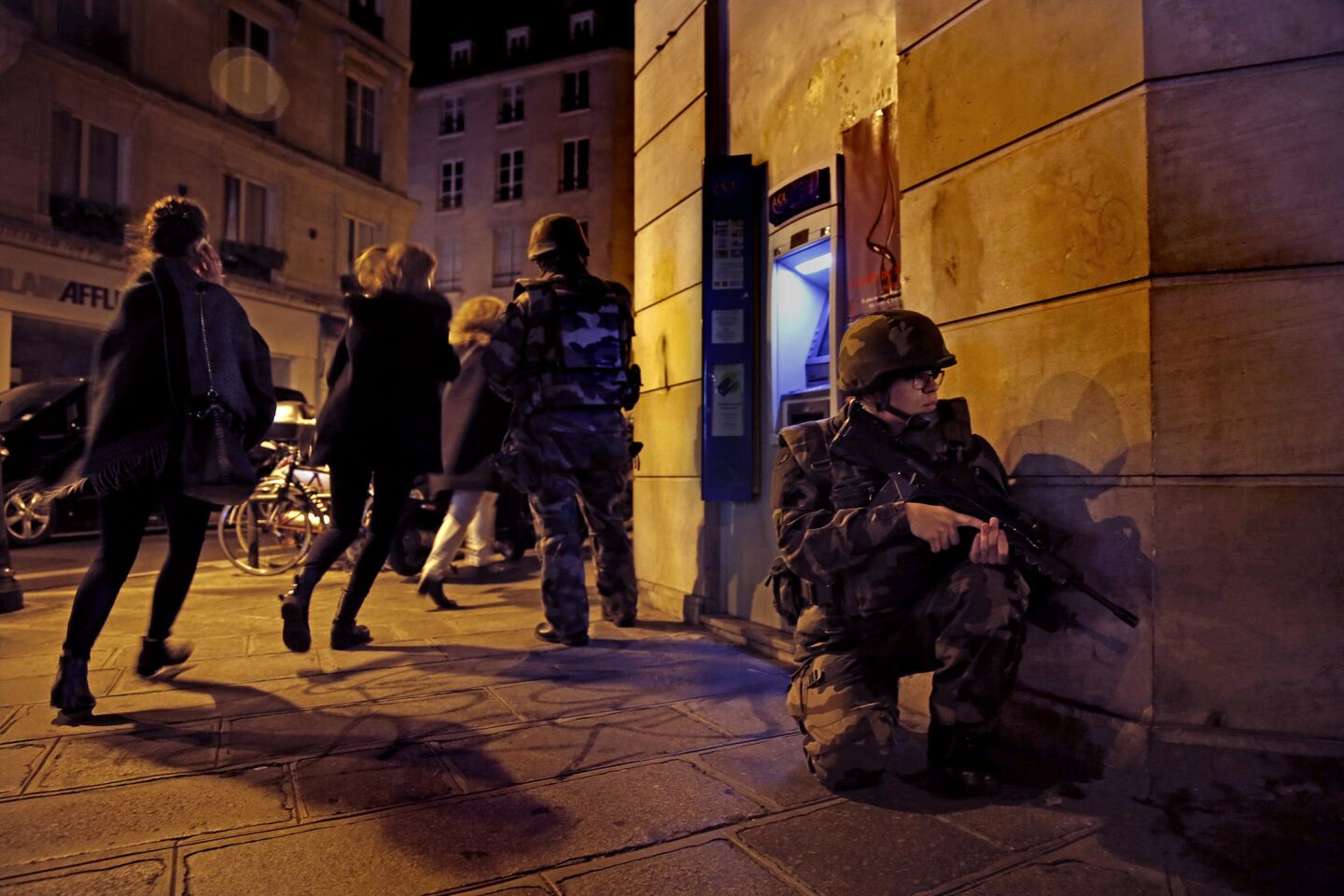 Women run past French soldiers as panic spread through the streets of Paris when rumors spread of another possible terrorist attack, which turned out to be a car left running in the street.
(Carolyn Cole / Los Angeles Times)
Prelates arrive to celebrate a Mass in memory of the attack victims at the Notre Dame cathedral.
(LIONEL BONAVENTURE / AFP/Getty Images)
An emotional crowd gathers in front of Le Carillon restaurant.
(Carolyn Cole / Los Angeles Times)
The glasses and silverware remain on the table where bullets were fired at Cafe Bonne Biere.
(Carolyn Cole / Los Angeles Times)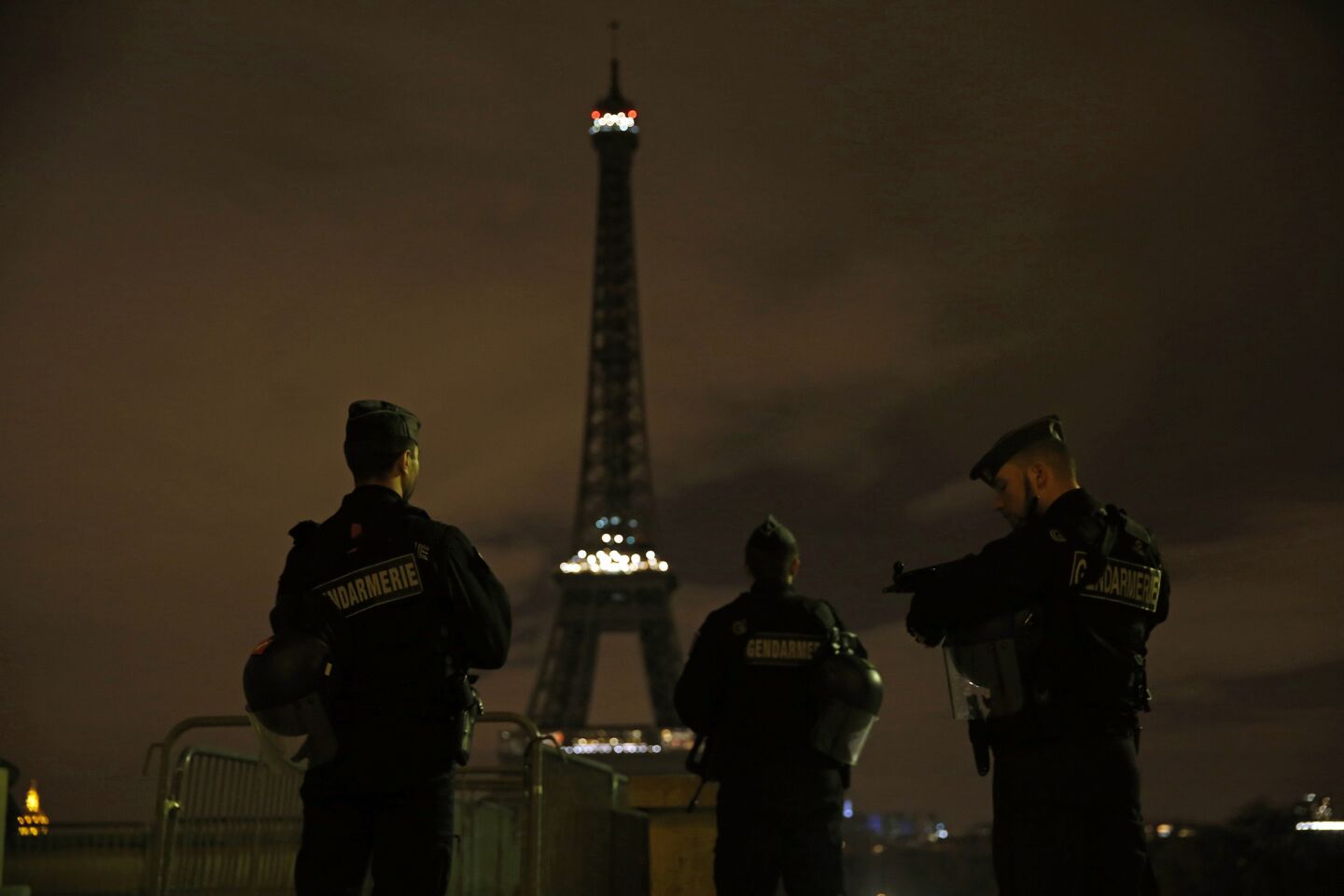 Armed police stand guard Nov. 14 near the Eiffel Tower, which was kept dark in honor of those who died in the terrorist attacks.
(Carolyn Cole / Los Angeles Times)
Mourners place flowers and candles outside the Bataclan theater in Paris.
(Carolyn Cole / Los Angeles Times)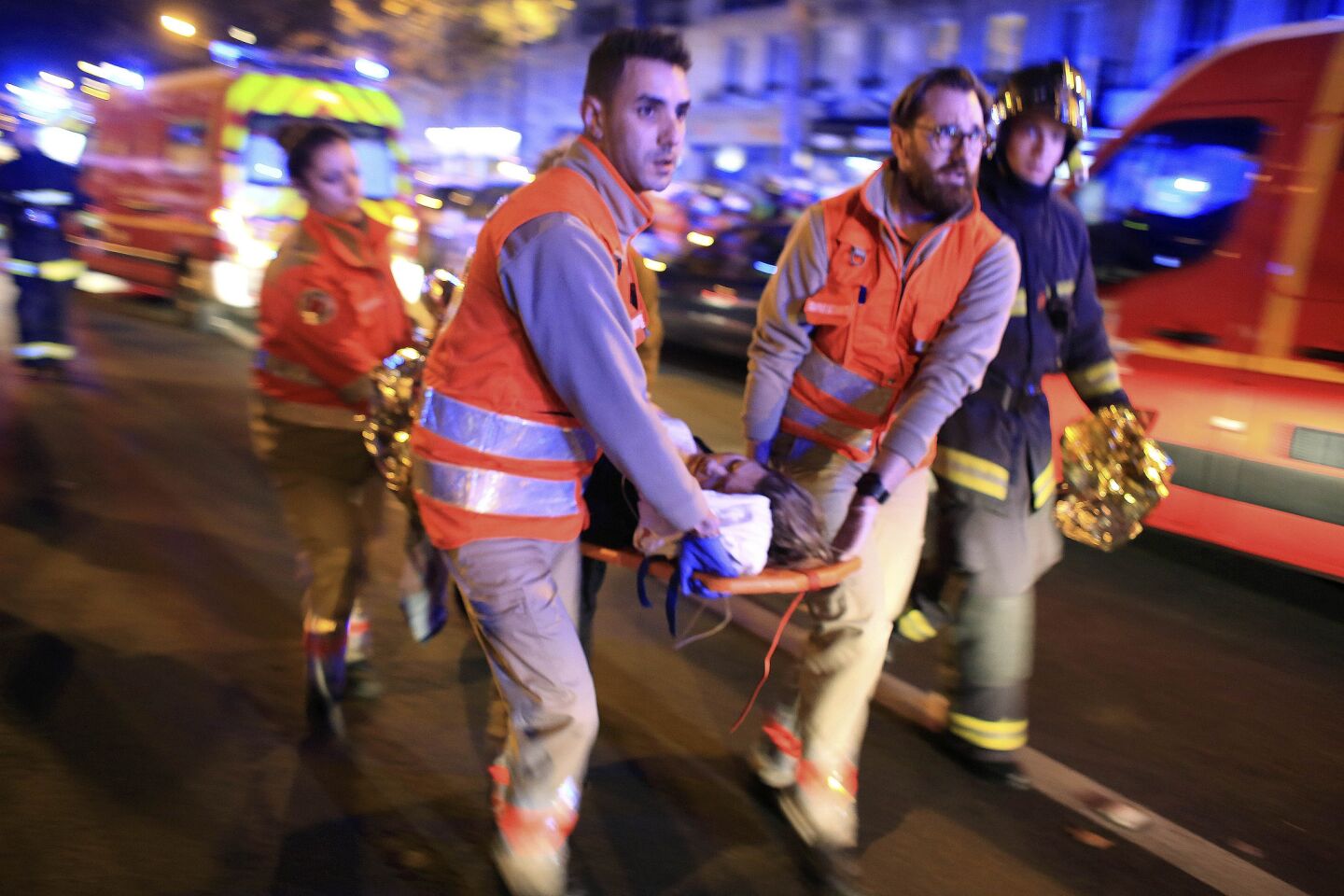 A woman is evacuated from the Bataclan theater after the shootings in Paris.
(Thibault Camus / Associated Press)
People lie on the pavement near the Cafe Bonne Biere in Paris following a series of attacks.
(ANTHONY DORFMANN / AFP/Getty Images)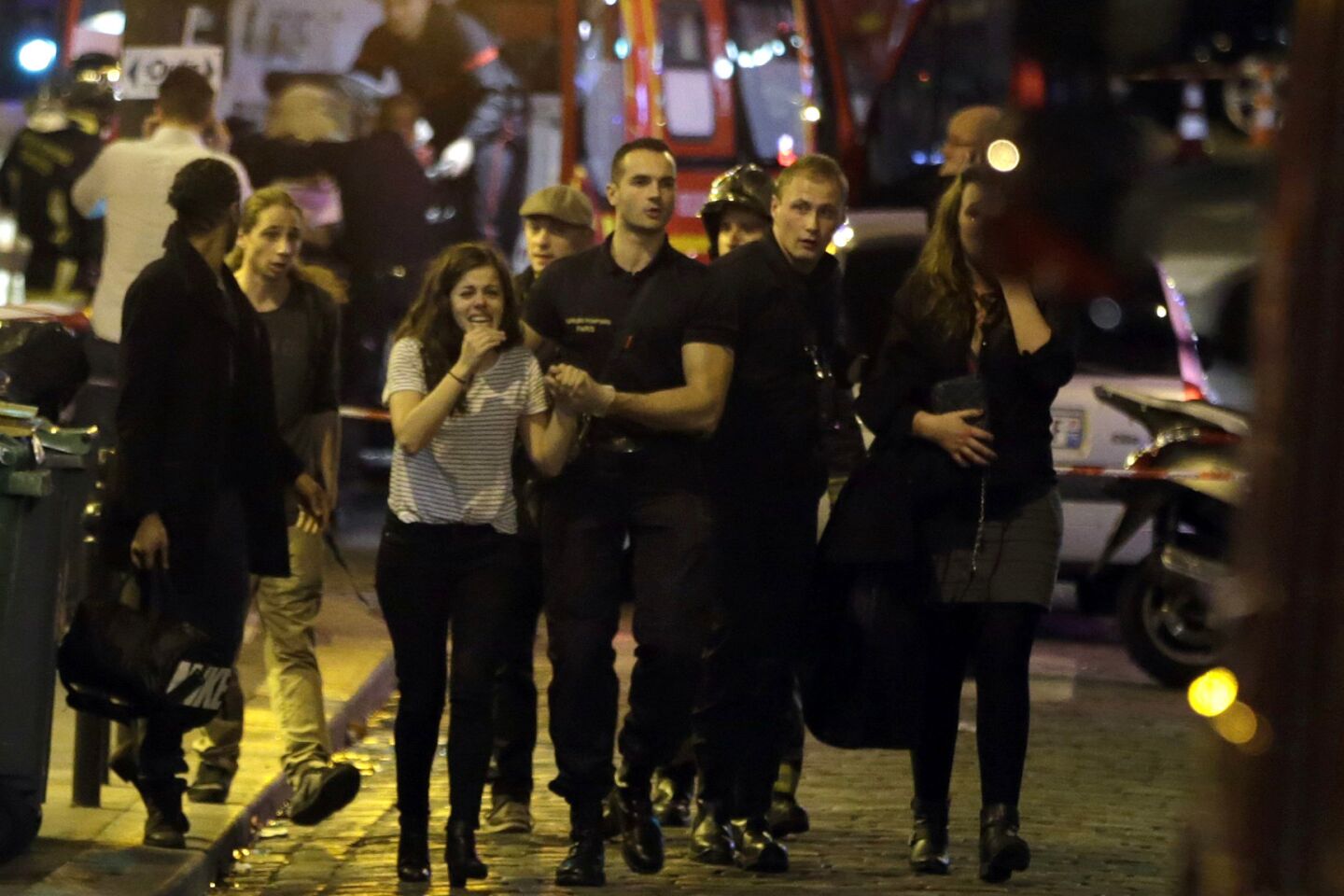 Rescuers evacuate people following an attack in Paris, where there were also reports of an ongoing hostage crisis at a concert venue.
(Kenzo Tribouillard / AFP/Getty Images)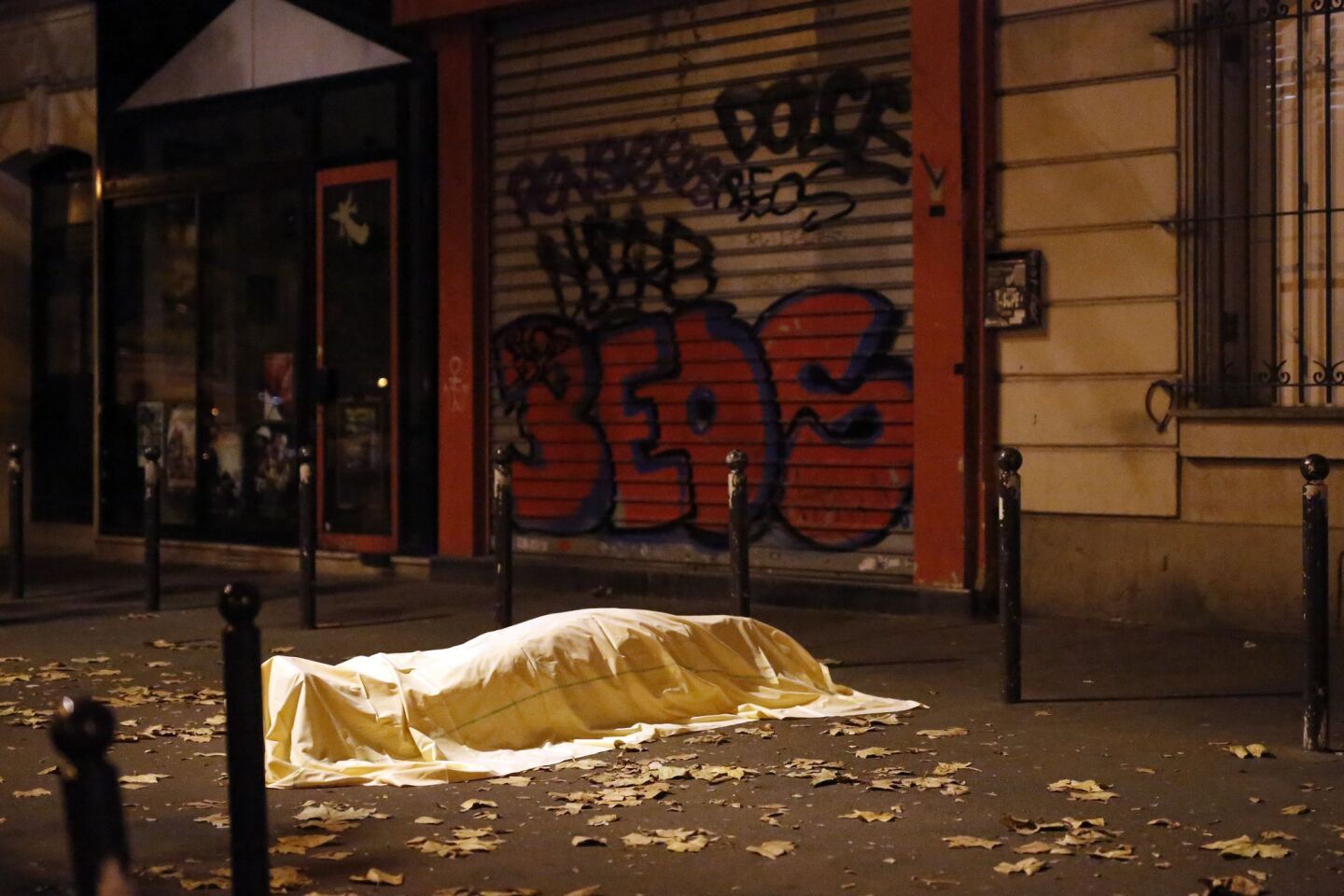 A victim lays dead under a blanket outside the Bataclan theater in Paris.
(Jerome Delay / AP)
Hundreds of people spilled onto the field of the Stade de France stadium after explosions were heard nearby during a match between the French and German national soccer teams.
(Christophe Ena / Associated Press)
A Cal State Long Beach student was among those killed in the Paris terrorist attacks, according to the university.
Nohemi Gonzalez, a 23-year-old design student from the El Monte area, was part of an international exchange program at the Strate School of Design. She was dining with fellow Cal State Long Beach students at a Paris restaurant Friday night when she was killed, the university's president said. The 16 other students studying in France have been reported safe.
------------
FOR THE RECORD
11:35 a.m.: An earlier version of this article reported Gonzalez's age as 20. According to Cal State Long Beach officials, she was 23.
------------
On Saturday, Gonzalez's friends expressed their sorrow over her death.
"Yesterday I lost the most important person in my life," wrote Gonzalez's boyfriend, Tim Mraz, on Instagram. "She was my best friend and she will always be my angel forever. I am lost for words. My prayers are with her family. Such a bright soul and the sweetest girl with a smile on her face."
He posted a photo of the two embracing. Weeks earlier, he had sent her birthday wishes and mentioned that they would see each other in December. "I've missed you so much and I wish I could be with you to celebrate in Paris."
Mraz and his family declined to speak to reporters Saturday as friends visited their Bellflower home. The events were too fresh, too painful, a neighbor said when exiting.
Alejandra Gonzalez attended Whittier High School with Gonzalez and said the two were on the cross-country team. She said her friend had a strong work ethic but knew when to be lighthearted and smile.
"She was kind to everyone — a remarkable and unforgettable person," she told The Times. "The world lost such a beautiful shining light."
Many of Gonzalez's friends took to Facebook to express their sorrow.
"It crushes my soul that you're gone but you were off being a free spirit like you've always been," wrote Madeline Chavez.
"I'm still trying to process this all but it's just too much to take," wrote Niran Jayasiri. "You were one of the most down to earth, cheerful, bubbly, helpful and honest people I knew."
"I swear this is a sick joke," wrote another friend. "I love you sunshine. you always seem to find the bright side of everything.. But right now i dont seem to see it…"
According to her Facebook page, Gonzalez had been part of a team that recently won second place in the Biomimicry Global Design Challenge for inventing a biodegradable snack pack that can sprout plants. Her last public post mentioned her exchange program. "Learning a 3D modeling computer program in a language I don't know is up there in the top 3 hardest things I've ever had to do."
The director of the Strate School of Design posted a statement on social media about Gonzalez and the attacks.
"Yesterday, with amazing violence, women and men were killed — killed simply for living in a free place," wrote Dominique Sciamma in French. "Others remain marked for life, body and soul. I'd hoped with all my heart that nobody in our community of people was touched, near or far, by these criminal acts. Unfortunately that was not to be. One of our international exchange students was a victim of yesterday's massacre. … Others were wounded and are today out of danger. We wish them courage to get through such an ordeal. Our response must always be the same: Live."
Gonzalez's death has hit her home campus hard.
"Everybody's heartbroken," said one faculty member who remembered Gonzalez as a talented student.
Gonzalez tutored students in Cal State Long Beach's Department of Design and was known as friendly and helpful to faculty. "We relied on her," said the department's chairman Martin Herman. "She had an indescribably sweet spirit and imagination. It's unbelievable that this could have happened."
Stephanie Ochoa, a senior in the department of Interior Design, said Gonzalez had been passionate about her work. "It's unreal to think one of our students was involved in this tragedy," said Ochoa, who was on campus Saturday. "It's heartbreaking inside and makes us appreciate our safety here."
University President Jane Close Conoley said the school was deeply saddened by Gonzalez's death.
"Our thoughts and prayers are with her family and friends during this sad time," she said in a statement. "Our university stands with our nearly eighty foreign exchange students from France as they struggle with this tragedy. We will extend all support necessary to comfort them. We will also extend support to all students, faculty and staff who are in need."
Conoley also said the school is reaching out to the students still in Paris and their families to gather information about their safety.
The university will hold a vigil at 4 p.m. Sunday to mourn Gonzalez's death and to grieve for all victims of the attack. The vigil will occur at the North Entrance of the University-Student Union.
Cal State University Chancellor Timothy P. White released a statement addressing the attacks. "My heart is heavy and I am deeply saddened for the family and Long Beach State Community, and I grieve with all those who have lost a cherished one."
Times staff writers Thomas Curwen, Richard Winton and Michael Finnegan contributed to this story.
ALSO
Paris attacks: LAPD monitoring 'critical sites' as precaution
A look at some previous extremist attacks in Western Europe
Eagles of Death Metal band members said to be safe after deadly Paris attacks
The stories shaping California
Get up to speed with our Essential California newsletter, sent six days a week.
You may occasionally receive promotional content from the Los Angeles Times.