President Obama declares major disaster in deadly California wildfire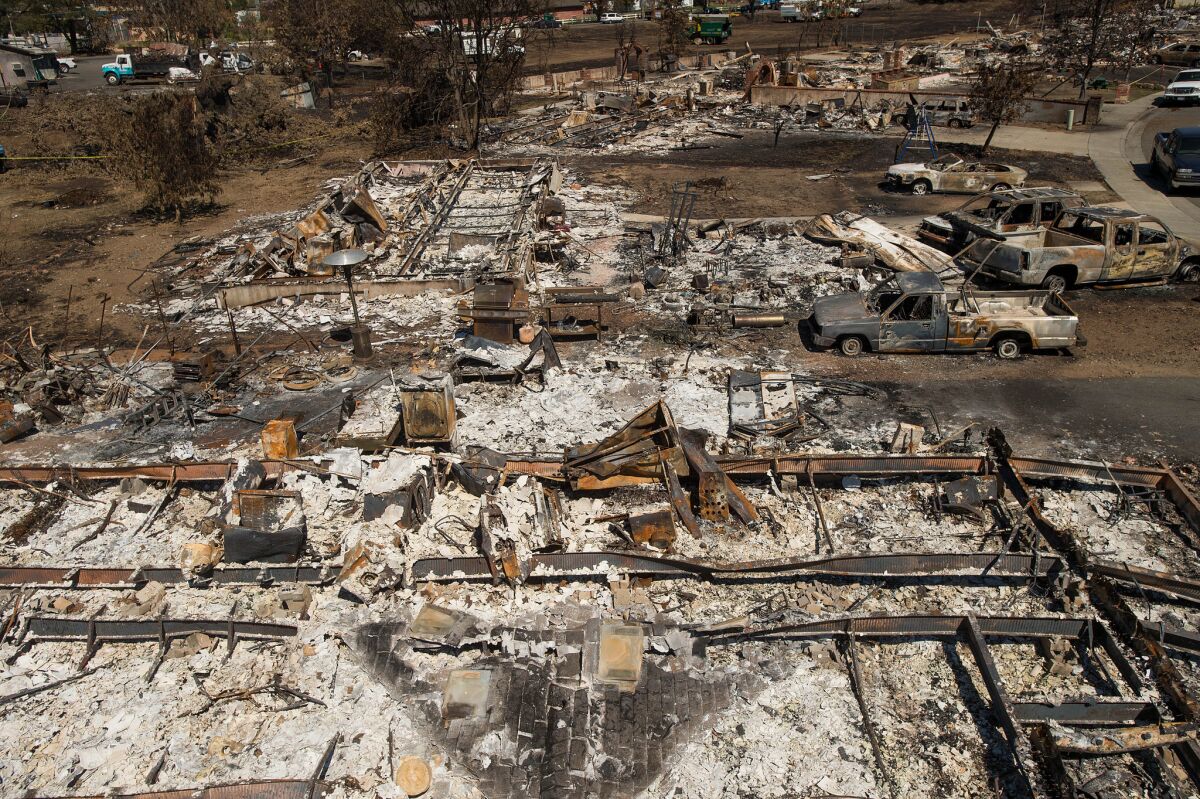 Reporting from Loch Lomond, Calif. —
As firefighters gained the upper hand on Northern California's massive wildfires Tuesday, President Obama declared a major disaster for the areas affected by the Valley fire, the most destructive of those blazes.
The move will allow federal assistance for home repairs, temporary housing and other programs to help people affected by the fire, according to a statement from the White House.
Gov. Jerry Brown had requested the declaration earlier this week.
"Four years of extreme drought conditions have parched our landscapes and created millions of dead trees that have increased California's vulnerability to these types of fires," Brown wrote in his request.
Three people are confirmed to have died in the Valley fire, which started Sept. 12 near the mountain town of Cobb.
Interested in the stories shaping California? Sign up for the free Essential California newsletter >>
Lake County sheriff's officials said Tuesday that they are searching for two men who disappeared during the Valley fire, Robert Litchman, 61, of Lower Lake, and Robert Taylor Fletcher, 66, of Cobb.
Litchman was reported missing by a friend who said Litchman had refused to evacuate and that he was last seen standing in his driveway waving vehicles by as others fled, according to the Lake County Sheriff's Office. He did not have transportation and probably did not leave his house, the friend reported.
Litchman's and Fletcher's homes burned in the fire. Sheriff's detectives searched their residences with cadaver dogs but were unable to locate any remains, officials said. They said that they had not given up hope and that searchers will continue to use the dogs in other areas.
Lake County Sheriff Brian Martin said Tuesday that six missing people had been found within the last 24 hours and that Litchman and Fletcher were the only people who remained unaccounted for.
The Valley fire has destroyed an estimated 1,238 single-family homes, 23 multifamily homes and hundreds of other structures, making it the third most destructive wildfire in California history, according to the California Department of Forestry and Fire Protection. It had burned 76,067 acres and was 79% contained.
The cause is still under investigation.
NEWSLETTER: Get the day's top headlines from Times Editor Davan Maharaj >>
Mike Smith, a Cal Fire battalion chief, said that the fire's spread had been halted and that some firefighters were being sent to battle blazes elsewhere. About 3,300 firefighters were still fighting the fire Tuesday.
The Butte fire burning in Calaveras and Amador counties was reported to be 82% contained and had burned 70,868 acres, according to Cal Fire. That blaze, which has destroyed an estimated 475 residences and hundreds of other structures, is the seventh most destructive wildfire in California history, according to Cal Fire.
Two deaths have been confirmed in the Butte fire, both men from the small town of Mountain Ranch.
Calaveras County sheriff's spokesman Sgt. Anthony Eberhardt said Tuesday afternoon that there were no outstanding reports of missing people.
Hundreds of residents displaced by the Valley fire have been returning to their homes — or what's left of them — in recent days as firefighters lift evacuation orders.
In Loch Lomond, a mountain community of about 400 people, Jason Soto returned Monday to find his house leveled by the fire. He spent his first day back home meeting with a contractor and insurance agent and helping his father clean up the rubble of his own destroyed home.
Soto has lived in the area since he was a child and he has grown used to fires, he said. He tried to give the situation a positive spin.
"It's a fresh start," Soto said. "I always talked about cleaning up my house and getting rid of my childhood stuff. Now I don't have to."
Times staff writers Rocha and Branson-Potts reported from Los Angeles, St. John from Sacramento and Shyong from Loch Lomond.
For breaking news in California, follow VeronicaRochaLA, @paigestjohn and @frankshyong.
ALSO
Controversial DWP nonprofits to keep $11-million 'rainy day' fund
L.A. schools want kids to think before they sext
Emmy-winning producer denies trying to kill roommate over Oscars joke
The stories shaping California
Get up to speed with our Essential California newsletter, sent six days a week.
You may occasionally receive promotional content from the Los Angeles Times.