Car2Go launches car-sharing service in South Bay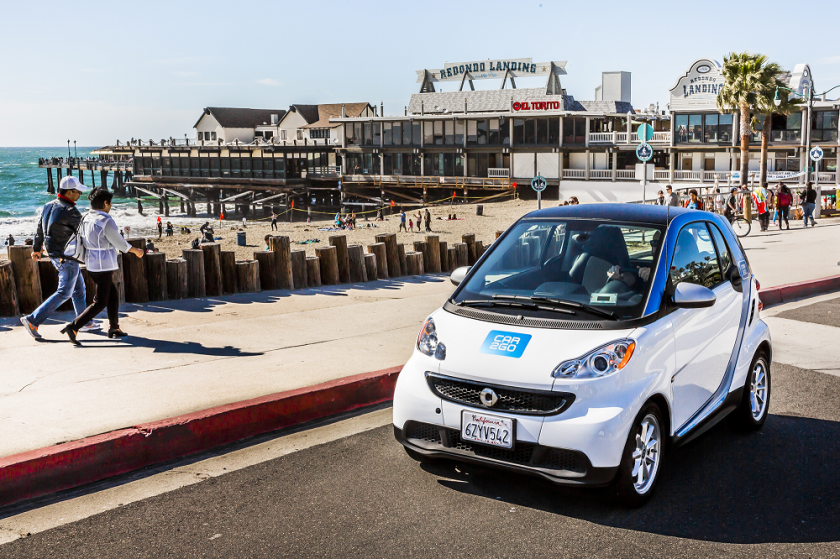 A new car-sharing service in the South Bay is hoping to convince more drivers to ditch their cars.
Car2Go, a pay-by-the-minute service featuring two-seater Smart cars, launched Friday in half a dozen cities including Hermosa Beach, Redondo Beach and El Segundo.
Unlike roundtrip services like ZipCar, Car2Go allows users to find a vehicle with a smartphone app, drive it and park in in any public parking space marked for 2-hour parking or longer, and walk away.
"This is a true point-to-point service," said Nicholas Cole, the company's chief executive. "We don't require reservations, we don't require our members to tell us how long they're going to use the vehicle. It's really a level of flexibility that you can't encounter anywhere else."
Users will pay 41 cents a minute to use the car, on top of a $35 one-time fee that covers gas and insurance. Drivers can earn 20 free minutes of time by filling up the tank with a prepaid gas card.
There are a couple of catches: users are responsible for any parking restrictions up to 24 hours after parking the car, which means a driver could be charged for a parking ticket, for instance, if they park in a spot with street-sweeping the next morning.
Also, while the cars can be driven anywhere, they can only be picked up and dropped off within the 28-mile "home area," which currently excludes all of Manhattan Beach and about half of Torrance and Hawthorne.
Manhattan Beach has not come to an agreement with Car2Go, primarily over disagreements about a parking agreement. The service has agreed to pay other cities fees to offset lost parking meter revenue so that drivers can park in city spaces for free.
The company, a subsidiary of German automaker Daimler, says it's continuing negotiations with those cities to expand the service area.
"This is just the starting point," says Walter Rosenkranz, a Car2Go business development manager overseeing the South Bay expansion.
"The South Bay is great…because the whole area functions as its own community. A lot of people live, work, and play within that community, which is really the ideal situation for Car2Go."
Rosenkranz says the company will have street teams monitoring the location of cars, how long they've been idle, and how much gas is left in the tank, and can move or refuel them as needed.
Company officials say the concept can help free up parking spaces and lessen traffic by making it easier for residents to downsize the number of vehicles they own.
Hermosa Beach Mayor Michael DiVirgilio says that while he doesn't consider the service a "silver bullet" for congestion issues, it's an innovative idea that he's willing to try out.
DiVirgilio's family gave up their second car in 2012, after much deliberation. "We just realized we were spending a lot of time moving cars around, in and off the street," he says.
With a little extra planning, they were able to sell the car and didn't look back.
Now, DiVirgilio says, he walks most places in town. "I'm out, I'm on foot, I'm exercising, and I'm seeing people on the way."
Services like Car2Go could help with last-minute situations, DiVirgilio says, when he needs access to a car quickly.
"In the beginning, there was a lot of uncertainty about how this worked and whether it could work," DiVirgilio says. "Over time, I think that most of that has disappeared. We don't know for sure yet, but we're testing it."
Launched in 2008 in Germany, Car2Go now has 700,000 registered members in 26 cities worldwide, including an all-electric fleet in San Diego that has received mixed reviews. (The company announced last week that it would be pulling out of Britain)
The concept's foray into car-centric L.A. County is on a bit of a trial basis – most of the South Bay cities have signed a one-year agreement with Car2Go, with options to extend. Cole, the Car2Go's chief executive, says he's confident the test drive will convince cities like Manhattan Beach and Hawthorne to sign on or expand.
"People are looking for alternative solutions to their transportation needs, and I think we fit in quite nicely with existing transportation in the South Bay," Cole said.
---
For reporting and exclusive analysis from bureau chief John Myers, get our California Politics newsletter.
You may occasionally receive promotional content from the Los Angeles Times.