Column: Republican couple who lost a son want their GOP back, fewer guns, and a return of statesmanship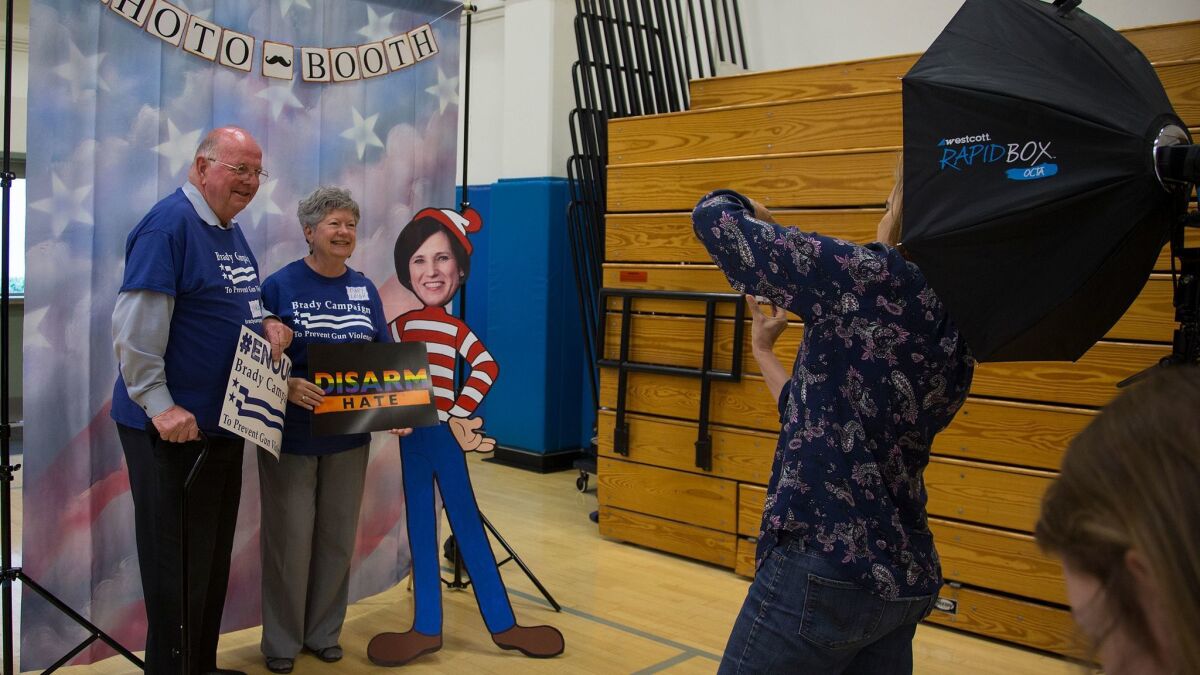 Charles and Mary Leigh Blek of Trabuco Canyon take a nice photo. You may have seen it in The Times last week, the Bleks smiling as they stood next to a cardboard cutout of Rep. Mimi Walters in Irvine.
Walters was a no-show at a "town hall" attended by hundreds who wanted to talk to her. Many of them were in a fever about support by Walters and other Republicans for the repeal of Obamacare.
These pitchfork rallies have been happening all over the country, with ticked-off voters speaking up about immigration and environmental policy too. On healthcare, Trump recently took bows for a half-baked House bill that bulldozed some of his oft-repeated promises about better and cheaper healthcare for all.
And Democrats — who happen to be having their own nationally televised identity crisis — see that as an opportunity to bounce Republicans in next year's midterm elections.
These Reagan Republicans feel left behind
But it turns out the Bleks, who were wearing Brady Campaign T-shirts in the photo, are Republicans. With a phone call and a visit, I learned they're an endangered species in the Trump era.
They're moderates, and their party of choice is currently led by a grenade launcher whose army of supporters felt forgotten, so they enlisted with the first guy who told them what they wanted to hear.
I like revolution as much as the next guy, but we're learning now that knowledge, maturity and a plan are important qualities in a leader. And it seems to me that whatever the political party, there ought to be room in the tent for those who aren't trying to set it on fire.
Ronald Reagan probably wouldn't stand a chance in a presidential primary today, said Mr. Blek, because he was too moderate. Mrs. Blek said she has not left the GOP but feels as if it has left her.
"I believe there are a lot of Republicans who feel as I do, that we need to protect public safety and be accountable and responsible." But public safety will always be at risk, she said, "as long as the gun lobby is calling the shots and Republicans are drinking the Kool-Aid."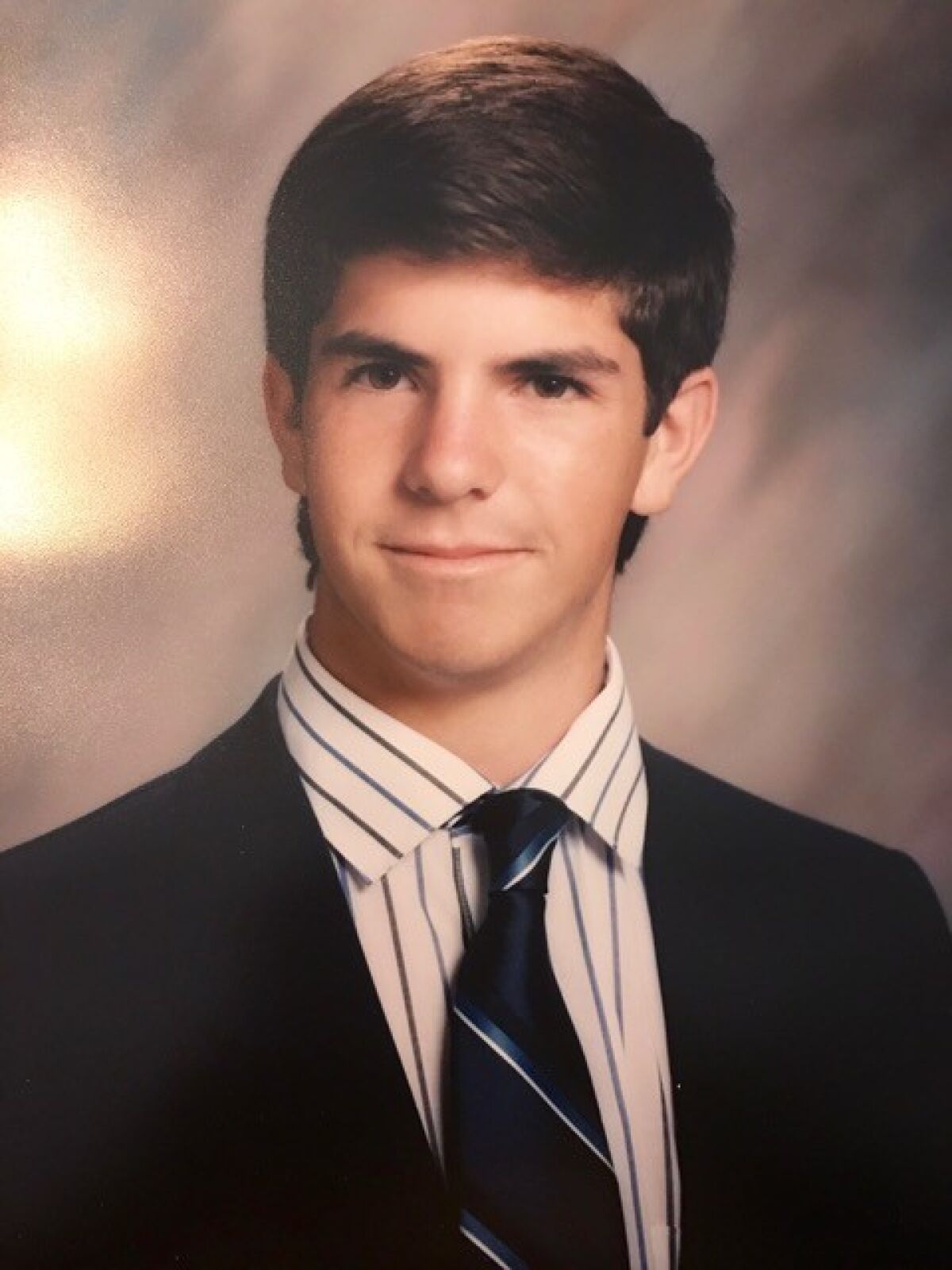 The Bleks have strong opinions on the healthcare bill that was kicked over to the Senate — a bill that analysts say would leave millions uninsured, slap older Americans with higher costs and make it harder for those with preexisting conditions to get coverage.
"You don't throw out the baby with the bath water," said Mrs. Blek, who felt the flaws in Obamacare could have been fixed.
She's a former school nurse who now runs the Laguna Hills office where Mr. Blek is an estate planning lawyer.
"Within my practice we talk to a lot of parents and grandparents who are extremely concerned about keeping the preexisting condition clause … and insurance for those 26 and under," Mr. Blek said. "A number of them have said that, but for Covered California, they would have no coverage at all."
It was not Trump, however, or healthcare, that drew the Bleks to the town hall meeting in Irvine. It was the issue of gun policy, which is why they wore those T-shirts. James Brady, Reagan's press guy, became a gun control champion after being shot in 1981 in the assassination attempt on the president.
"Our son was shot in 1994 by three 15-year-olds," said Mrs. Blek, speaking with traces, still, of disbelief as well as resolve.
Fighting for their son
Matthew Blek had been a high school wrestler who played guitar and violin. He studied math and physics at Fresno State and traveled to New York the summer before his senior year. He was walking back from a date when he was shot and killed in an apparent robbery by teens who had killed a 37-year-old man 90 minutes earlier.
The gun was a cheap weapon known as a Saturday night special, Mr. Blek said. At the time, Mr. Blek would learn, 80% of the Saturday night specials produced in the United States were made in a 50-mile radius of their Orange County home.
Mrs. Blek wrote a letter to the incarcerated teen who killed her son and asked where he got the gun. She said he wrote back, saying they were available by the truckload.
The Bleks became activists. Mrs. Blek started the Orange County Citizens for the Prevention of Gun Violence, and she and her husband have lobbied for strict gun laws ever since. Mrs. Blek's current focus is speakforsafety.org, a campaign to offer family members and others a civil court process for a temporary restraining order, so that someone in crisis is unauthorized to possess or purchase guns or ammo.
As members of the Brady Campaign to Prevent Gun Violence, the Bleks went to the "town hall" in Orange County to speak up about Rep. Walters' co-sponsorship of House bill H.R. 38, which would allow gun owners to carry concealed weapons in any state. Mr. Blek explained that if you get a gun in a state that has lax or nonexistent background checks, training requirements and standards for issuance, you can carry that gun into a state with stricter regulations, such as California.
Getting that legislation passed is a major goal of the National Rifle Assn., whose Political Victory Fund gave Walters an A in 2015 for her support of gun rights. The NRA spent $30 million in support of Trump, who spoke at the lobby's annual leadership forum in April, vowing that the "assault" on 2nd Amendment freedoms "has come to a crashing end."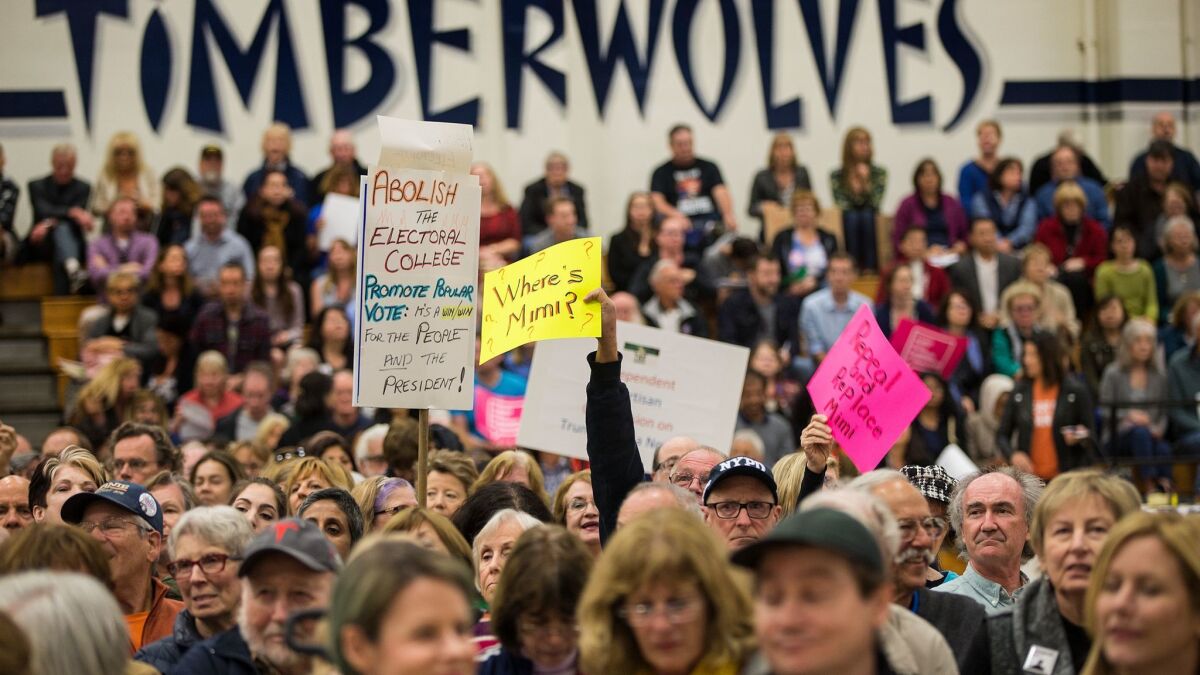 If the Bleks are discouraged by such developments, or by the difficulty of enacting assault weapons bans, or by the likes of radio barker Alex Jones — the Trump buddy who promoted a theory that the Sandy Hook Elementary School massacre was a hoax staged by Democrats — they don't show it.
In 20 years of strict gun control policy in California, Mr. Blek said, "our gun mortality rate has decreased 57%, which is 27% greater than the national average."
We are not by nature more violent than people in other countries, Mrs. Blek said. "We just have easier access to firearms," and the result is a public safety epidemic.
In 2014, 33,700 people in the U.S. died of gunshot wounds and 81,000 were treated for nonfatal gunshot wounds. It costs at least $730 million a year to pay for the care of victims, according to a study by the American Journal of Public Health, and taxpayers covered 41% of the tab in the cases of uninsured patients and those on Medicaid. If healthcare reform means smaller contributions to Medicaid and millions more uninsured people, hospitals and taxpayers could be harder hit.
'It was a badge of honor'
Mrs. Blek said she was a soft-spoken, shy woman of 48 when her son was killed, but she found her voice. After 23 years of speaking up, she is not done honoring his memory or trying to protect others.
"I remember very vividly being called an activist, and I thought that was a dirty word at first," she said. "Then I learned it was a badge of honor."
Get more of Steve Lopez's work and follow him on Twitter @LATstevelopez
ALSO
Trump's pick for a top Interior post has sued the agency on behalf of powerful California water interests
Judge throws out lawsuit challenging California's execution law
Charter backers poised to win their first L.A. school board majority
200 protesters spell out 'RESIST!' in flash mob at Trump's Rancho Palos Verdes golf course
---
UPDATES:
May 17, 2017, 4:45 p.m: An earlier version of this story had several paragraphs out of order.
---
Life is stressful. Our weekly mental wellness newsletter can help.
You may occasionally receive promotional content from the Los Angeles Times.