Chris Brown's attorney blasts accuser, claiming 'fabricated' allegation of gun threat
As police continued examining evidence seized from Chris Brown's home — including security camera footage — the R&B singer's attorney insisted Wednesday on his client's innocence and questioned the motives of the accuser, a dethroned beauty queen and aspiring actress.
Brown's longtime attorney, Mark Geragos, told The Times that the performer has "cooperated fully" with police and he blasted the account of Baylee Curran. An actress and model, Curran told The Times that Brown pointed a gun at her head while she viewed a diamond necklace during a party at Brown's home.
"It has become apparent that the allegations are not just false but fabricated," Geragos said. The lawyer noted that during the search of Brown's home, the LAPD did not find the jewelry described by Curran nor any firearms.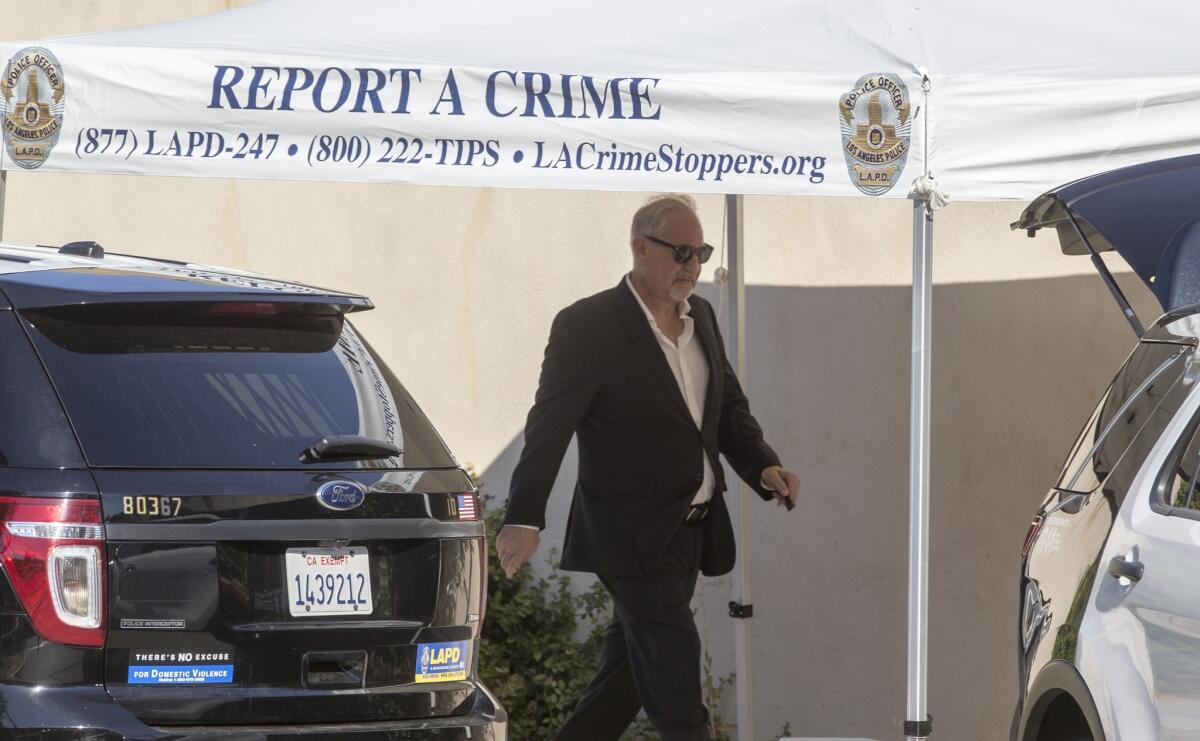 Police arrived at the home shortly after 3 a.m. Tuesday but were denied entry and told to obtain a search warrant, prompting a protracted standoff with Brown that was broadcast on television.
Once the warrant was secured, police recovered footage from the $4.3-million home's security camera system, according to sources close to the investigation.
Brown was arrested on suspicion of assault with a deadly weapon and released late Tuesday after posting $250,000 bail. He has not been charged and his arraignment is scheduled for Sept. 20, according to jail records.
It is Brown's latest scrap with the law. Brown pleaded guilty to attacking his then-girlfriend Rihanna in 2009 and spent six years on probation. He admitted in May 2014 to violating his probation after assaulting a person outside a Washington hotel.
Meanwhile, the New York Police Department said Wednesday that Curran and another woman were wanted for questioning stemming from an October 2013 theft at the Plaza Hotel. Police said one of the two women grabbed a person's purse, snatched a wallet and fled. Court papers obtained by The Times indicate that Curran's associate allegedly grabbed the purse.
In 2013, Curran also sought a temporary restraining order against a former male roommate, alleging he pushed her against the wall of their Burbank apartment. He denied the accusation, telling the court that she was intoxicated and tried to hit his friend. Curran failed to show up in court for a hearing and the restraining order was dismissed.
In April, she was crowned Miss California Regional 2016 but lost her title by July, according to a statement from pageant organizers. Joshua James, a spokesman for the pageant, said Curran was "dethroned" following an internal inquiry.
Curran and her publicist did not respond to requests for comment.
Pageant organizers said she has been asked several times to return her crown and sash, but she refused to do so.
ALSO
Who is the woman accusing Chris Brown of threatening her at gunpoint?
How much trouble is Chris Brown in? His past legal woes, Rihanna assault could haunt him
Surreal standoff ends with Chris Brown under arrest, but the R&B singer says he's the victim
Sign up for Essential California for news, features and recommendations from the L.A. Times and beyond in your inbox six days a week.
You may occasionally receive promotional content from the Los Angeles Times.