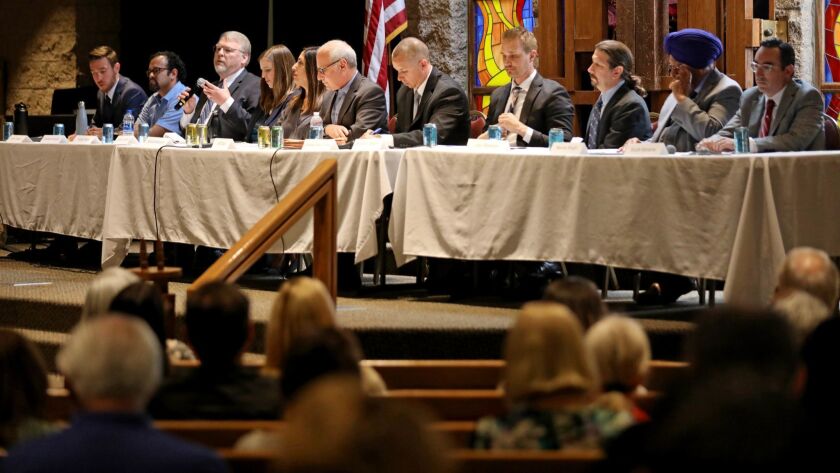 Former City Hall aide John Lee and sustainability educator Loraine Lundquist are headed for a runoff in the race to fill a coveted seat on the Los Angeles City Council representing Chatsworth, Porter Ranch and other northwestern parts of the San Fernando Valley.
Fifteen candidates vied for the job after former Councilman Mitchell Englander stepped down last year to take a job with a sports and entertainment firm. With so many candidates splitting the vote, Tuesday's election was long expected to trigger an August runoff between the top two finishers.
The eventual winner will represent a Valley council district that is more suburban in feel than much of Los Angeles. Homelessness has become a simmering issue in the race, underscoring deep divisions over how to confront the problem. The Aliso Canyon methane disaster, which displaced thousands in Porter Ranch, has also reverberated through the spring campaign.
For Democrats such as Lundquist, the nonpartisan race nonetheless represents a chance to claim a council seat long held by Republicans. Many candidates also pushed to end the long pattern of electing the top aide to the previous councilman — a City Hall dynasty that would lead next to Lee, a former Englander aide.
Lee, a Republican who has touted his long experience in the council district and numerous endorsements, was the top fundraiser in the campaign.
Lee has "a concrete record of doing things on the issues that the district cares about — homelessness, public safety, neighborhood services," said Pat Dennis, senior strategist for Lee's campaign. "People really responded to that."
IBEW Local 18, the union that represents Department of Water and Power workers, sponsored an independent expenditure committee that spent tens of thousands of dollars promoting his candidacy.
But his front-runner status also made him a target: Lee has faced campaign attacks for his closeness to City Hall and over harassment allegations that led to a $75,000 settlement paid out by the city. Lee denied the harassment claims and has stressed that he was dismissed as a defendant in the civil case.
Many of the sharpest barbs came from Frank Ferry, a former Santa Clarita councilman running for the seat, who bolstered his campaign coffers by loaning himself roughly $200,000 and sent out mailers targeting Lee.
Ferry, a retired educator who raised relatively little from other donors, ended up trailing several other candidates as votes were tallied late Tuesday, including Lee, Lundquist, Scott Abrams and Jay Beeber of the advocacy group Safer Streets L.A.
Formidable fundraisers in the race included Abrams, who works as district director to U.S. Rep. Brad Sherman (D-Northridge); nonprofit executive Stella Maloyan, whose candidacy was bolstered by independent spending by the hotel workers union; attorney and former airport commissioner Jeff Daar; Jack Kayajian, an administrator in the L.A. city attorney's office; and Lundquist, who also benefited from independent spending by environmental groups.
Lundquist campaign consultant Jesse Switzer credited the candidate's credentials for her strong showing in the race.
"I think that people found it refreshing that a scientist was running for office, and running on an evidence-based approach to governance, as opposed to some tired political rhetoric," Switzer said Tuesday.
The City Council seat is currently filled by Greig Smith, a former councilman who was appointed on an interim basis after Englander stepped down.
Twitter: @AlpertReyes
---