'Absolutely terrifying': Deputy city attorney says she contracted typhus at City Hall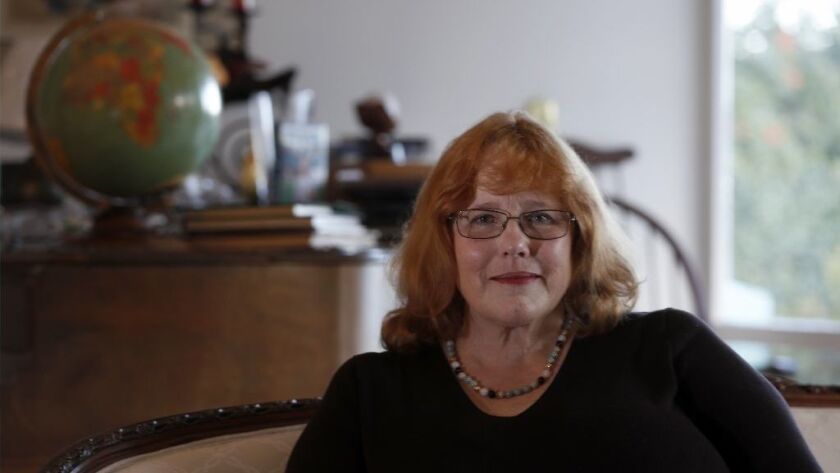 Deputy City Atty. Elizabeth Greenwood was at work in City Hall East last fall when her shin began to hurt.
"I looked down and there were a couple of insect bites," Greenwood recalled. She thought little of it at the time, she said, but within weeks she was gravely ill with what doctors would ultimately diagnose as the flea-borne illness typhus.
"It was absolutely terrifying," Greenwood said, describing symptoms that included a 102-degree fever, "the worst headache I have ever had in my life," and dizziness so severe that she needed help walking to the bathroom.
Greenwood's experience — and her willingness to speak publicly about it — was a driving factor in this week's admission by city officials that Los Angeles' iconic seat of government is infested with vermin.
In the wake of media reports about her condition, City Council members and staffers stepped forward with their own accounts of office flea bites and rats skittering down hallways, over official documents and into ceiling panels.
City officials are now pursuing a full-court press to eradicate rats and fleas. Crews are to clean up the entire Civic Center area in coming weeks, including stepped-up street sweeping and removal of vegetation that may provide animals with shelter or food. Employees are being told to empty the trash each night and put away food and water that may attract animals. There is discussion of ripping out office carpets to get rid of droppings and fleas.
Greenwood, who works in a unit that defends the LAPD in lawsuits brought against the department, is the only City Hall employee who has said publicly that she contracted typhus.
The disease, which has been around since medieval times, is carried by rats. Fleas become infected when they bite rats and then spread it to humans either through bites or when the insects' feces are rubbed into a cut or scrape in a person's skin.
Typhus has been a growing problem in L.A. The disease is associated with overcrowding and unsanitary conditions, and last year, after a half dozen homeless people came down with typhus, county officials declared an outbreak in downtown L.A. At the time, they urged residents to steer clear of rats and other wild animals.
Typhus' symptoms include a rash, fever and fatigue. Jeffrey Klausner, a professor at UCLA's David Geffen School of Medicine, said that the severity of the disease varies widely and some people recover without ever realizing they had typhus.
"Unless doctors are well aware of the signs and symptoms, it may be misdiagnosed," said Klausner, an infectious disease expert. He said that "if people see fleas in their work environment, they need to be aware that one of the infections they could have is typhus."
Greenwood's doctor initially diagnosed her with meningitis. She said that as she lay in bed one day wondering why she wasn't getting better, she recalled Mayor Eric Garcetti's email last October warning of the typhus outbreak.
"I googled 'typhus' and all of my symptoms were included on the list," she said. A blood test later confirmed her diagnosis, she said.
Greenwood said she notified the City Attorney's office that she had typhus, but supervisors did not alert co-workers.
"It was clear they just didn't believe me," she said. Spokesmen for the office did not respond to messages seeking comment.
Greenwood said she saw herself as "the canary in the coal mine" of the problem and decided to go to the media to protect other civil servants and members of the public who visit the City Hall complex. KNBC first reported on her condition.
Three and a half months after she became ill, Greenwood describes herself as "98% better." She suffers from occasional bouts of vertigo, but eventually plans to return to work.
"If they fumigate, I will come back," she said.
---
Must-read stories from the L.A. Times
Get the day's top news with our Today's Headlines newsletter, sent every weekday morning.
You may occasionally receive promotional content from the Los Angeles Times.