L.A. exec who paid $400,000 to label son a tennis recruit pleads guilty in college scam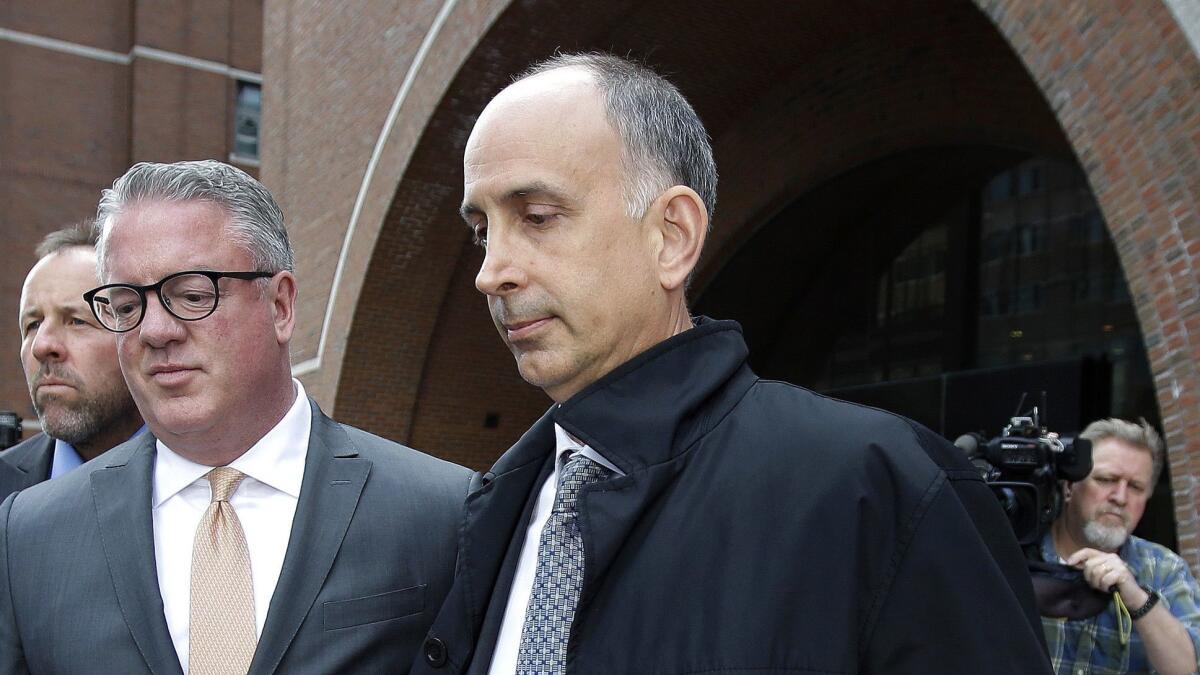 A Los Angeles executive who paid $400,000 to secure his son's spot at Georgetown as a tennis recruit pleaded guilty Tuesday to fraud charges as part of a sweeping college admissions scandal that has ensnared dozens of wealthy parents and sent shock waves through some of the country's most elite educational institutions.
Stephen Semprevivo, 53, pleaded guilty to conspiracy to commit fraud and honest services mail fraud in a Boston courtroom as part of a deal with federal prosecutors. As part of the plea agreement, prosecutors recommended a sentence of 18 months in prison, a fine of $95,000 and a year of supervised release. He is scheduled to be sentenced Sept. 11.
Semprevivo is the third parent and eighth defendant to plead guilty in the scandal. Eleven other parents — including actress Felicity Huffman — who prosecutors say used the services of Newport Beach college consultant William "Rick" Singer to secure their children's admission to top colleges through bribes, fake credentials and rigged tests have agreed to plead guilty at hearings later this month. Singer has pleaded guilty to four felonies and admitted to masterminding the plot.
Prosecutors allege wealthy parents paid sums of $15,000 to $75,000 per child for rigged college entrance exams, and $100,000 to $400,000 per child for what Singer called his "side door." The side door, Singer explained to parents in calls recorded by the FBI, was his scheme to bribe coaches of university sports teams into giving up slots reserved for recruited athletes.
Authorities say Semprevivo paid $400,000 to Singer's charity, Key Worldwide Foundation, to take advantage of the "side door" into Georgetown University for his son as a purported tennis recruit in 2016.
To execute the ploy, Singer created a falsified profile of Semprevivo's son as a competitive tennis player who was ranked in singles and doubles tennis and participated in the sport for his entire high school career. The teen's application also falsely stated he made the Nike Federation All Academic Athletic Team in tennis and included an essay that focused on his purported skills on the court.
Full coverage: Dozens charged — including Hollywood actresses — in connection with college admissions scheme »
The essay — written by Singer — read, in part: "When I walk into a room, people will normally look up and make a comment about my height — I'm 6'5 — and ask me if I play basketball. With a smile, I nod my head, but also insist that the sport I put my most energy into is tennis."
In reality, authorities said, Semprevivo's son never played competitive tennis and his applications to other colleges did not mention the sport.
In April 2016, after Semprevivo's son was accepted to Georgetown, Singer sent him an email that included an invoice for a $400,000 "private contribution," according to the affidavit. Days later, Semprevivo sent a check to the Key Worldwide Foundation, the charity Singer used to pay coaches and test takers who allegedly participated in the scam.
Semprevivo's son enrolled at Georgetown in 2016, but he did not join the tennis team.
Prosecutors allege Georgetown tennis coach Gordon Ernst accepted $2.7 million in bribes from 2012 to 2018 to designate 12 students, including Semprevivo's son, as recruits for the team. He has been indicted on a racketeering conspiracy charge and pleaded not guilty in March.
After Singer was caught by federal authorities and agreed to work with investigators, the mastermind called Semprevivo in March with a story that Georgetown was conducting an internal investigation to determine why students who were not tennis players had been designated as recruits.
During the recorded conversation, Semprevivo asked Singer how many students were being investigated and whether the school would be contacting his son. As the conversation continued, Semprevivo appeared to become nervous and started stammering before the phone call disconnected.
When Singer called him back, Semprevivo said he wasn't comfortable continuing the conversation and denied knowing his son was admitted to the university through Ernst.
"You know, all I know is that we, you know, we used you for the charity stuff and we used you for the counseling, and your dealings are your dealings. And so, you know," he said, according to a transcript of the call included in court records.
When Singer continued to press Semprevivo about his involvement in the scheme, Semprevivo said Singer needed to be "accountable" for the things he did and told him he didn't want to talk about it anymore.
"We donated as a charity, and it was a good charity and we were excited we could help you and … how you do favors for people separately that's, you know, I — we appreciate any help you gave us. But, you know, we used you in terms of the, you know, in terms of your college stuff. We paid you well for the, you know, for the work you did there separately," Semprevivo said, according to the transcript of the call.
"So, I think that, you know, if you're trying to turn something around in terms of, you know, what you did and how you did it, then I don't want to be, I don't want to be a part of that."
Twitter: @Hannahnfry
Sign up for Essential California for news, features and recommendations from the L.A. Times and beyond in your inbox six days a week.
You may occasionally receive promotional content from the Los Angeles Times.