Bay Area couple first to plead guilty in college admissions scandal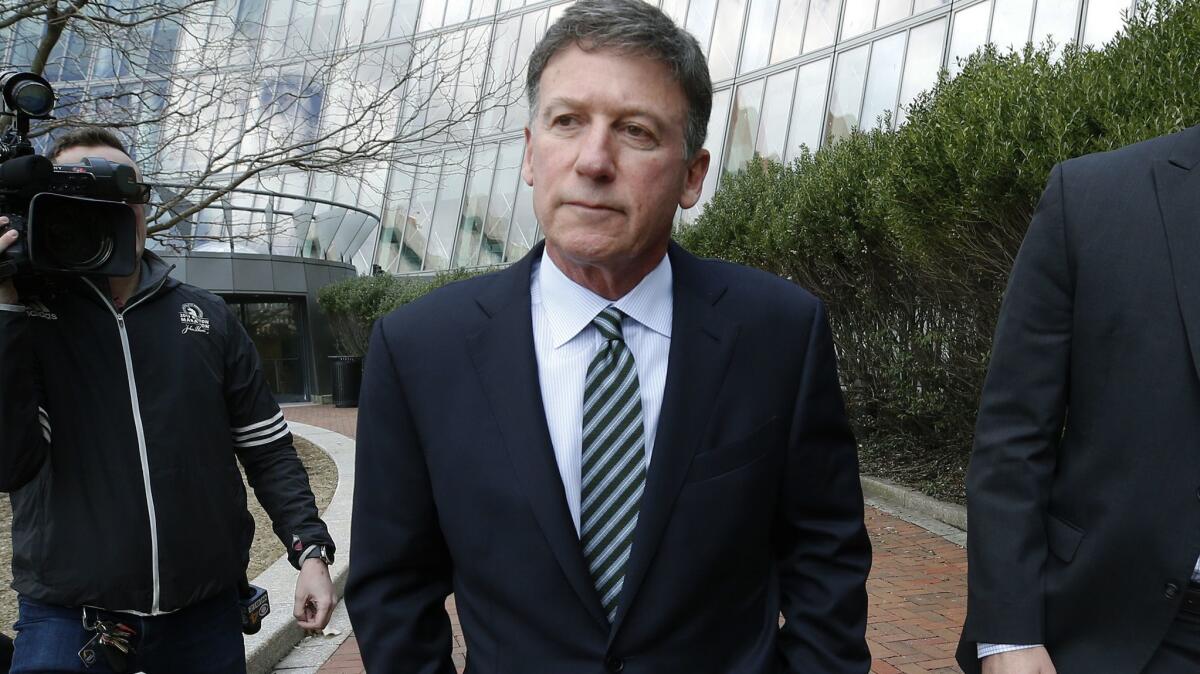 A Northern California couple who secured their daughters' spots at UCLA and USC with bribes and rigged tests pleaded guilty Wednesday to fraud and money laundering offenses, the first parents to admit their guilt before a judge in an investigation that has sent shivers through circles of Silicon Valley, Wall Street, Hollywood and some of the country's most elite universities.
Davina Isackson of Hillsborough, Calif., pleaded guilty to one count of fraud conspiracy. Her husband, real estate developer Bruce Isackson, pleaded guilty to one count of fraud conspiracy, one count of money laundering conspiracy and one count of conspiracy to defraud the United States. They will be sentenced July 31.
In Davina Isackson's plea agreement, prosecutors recommended a sentence at the low end of federal guidelines that call for 27 to 33 months in prison. For Bruce Isackson, they suggested a sentence at the low end of 37 to 46 months in prison.
Of the 33 parents charged in the investigation, the Isacksons are the only ones to have signed cooperation deals with prosecutors. If prosecutors decide the couple provided useful and credible information, they can recommend that a judge sentence them below the federal guidelines.
Investigators want to learn from the couple who at UCLA and USC knew of an alleged recruiting scheme they used to slip their two daughters into the universities as sham athletes, The Times has reported.
The Isacksons' older daughter, Lauren, was admitted to UCLA as a recruited soccer player, given a jersey number and listed on the team roster as a midfielder for an entire season, despite never having played the sport competitively, prosecutors alleged.
Full coverage: Dozens charged — including Hollywood actresses — in connection with college admissions scheme »
To ensure she got in, they said, her parents transferred $250,000 in Facebook stock to the foundation of Newport Beach college consultant William "Rick" Singer, which Bruce Isackson later wrote off on the couple's taxes as a charitable gift.
Singer paid $100,000 to the UCLA men's soccer coach, Jorge Salcedo, who in exchange helped submit an athletic profile for Lauren Isackson brimming with bogus accolades, prosecutors allege.
Singer has admitted to masterminding the scheme and pleaded guilty to four felonies. Salcedo was indicted on a racketeering charge; he has pleaded not guilty.
The Isacksons tapped Singer's "side door" the following year to have their younger daughter admitted to USC as a recruited rower, prosecutors alleged. The couple also availed themselves of Singer's test-rigging scheme, prosecutors said, in which he bribed SAT and ACT administrators to turn a blind eye to his 36-year-old, Harvard-educated accomplice.
With the help of the accomplice, Mark Riddell, the Isacksons' younger daughter scored a 31 out of 36 on the ACT, prosecutors said. Her father paid Singer's foundation $100,000 and wrote it off on taxes as a charitable gift.
With the help of a USC official Singer allegedly kept on his payroll, their daughter was presented to a student-athlete admission committee as a recruited rower, despite the fact she competed not in crew, but in equestrian, prosecutors say. She was admitted as a student-athlete in December 2017.
"Very exciting news," Davina Isackson wrote Singer in an email. "Would you like to chat next week to discuss any steps I need to take on my end for USC?"
Four months later, the Isacksons transferred $250,000 in stock to Singer's foundation.
Sign up for Essential California for news, features and recommendations from the L.A. Times and beyond in your inbox six days a week.
You may occasionally receive promotional content from the Los Angeles Times.