Graduating with a D? L.A. school board expected to lower diploma standard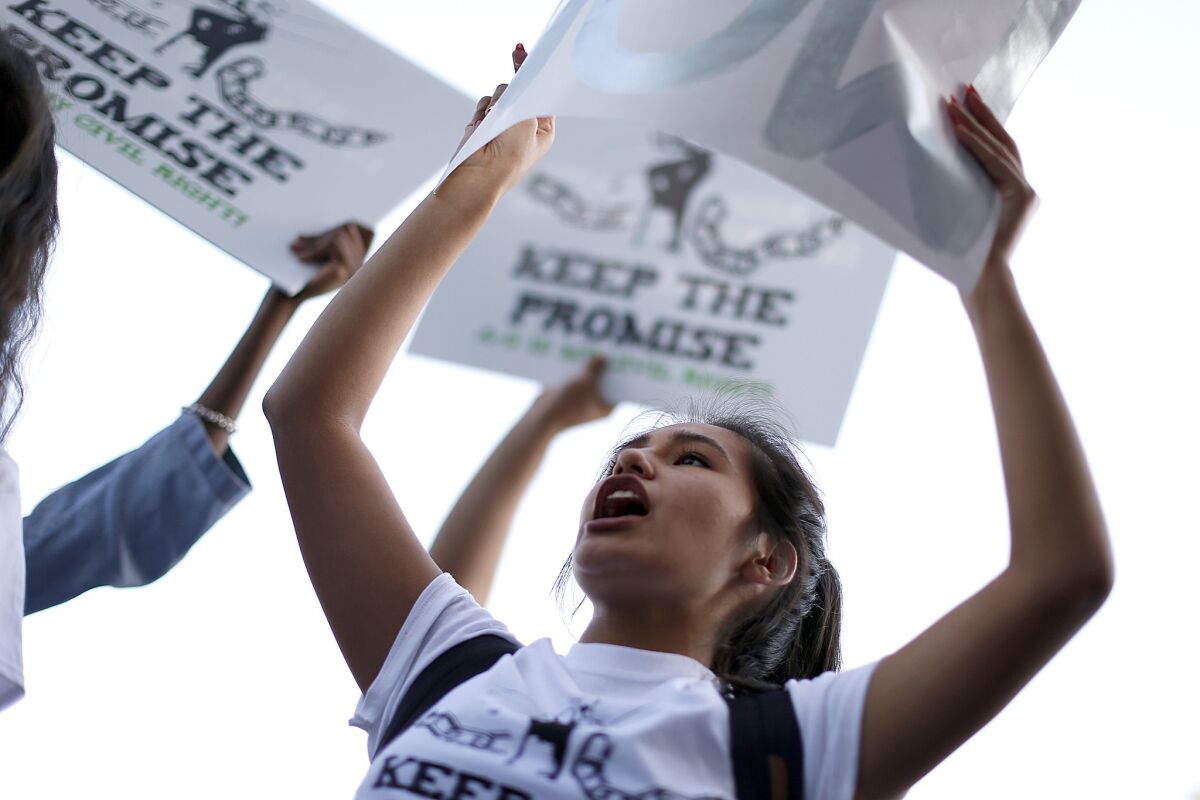 The Los Angeles Board of Education on Tuesday is expected to step back from an earlier decision to require students to receive a C in college-prep classes to graduate and be eligible to apply to four-year state universities.
Under a new proposal, the board is expected to lower the requirements, allowing students to receive a D in those courses and still graduate. UC and Cal State campuses require students to have a minimum of a C in those classes to be eligible for admission.
The expected board action is in response to the recent disclosure that as many as three-quarters of 10th graders are not on track to meet the tougher requirements. These students, in the Class of 2017, are the first who would have had to earn a C or better in these classes.
The proposal is sponsored by three board members — Monica Garcia, Steve Zimmer and George McKenna — and needs just one more vote to carry a majority on the seven-member body. In an interview, board President Richard Vladovic said he was likely to support the motion.
The Board of Education, which postponed taking action in May, has struggled with the issue.
A coalition of community groups has repeatedly pressed the board to maintain the rigorous college-prep requirements. They argued that students have been well served by the higher standards: More students are meeting the requirements and overall graduation rates continue to rise.
Key members of that coalition, however, appear willing to compromise.
Allowing students to graduate with Ds in these classes "addresses an immediate need for the Class [of] 2017," said Elmer Roldan, director of education programs and policy for United Way of Greater Los Angeles. "We also believe that it builds broader support among school board members, whom we are asking to recommit to the overall implementation of the … policy."
Much of the resolution talks about providing more effective support to students and researching how to build on practices that are working.
Also before the board is a related proposal aimed at helping more students graduate. Among its provisions is one that would allow students up to age 22 to graduate from L.A. Unified campuses.
Twitter: @howardblume
---
Life is stressful. Our weekly mental wellness newsletter can help.
You may occasionally receive promotional content from the Los Angeles Times.