Rising homelessness and lack of psychiatric care beds are cited in surge of mental competency cases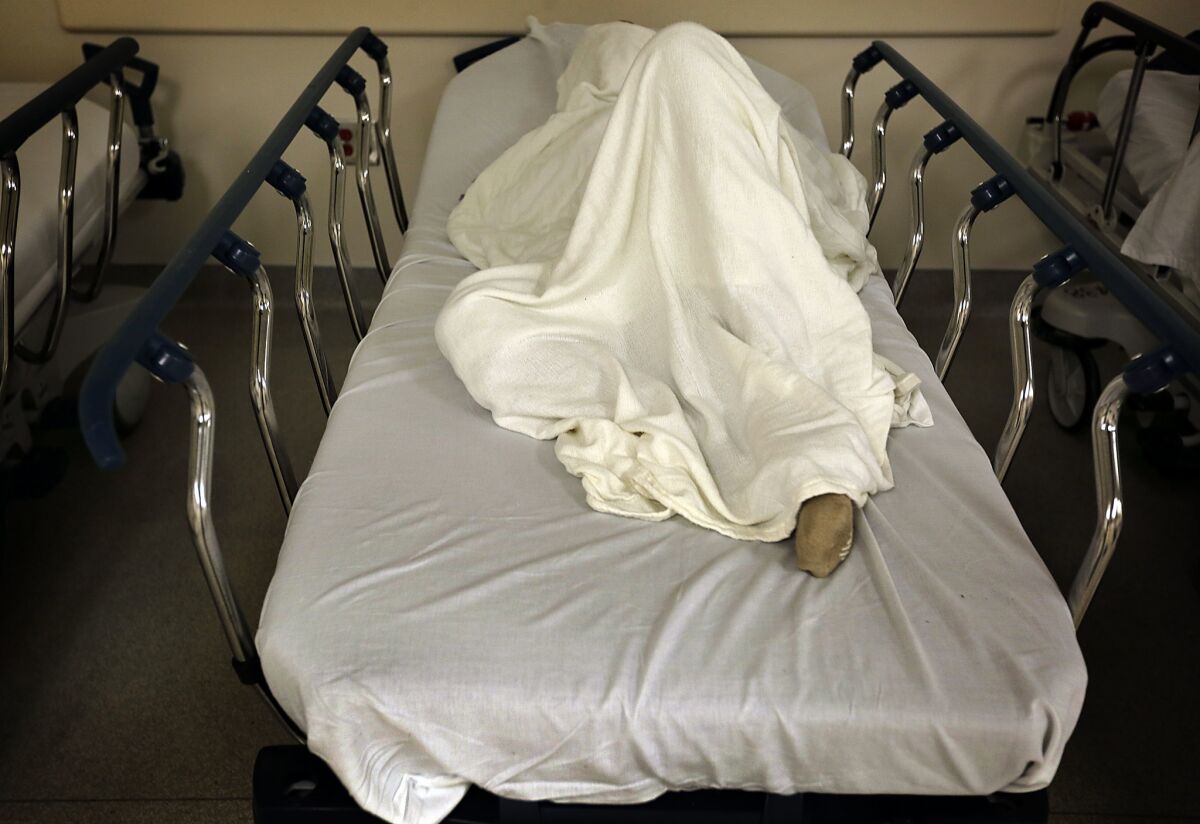 A lack of psychiatric care beds and rising homelessness are fueling a dramatic increase in mental competency cases in Los Angeles County, a new study has found.
The county launched a review after The Times reported on a surge in the number of competency cases in Los Angeles' mental health court over the last five years. The number of cases referred to the mental health court's Department 95 to determine defendants' competency had swelled from 944 in 2010 to 3,528 in 2015.
According to the report released this week by county health officials, the number is on pace to increase to about 4,500 in 2016. Judge James Bianco of the mental health court gave an even higher projection, saying the cases are expected to reach 5,000 for the year.
The growth has taxed the court and the county jail system, where the number of mentally ill inmates grew by more than 60% from 2011 through early 2016.
The increase has been driven largely by referrals in misdemeanor cases.
In a review of cases referred to mental health court in the first two months of 2016, county officials found that "a significant percentage of the defendants were in custody for offenses such as trespassing, resisting arrest, vandalism, and restraining order violations," the report said. "Additionally, a significant percentage either had a prior drug history or the pending case was drug-related."
The report noted that many of the defendants were homeless and the crimes that landed them in court were "quality of life" offenses associated with homelessness.
The officials wrote that more "structured housing options" and more acute and sub-acute psychiatric beds are needed to stop people with mental illnesses from landing in the court system, and by extension in Department 95. After many years of decline, the number of psychiatric beds has begun to increase in recent years, but not enough to keep up with demand.
"When persons with serious mental disorders are in clinical crisis, they are sometimes placed on a hold and brought to a treatment center and other times, due to their behaviors, they are arrested and charged with a crime," the report said. "The availability of more treatment resources for persons in crisis is critical to reduce bookings."
Robin Kay, acting head of the county Department of Mental Health, said the agency contracts for about 2,300 acute-care beds now and is working to expand the number. She and Peter Espinoza, head of the county Office of Diversion and Reentry, said it is unclear how many more are needed.
The report found that, in part, the increase may have been due to a "change of culture" among defense attorneys who "in times past had been reluctant to expose their clients to long periods of time in jail by declaring a doubt as to competency," but are now more willing to refer clients with mental health issues who are accused of low-level crimes.
An earlier version of the county report, released in May, attributed the increase in competency cases in large part to criminal justice reforms that downgraded certain crimes from felonies to misdemeanors and shifted responsibility for supervising nonviolent felons from the state to the county. The reforms may have had the "unintended consequence" of ending post-release support services and court-mandated drug and alcohol treatment for many offenders with mental health and substance abuse issues, the May report said.
But the new report concluded that the impacts of those reforms was difficult to assess and probably minimal.
Along with more psychiatric beds, the report recommended expansion of various forms of "highly supervised and court-ordered mental health treatment" and increased funding for licensed clinical social workers in the courts who can help lawyers and judges decide which defendants should be referred to mental health court and which should be referred to treatment programs.
Mildred Williams said her brother, Warren Griggs, was part of the surge.
Diagnosed with paranoid schizophrenia, he has been homeless since he left the board and care where he was living in 2014, Williams said. After being arrested in Inglewood and charged with misdemeanor vandalism in February, he was referred to Department 95. Williams said she hoped it might be the entry point into the treatment he had resisted for years.
"I just want him to get proper psychiatric treatment and a safe place to be," she said. "...He's not safe on the streets. I'm amazed he's still alive."
Her brother was found incompetent to stand trial in June, which for misdemeanor defendants can mean going through treatment either in jail or in community facilities. But a few days later, the charge against him was dismissed. He was released from jail and went back to the streets.
Twitter: @sewella
ALSO
County supervisor candidate can't link rival to Trump in voter pamphlet, judge rules
Asians are now the fastest-growing group in U.S. as Latino population slips, study finds
Mother of malnourished boy found dead in a closet pleads not guilty to murder
---
The stories shaping California
Get up to speed with our Essential California newsletter, sent six days a week.
You may occasionally receive promotional content from the Los Angeles Times.