County regulator calls for sweeping overhaul at Compton Fire Department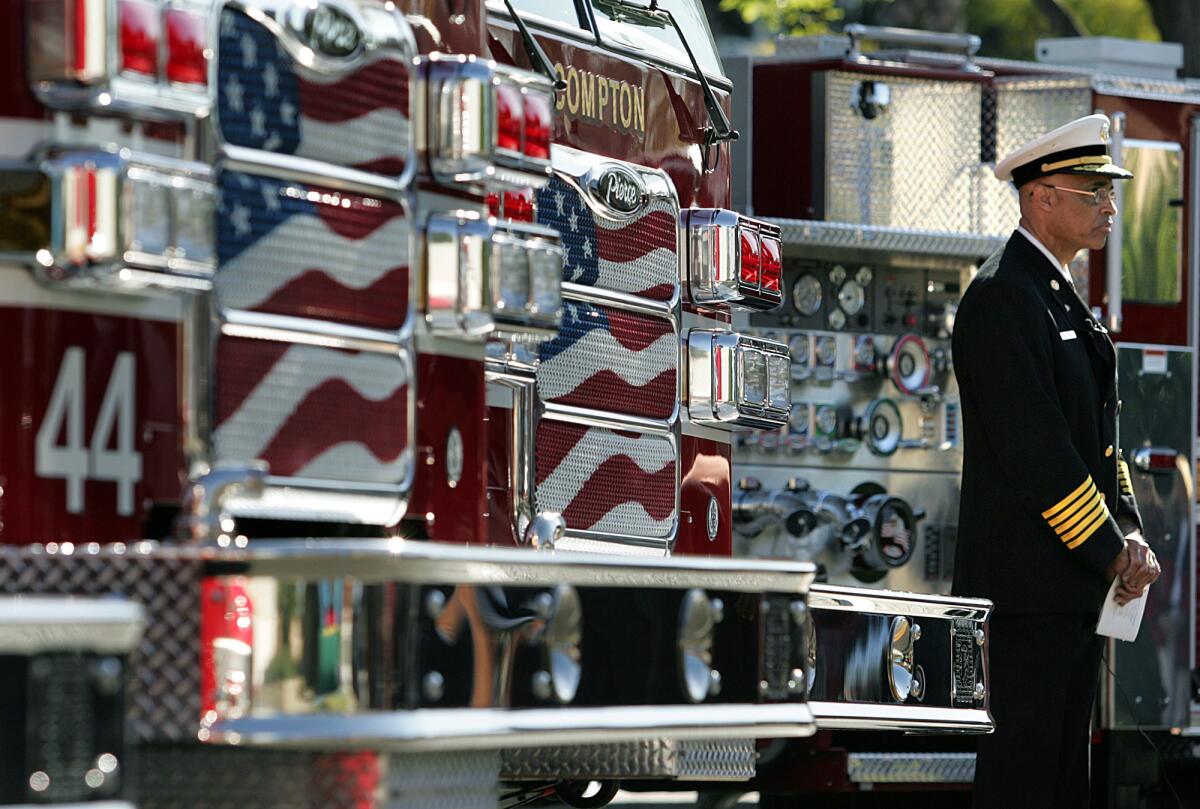 The Compton Fire Department needs a sweeping overhaul of how it responds to thousands of 911 calls for emergency help each year, according to a letter from the county's top regulator obtained by The Times.
The letter's recommendations call for broad and potentially costly changes at the troubled agency, where city officials placed the top fire chief on administrative leave earlier this month following a series of Times reports.
"We are at a crossroads," said Cathy Chidester, the author of the letter and head of the Los Angeles County Emergency Medical Services Agency, which oversees 911 service in the area. "Hopefully the city manager and the City Council can see what needs to be done."
The one-page letter, sent to Compton's interim fire chief Monday, included a data analysis that found the city has significantly fewer paramedics than nearby agencies of similar size.
"They are thoroughly understaffed," Chidester said. "People who call 911 in Compton are getting a response, but they should be concerned."
In recent decades, paramedics — who are specialists more highly trained in medical care than rank-and-file firefighters — have become increasingly important at departments nationwide. In that time, calls for medical help have grown to account for the overwhelming majority of 911 rescues.
Compton has three rescue units staffed by paramedics on call, officials said, fewer than half the number available in the similarly sized cities of Burbank, Downey and West Covina. That is despite Compton reporting that it responded to a greater number of 911 calls last year than each of the nearby departments.
The letter also recommended a broad restructuring of how the fire agency manages emergency medical care, listing a series of steps to address breakdowns in oversight that have recently embarrassed city leaders.
Interim Fire Chief Bryan Batiste said he welcomed the recommendations and was already addressing the issues. He blamed problems on a lack of funding in the city budget and workplace attitudes that slow a needed shift to focus more on medical care.
"We invest the most in what we do the least: fight fires," Batiste said. "Some of it is probably tradition. I'm trying to change that mind-set.
"But, like anything else, you get what you pay for."
Batiste was appointed this month when Compton officials placed the city's previous fire chief, Jon Thompson, on leave after the disclosure that some city firetrucks and ambulances were stripped of defibrillators, a crucial lifesaving device that rescuers use to deliver a shock to try to restart the heart of a cardiac arrest victim.
County regulators had forced fire officials to remove the machines after the city was unable to produce documentation showing that firefighters had been properly trained to use them.
The decision to remove the defibrillators followed a Times report in March that nearly one in four Compton firefighters lacked a permit to perform emergency medical care, a key credential required by other local fire agencies.
A confidential audit published by The Times last week included more criticism of how the fire agency provides medical care.
Batiste said that after taking office he launched a rapid retraining effort and defibrillators were restored to city fire vehicles this week. He said other reform efforts would soon start to show results.
"We have a hurdle and we'll jump over that hurdle," he said.
For the latest data journalism at The Times follow @LATdatadesk and @palewire.
NEWSLETTER: Get essential California headlines delivered daily >>
ALSO:
Wildfire near Napa Valley burns 6,900 acres as weather conditions improve
'First responder fee' is a backward response to changing duties of urban fire departments
Nearly 1 in 4 Compton firefighters is working without an EMT permit
Sign up for Essential California for news, features and recommendations from the L.A. Times and beyond in your inbox six days a week.
You may occasionally receive promotional content from the Los Angeles Times.