State may probe Compton official who didn't file campaign records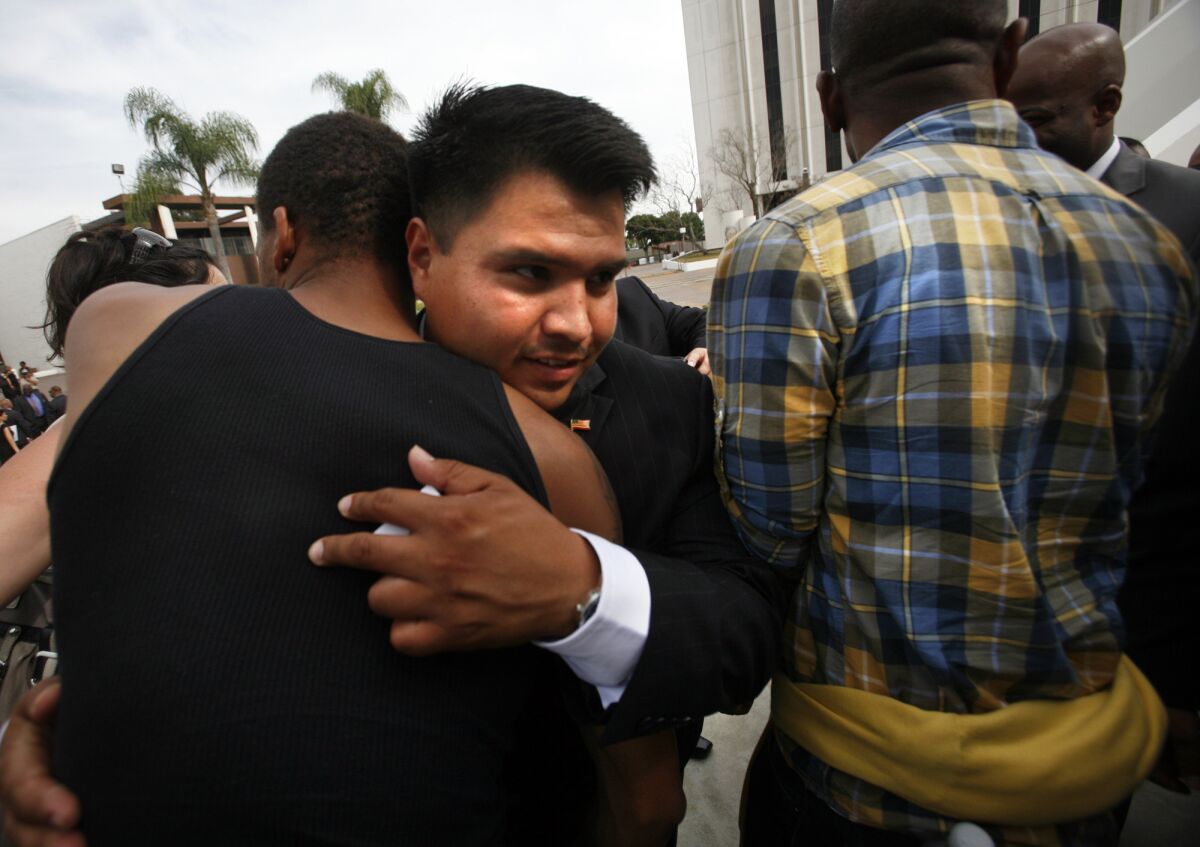 State officials are considering whether to open an investigation into the failure of a Compton councilman to file required campaign finance reports.
Compton's Latino residents have been trying for decades to get a Latino candidate elected to city office. So it was a joyous moment for some when 26-year-old Isaac Galvan won a seat on Compton's city council last month.
But just a few weeks into Isaac Galvan's term, some are already having misgivings about the councilman.
Galvan, 26, has failed to file any of the required campaign finance disclosures for the primary and runoff elections. As his first official action, he hired an aide with criminal convictions for political misconduct. And according to public records and interviews, including with a former roommate, he moved to Compton just in time to run for office.
It is unclear how much he spent on his campaign or who funded it, because Galvan did not file campaign finance disclosure forms for the April primary or June run-off election in Compton, violations that can result in fines or criminal prosecution.
When questioned about the missing forms in early July, Galvan said he had filed them "yesterday." He also said he would provide a copy to The Times, but never did. On Thursday, he told The Times that his treasurer was "in the process of filing" and that he did not know how much he had spent on the campaign.
"It's really a pretty cut-and-dried rule," said Gary Winuk, head of the state Fair Political Practices Commission's enforcement division. "The public needs to have information about any public official or potential public official's personal financial interests."
Winuk said his office is reviewing Galvan's case to determine whether they should open a formal investigation. That review will likely take about 10 days.
A Los Angeles County District Attorney's office spokeswoman said their public integrity division had also received a complaint about Galvan, but would not elaborate on the nature of the complaint or whether the office has opened an inquiry into it.
Although Galvan was a new face to many in Compton, some in neighboring southeast L.A. County cities recognized him as a protege of his campaign manager, Angel Gonzalez, a printer and onetime political operative for former South Gate Treasurer Albert Robles, who is serving time in federal prison for his part in a wide-ranging bribery scheme.
Immediately after taking office, Galvan hired Gonzalez to a $47,500 city job as his community liaison.
In 2002, Angel Gonzalez was convicted of a felony conspiracy charge — reduced to a misdemeanor at his sentencing — for sending out attack mailers with copies of fake official documents. In a separate case, he was convicted of two misdemeanor counts of sending out misleading campaign fliers.
Galvan denied in an email that Gonzalez had ever been convicted of a felony and said that Gonzalez "has the right education and experience as a bilingual community advocate" to serve the largely Spanish-speaking council district.
"In little time, I will prove through my actions that I will always act in best interest of the residents of Compton," Galvan said.
Gonzalez said prosecutors wanted to "squeeze" him for information about Robles, and he took a plea bargain after he ran out of money.
Galvan gave the job to Gonzalez after initially proposing to hire Richard Mayer, another familiar face in southeast politics with a checkered past. Mayer was convicted of felony perjury in 2001 for lying about his address so that he could run for a South Gate City Council seat.
Galvan said Mayer was not involved in his campaign.
ALSO:
Dramatic photos, videos of Huntington Beach rioting
Baby left in car for about 12 hours, parents arrested in death
Men accused of keeping girl in metal box due in court this week
Twitter: @sewella
The stories shaping California
Get up to speed with our Essential California newsletter, sent six days a week.
You may occasionally receive promotional content from the Los Angeles Times.