L.A. County D.A. to create unit to review wrongful-conviction claims
Obie Anthony, right, is surrounded by family and his legal team after being awarded more than $8 million for a wrongful conviction.
(Barbara Davidson / Los Angeles Times)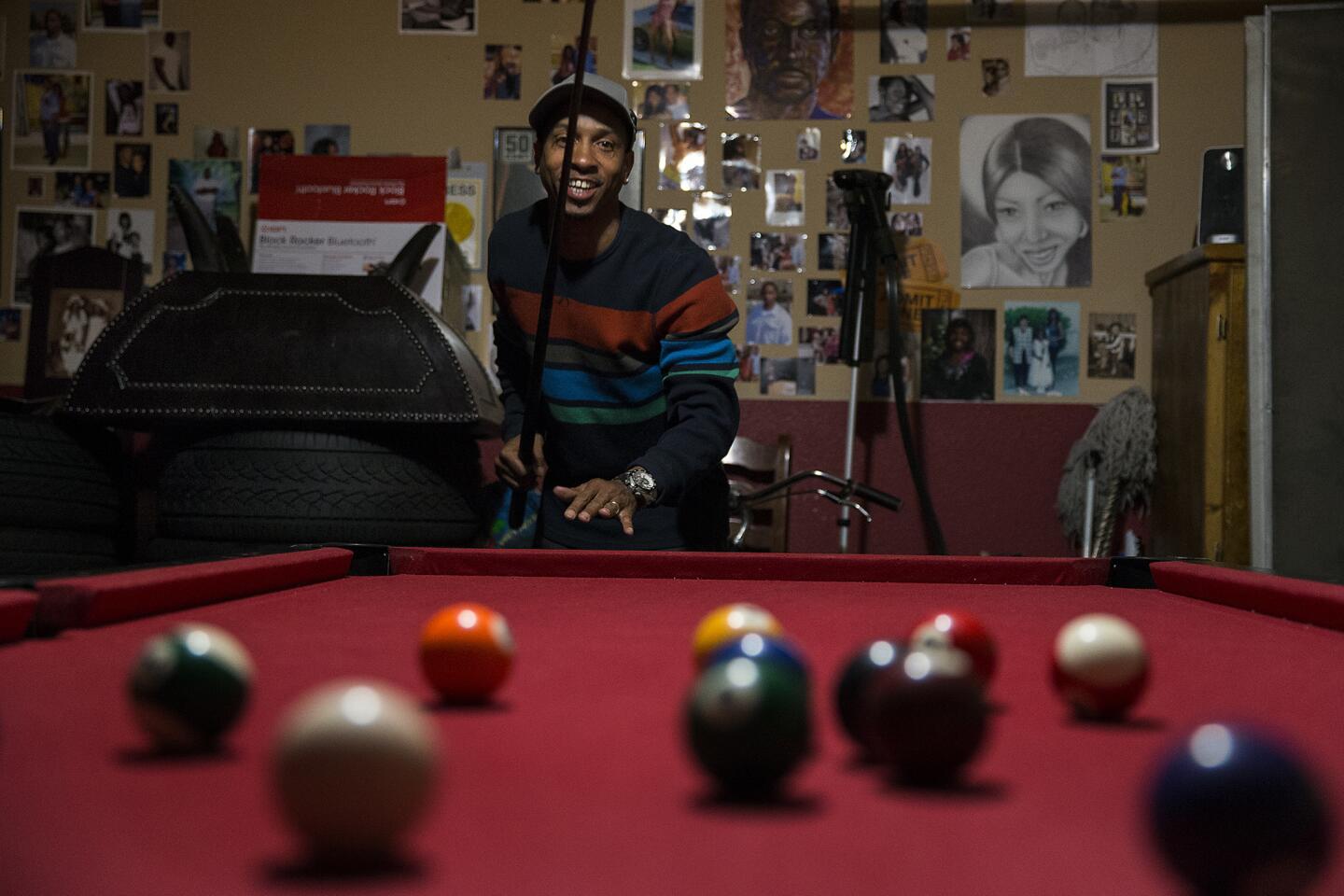 Obie Anthony takes a pool shot in a makeshift game room inside his garage.
(Robert Gauthier / Los Angeles Times)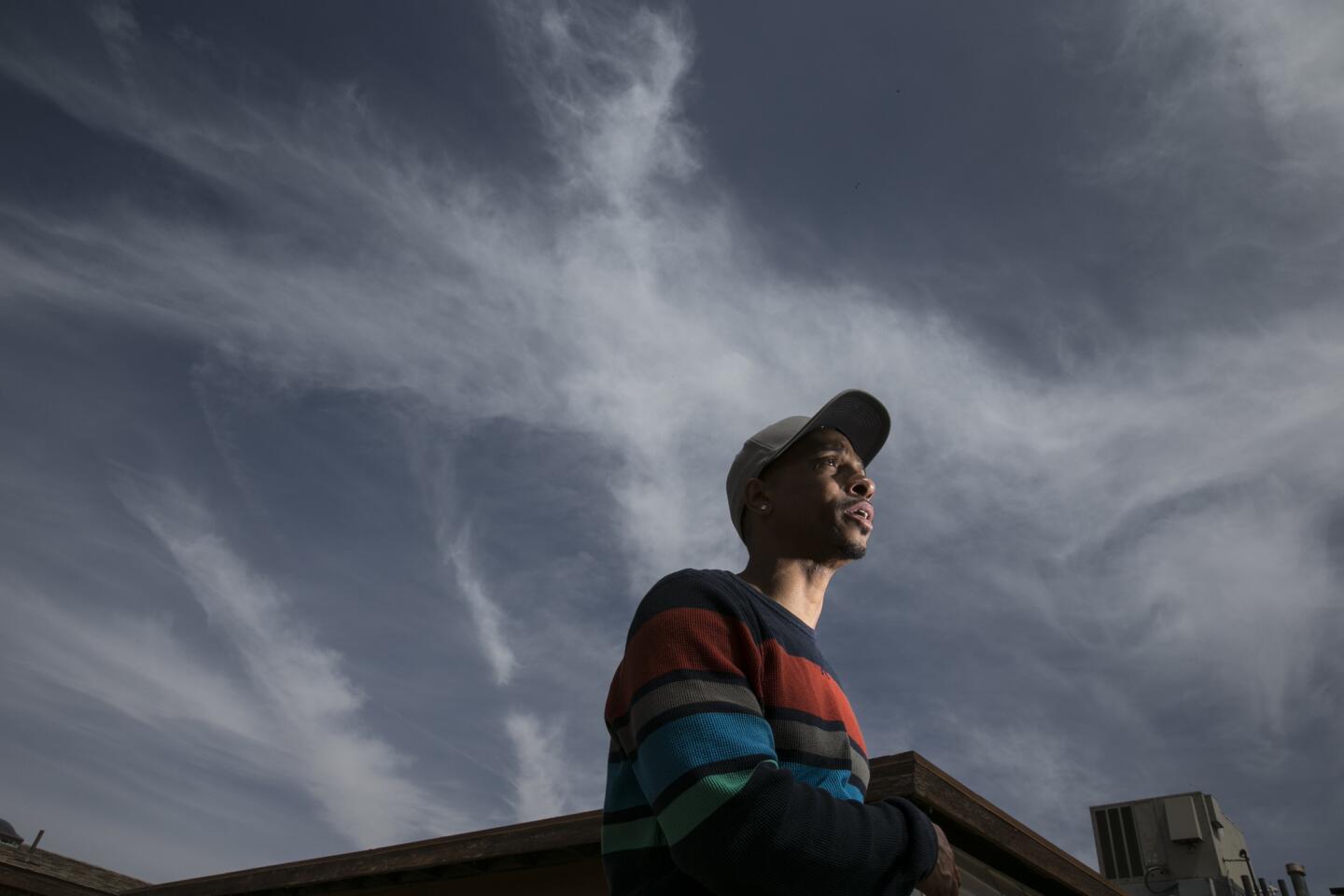 Obie Anthony, once wrongly convicted of murder and jailed nearly 17 years, tears up as he talks about leaving his past life behind while building a new life with his wife.
(Robert Gauthier / Los Angeles Times)
Kash Delano Register outside a restaurant in Los Angeles after being released from jail.
(Christina House / For the Times)
Kash Delano Register dines at a restaurant in Los angeles after being released from jail.
(Christina House / For the Times)
Susan Mellen hugs her brother, Michael, outside the Torrance courthouse after she was released from prison for being wrongly convicted of murder 17 years ago.
(Robert Gauthier / Los Angeles Times)
Susan Mellen celebrates with her attorney, Deirdre O'Connor, left, and David Mellen after a judge determined she was factually innocent of a 1998 murder.
(Allen J. Schaben / Los Angeles Times)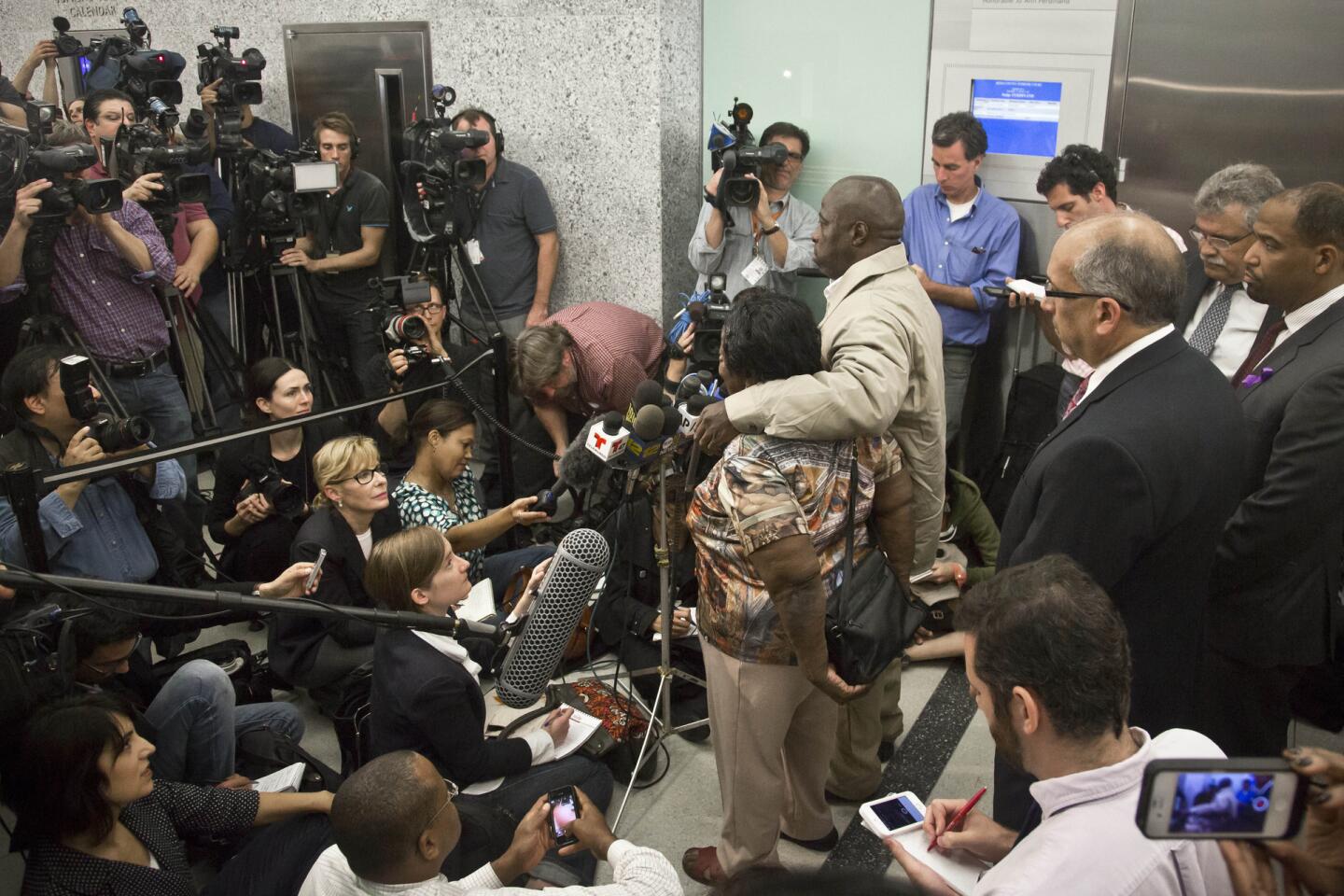 David McCallum, center, hugs his mother, Ernestine McCallum, as he talks to the media after his exoneration in New York.
(Bebeto Matthews / Associated Press)
David McCallum, center, is embraced by his immediate family after his exoneration in New York.
(Bebeto Matthews / Associated Press)
Citing a rise in wrongful-conviction claims by inmates, the Los Angeles County district attorney's office is launching a unit of veteran prosecutors to review the integrity of past convictions, joining a small but growing number of prosecutorial agencies around the country devoting resources to identify innocent prisoners.
Dist. Atty. Jackie Lacey is asking county supervisors for nearly $1 million to fund the new team, which would include three prosecutors, a senior investigator and a paralegal.
In seeking the funds, Lacey's office said it wanted to keep up with an increasing number of wrongful-conviction claims that have followed the advent of similar units around the country, a growing number of innocence projects and heightened publicity surrounding innocence claims, county spokesman Dave Sommers said.
Innocence project groups and others hailed the move, saying that it would send a dramatic statement that the office is serious about reversing injustices and could spur the creation of similar units in smaller counties across California.
"This is exactly what should happen in every district attorney's office in America," said Justin Brooks, director of the California Innocence Project at the California Western School of Law in San Diego. "We all have the same goal: to make sure the right people are in prison."
Although such units are still rare, Los Angeles would join more than 15 district attorney offices around the country that have created such teams, including Dallas County, Brooklyn and Manhattan, N.Y., as well as the U.S. attorney's office in Washington, D.C. In California, district attorneys in Santa Clara, Ventura and Yolo counties have established similar units.
Los Angeles' proposal remained largely under wraps until last week, when Lacey addressed a group of attorneys and students at Loyola Law School on Friday and mentioned that she had been promised funding for a conviction review unit. She gave no details and did not return calls for comment.
A district attorney's spokeswoman declined to discuss the plan until after the Board of Supervisors formally approves the funding in coming weeks. The county's recommended budget includes money for the unit for the next fiscal year, which starts in July.
The proposal comes after a string of high-profile wrongful convictions.
Last month, the city of Los Angeles agreed to pay more than $8 million to Obie Anthony, who was declared factually innocent after spending 17 years behind bars for a killing outside a brothel in South Los Angeles.
In October, a judge threw out the murder conviction of Susan Mellen, saying that she was wrongfully imprisoned for 17 years based on the word of a habitual liar and adding that "the criminal justice system failed."
A year earlier, another judge threw out Kash Delano Register's conviction in the 1979 murder of an elderly man in West Los Angeles.
All three cases were brought to court by innocence projects. In Mellen's case, the district attorney's office agreed to her release after its habeas corpus litigation team, which often opposes legal requests to throw out convictions, conducted an investigation.
Los Angeles County Supervisor Mark Ridley-Thomas said he expects that a new conviction review unit would particularly help people of color, who he said are wrongfully convicted at disproportionately high rates.
"It sends the message to law enforcement officers that trumped-up charges will not work," he said. "It's another dimension of checks and balances in the criminal justice system, which I think is sorely needed."
The units have already had an effect in other places in California.
On Wednesday, at the request of the Ventura County district attorney's office, a judge dismissed a murder case against Michael Ray Hanline, who was convicted in 1980. The office said it made the request after an investigation by its conviction integrity unit, along with the California Innocence Project, which turned up new evidence casting doubt on Hanline's guilt.
Santa Clara's unit, whose work helped exonerate at least four people, has also led efforts within the office to implement measures to ensure reliable witness identifications and prevent future wrongful convictions, said David Angel, an assistant district attorney in charge of the unit.
The creation of such a team in the biggest county in the state could result in more California prosecutors following suit, said Laurie Levenson, a former federal prosecutor and founding director of Loyola Law School's Project for the Innocent.
"I think L.A. could be real leaders," she said.
To "really ferret out injustice," the unit in Los Angeles would need some autonomy from the rest of the office, she said.
"There is a natural inclination," she said, "to not want to believe that your colleagues convicted an innocent person."
Barry Scheck, co-founder of the New York-based Innocence Project, said that setting up a unit won't necessarily translate into meaningful change or exonerations.
"There are lots of people who can say, 'Oh gee, I have a conviction integrity unit,' because that's now the necessary fashion accessory," he said.
To be successful, Scheck said, Los Angeles County should search for someone with "a different way of looking at the cases" —- like a former defense attorney — to lead the unit. The other key, he said, is fostering robust relationships between prosecutors and defense lawyers in which neither side expects to be "sandbagged."
"It's no longer an adversarial relationship," he said. "It's a joint search for the truth."
When Dallas County established its conviction integrity unit in 2007, it selected Mike Ware, a former defense attorney, as its head. Anyone who leads a unit that scrutinizes past convictions, Ware said, needs to be comfortable with making decisions that will be unpopular with some people in the office.
Although he rarely felt overt resentment, he said, he once got a phone call from a former prosecutor who had helped convict a man who was exonerated when Ware's unit discovered that DNA cleared him of murder.
The former prosecutor was "not shy about calling me and telling me that I didn't know what I was doing," said Ware, who left the unit after four years and returned to private practice.
Forgoing an antagonistic view toward the defense has worked well for prosecutors in Brooklyn's conviction review unit, said Ron Sullivan, a Harvard law professor who designed and implemented the unit, which has helped exonerate 13 people since it began in 2014.
In October, the office moved to throw out murder convictions against David McCallum and Willie Stuckey after concluding that their confessions were false. McCallum spent nearly three decades in prison and Stuckey died behind bars.
A big part of putting the unit in place, Sullivan said, was creating a new ethos in the office and reinforcing the "notion of prosecutors doing justice instead of trying to get convictions."
For more news from the Los Angeles County criminal courts, follow @marisagerber on Twitter.
Sign up for Essential California for news, features and recommendations from the L.A. Times and beyond in your inbox six days a week.
You may occasionally receive promotional content from the Los Angeles Times.