35 'very, very scared' dogs found in squalid conditions at home of bank robbery suspect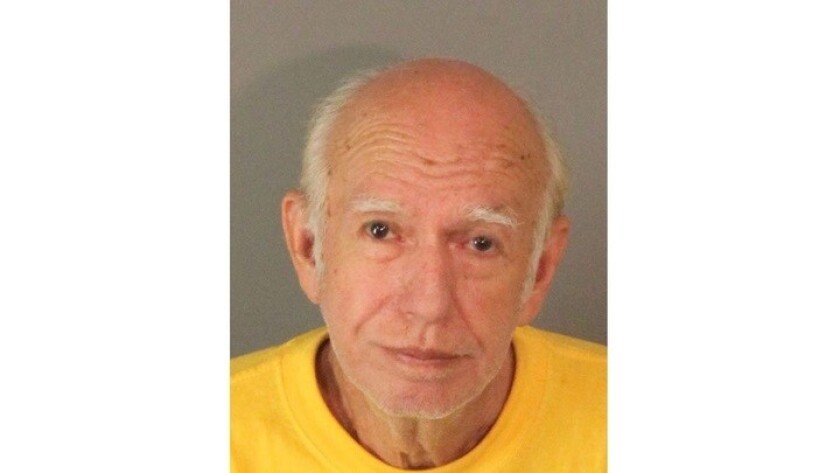 Authorities say they discovered 35 dogs — many of which were emaciated and ill — living in squalid conditions in the home of a 72-year-old man suspected in a Corona bank robbery.
Animal waste coated the soggy, decaying flooring in the home, where wooden and metal skeletons remained of what once were couches and chairs, police said. The home had no power.
Animal control officers rescued the dogs, seven of which were small puppies, and took them to the Corona Animal Shelter to be fed, hydrated and evaluated in quarantine. One was euthanized due to its extreme illness, which included several open wounds.
Many had long toenails and were covered in dirt and grime.
"It appears that they were locked in the home, all day and night, every day," said Senior Det. Andy Bryant, noting that it took officers more than an hour to coax the dogs out.
"They were very, very scared," he said. Now, there's "not a peep" in the area of the shelter where they're kept.
"Over all the years of my career, this is by far the worst call I have ever been to," Animal Control Officer Bill Sellers said in a statement. "I have never witnessed this level of blatant neglect."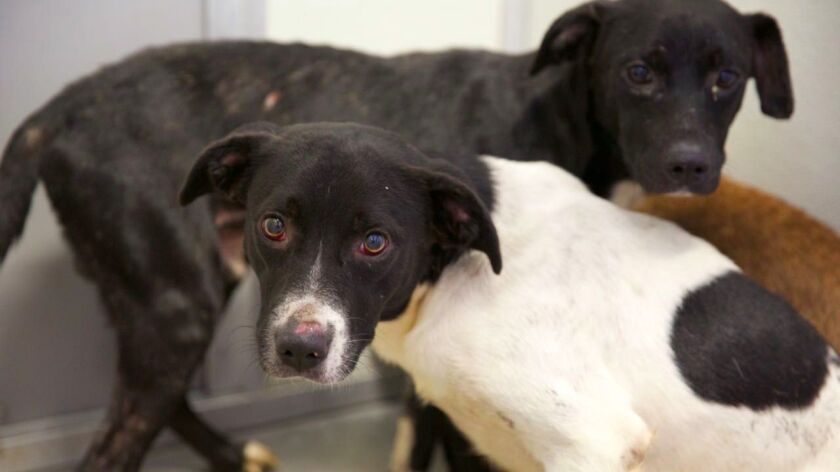 The dogs' owner, Robert Bustamante Flores, was booked on suspicion of robbery. Police said animal cruelty charges are pending.
Police allege that about a month ago, a bearded Flores entered the Pacific Western Bank wearing a Duct-taped baseball cap. He passed a note to a teller demanding money and left with about a couple thousand dollars, Bryant said.
This week, police said, Flores showed up at the Corona police station.
He never really had a chance to say why, because detectives recognized his car — a beat-up Buick Roadmaster — in the police parking lot and immediately asked him about the robbery.
Less than 24 hours earlier, investigators had identified him as a possible suspect based on surveillance footage captured near the bank that was robbed.
"The timing worked out — for once — in our favor," Bryant said.
Detectives questioned Flores about the robbery, then wrote a search warrant for his home. He told investigators 26 dogs lived in his home and he stayed in the garage.
Investigators, along with four animal control officers, searched the home, where they found the animals, as well as evidence related to the bank robbery, police said.
Flores is being held in lieu of $30,000 bail.
The rescued dogs will be available for adoption on Aug. 12. The news sparked an outpouring of support in the area, where residents donated food and money to the Corona Police Community Partnership to help care for the dogs.
Anyone with information about the robbery is asked to call Det. Mario Hernandez at (951) 279-3659.
alene.tchekmedyian@latimes.com
Twitter: @AleneTchek
ALSO
L.A. reverses course on lane reductions that 'most people outright hated'
Man killed Newport Beach urologist over prostate surgery, prosecutors say
Man found dead in Hollywood motel room after SWAT standoff, LAPD says
---
For reporting and exclusive analysis from bureau chief John Myers, get our California Politics newsletter.
You may occasionally receive promotional content from the Los Angeles Times.