Report: Federal officials complicit in deportation of U.S. veterans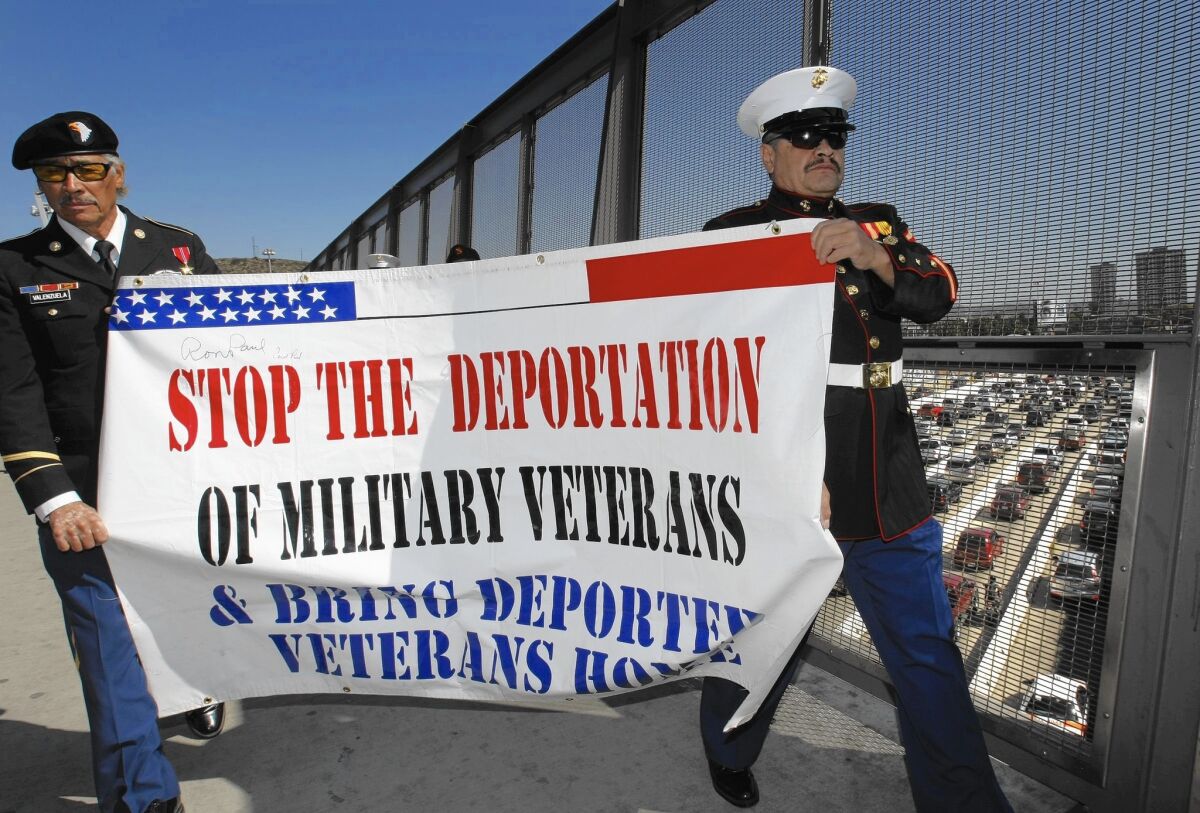 The federal government lost, misplaced or failed to file the naturalization applications for dozens of foreign-born U.S. veterans who were later deported or face deportation, according to a report released Wednesday by the American Civil Liberties Union of California.
The report titled "Discharged, Then Discarded" documents 84 cases involving veterans.
"They are members of what is unfortunately a growing brotherhood — veterans of the United States armed forces who have been unceremoniously deported," the ACLU said in a statement.
"Many are combat veterans who sustained physical wounds and emotional trauma in conflicts going back to the war in Vietnam. Many have been decorated for their service. But service records notwithstanding, the U.S. has seen fit to kick them out of the country, sometimes for minor offenses that resulted in little if any incarceration."
Although military service entitled many of the men in the report to naturalization, the federal government failed to ensure that the service members became naturalized during their time in the military, the report alleges.
In many cases, federal officials failed to provide adequate resources and assistance to complete and file paperwork so the applications could be quickly processed, according to the ACLU report.
Some veterans mistakenly believed they became automatic U.S. citizens by virtue of taking the oath to protect the nation or due to their military service. Others said they were misled by recruiters to believe they'd become automatic U.S. citizens, the report said.
Some are critical of the deported veterans.
Ira Mehlman, spokesman for immigration restriction group Federation for American Immigration Reform, said the veterans should have known that their legal status could be revoked if a crime were committed.
"Just because you have served in the military doesn't mean you're exempt from the consequences [of] subsequent actions," he said. "This is not a case of double jeopardy. You pay your debt to society for whatever offense you may have committed."
It's unclear how many veterans have been deported. The ACLU report estimated there are more than 250 deported veterans in 34 countries. Immigration and Customs Enforcement officials say they don't keep track of that data.
ICE spokeswoman Virginia Kice said the agency couldn't comment on the ACLU's report because it hadn't gotten a chance to review it.
Kice did say, however, that the review of cases involving veterans is very deliberate.
"Any action taken by ICE that may result in the removal of an alien with military service must be authorized by the senior leadership in a field office, following an evaluation by local counsel," she said in a prepared statement. "ICE specifically identifies service in the U.S. military as a positive factor that should be considered when deciding whether or not prosecutorial discretion should be exercised."
An estimated 70,000 noncitizens enlisted in the U.S. military — about 4% of the armed forces — from fiscal year 1999 to 2008, according to the Center for Naval Analyses, a research and development center for the U.S. Navy and the Marine Corps.
As of June 2010, fewer than half of the legal residents who joined the military during the same period had become citizens, according to the center.
Many of the veterans featured in the ACLU report were brought to the U.S. as children and spent decades in the U.S. in lawful status, serving in the military with legal documents.
A good chunk of the deported veterans now live in Tijuana and in other regions of northern Mexico, often with the help of the Deported Veterans Support House, also known as "The Bunker."
The organization offers these veterans resources as they get acclimated in Mexico. Currently, the group is helping about 25 men, according to founder Hector Barajas-Varela, who worked extensively with the ACLU for this report.
Many of those in the ACLU report were swept up after the Illegal Immigration Reform and Immigrant Responsibility Act of 1996 — and a series of other changes to immigration law — that greatly expanded the list of crimes that could make a legal immigrant subject to deportation.
For instance, crimes that could be considered a misdemeanor under state law became felonies under immigration law. A felony makes an immigrant who is not a U.S. citizen eligible for deportation. Minor drug offenses committed by legal resident veterans became aggravated felonies under immigration law.
"Had they been naturalized, as they should have been after being honorably discharged, they would not have been forced to settle a second debt — lifetime banishment from the United States," the ACLU stated.
Carcamo reported from Los Angeles, Sanchez from San Diego. Sanchez writes for the San Diego Union-Tribune.
ALSO
Soldier honored with gravestone 50 years after his death in Vietnam
Obama administration plans new raids that would deport Central American children
Editorial: The government needs to work harder to ensure dangerous immigrants get deported
---
UPDATES:
7:30 p.m.: This article has been updated with additional comments and details.
This article was originally published at 12:07 p.m.
---
The stories shaping California
Get up to speed with our Essential California newsletter, sent six days a week.
You may occasionally receive promotional content from the Los Angeles Times.