L.A. to pay nearly $2 million in suit over sexual assault by LAPD officers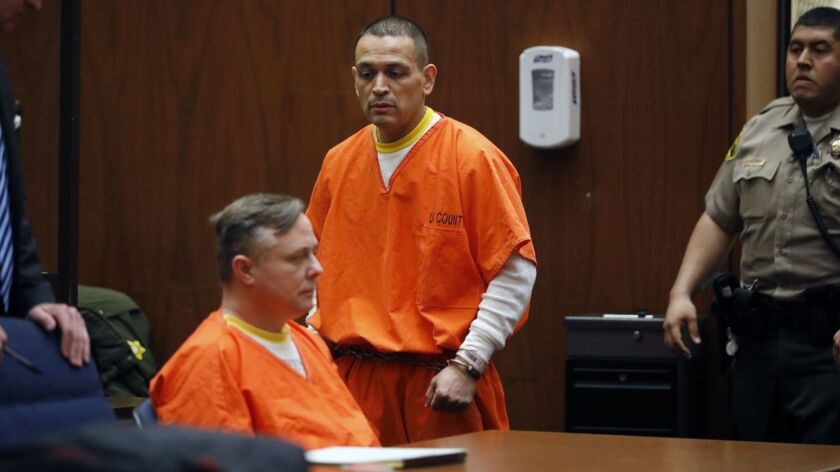 Los Angeles will pay nearly $2 million to settle a lawsuit from a woman who was sexually assaulted by a pair of LAPD officers, the fourth such assault case L.A. has settled in recent years.
The City Council voted unanimously Tuesday to spend up to $1.975 million to settle the case, the latest legal fallout surrounding Officers Luis Valenzuela and James C. Nichols, who pleaded no contest last year to charges of forcible rape and forcible oral copulation.
The two men preyed on women together, one acting as a lookout while the other carried out an assault in their unmarked police car, according to prosecutors. The victims were women ages 19 to 34 who were informants in drug cases or had been arrested on suspicion of drug-related crimes.
The lawsuit said that in December 2009 the two officers raped the woman twice in a police vehicle, both times while they were on duty. In the criminal case, the victim had been identified as Jane Doe #3.
"She was terrified of them. They worked her neighborhood. They knew her," the lawsuit stated. If she told anyone, "they said they would put her in jail and spread word that Plaintiff was a 'snitch.' "
The two officers encountered the woman after she was arrested for a drug offense in Hollywood. Valenzuela sexually assaulted her in their Jetta before she was booked at a Van Nuys detention center, according to the lawsuit.
Nichols later picked the woman up from her court hearing in the same Jetta and also sexually assaulted her in the back seat, the suit stated.
Valenzuela and Nichols were arrested by detectives from their own department three years ago. County prosecutors alleged they had targeted four women from 2008 to 2011 by forcing them to have sex and said there might be more victims.
The Los Angeles Police Protective League, the union that represents rank-and-file officers, called the actions of the two men "disgusting."
The lawsuit alleged that the LAPD failed to promptly investigate complaints about Nichols and Valenzuela after other victims first came forward in 2010 and 2011. Jane Doe #3, who had not reported the incidents, was not contacted by police investigators until more than five years after the assaults, according to the suit.
The two men could have faced life in prison if tried and convicted. At the time of their no-contest pleas, a defense attorney for Nichols said the officer was "looking forward to his day in court" but accepted the plea so the case could close and he could have "a chance to get out and have a life after this case."
Each officer was handed a 25-year term in state prison.
All four of the women filed civil suits against the city, which has settled their cases one by one. With the latest agreement, Los Angeles will pay out more than $3.7 million to end the legal battles over sexual assaults by Valenzuela and Nichols.
"This case is about abusing police power to take advantage of vulnerable victims," said attorney Dan Miller, who represented three of the women who sued the city. "The conduct by the officers was beyond despicable."
Council members also agreed Tuesday to spend up to $1.35 million to end a lawsuit involving allegations that LAPD officers illegally searched an L.A. home and pushed and choked people, including children.
And the council voted to spend up to $2.25 million to settle a case alleging that police recruits were unlawfully terminated or forced to resign because of injuries they sustained as recruit officers, a settlement that Councilman Joe Buscaino voted to oppose.
Twitter: @AlpertReyes
---
The stories shaping California
Get up to speed with our Essential California newsletter, sent six days a week.
You may occasionally receive promotional content from the Los Angeles Times.