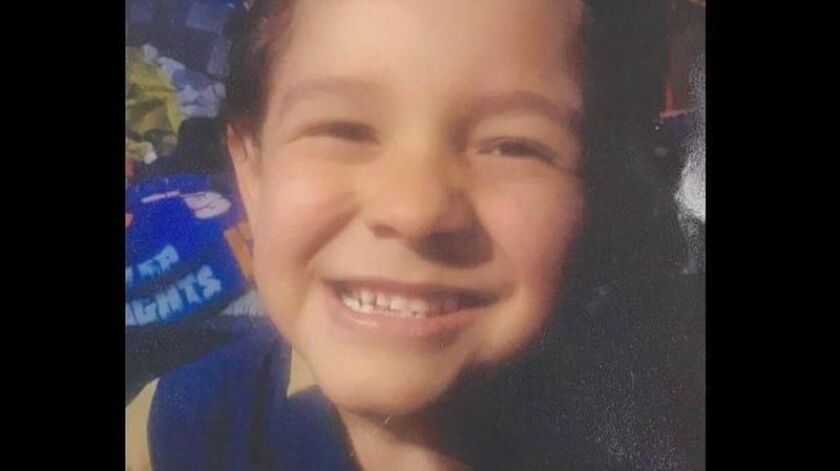 Officials have called off the search for the remains of 6-year-old Duke Flores.
Over the course of eight weeks, roughly 14 million pounds of material were examined at the Victorville landfill, where authorities think the boy's body was dumped.
The search for Duke began in late April, when his grandmother requested a welfare check on the boy in Apple Valley. When officials with the Apple Valley Police Department visited the boy's home in the 22000 block of Cherokee Avenue, his mother, Jackee Contreras, 29, said she had not seen her son for about two weeks.
Contreras initially was booked on suspicion of child neglect after her delay in reporting that her son was missing. But detectives later arrested the woman and her twin sister, Jennifer Contreras, in connection with the boy's disappearance and charged each with one count of murder.
Both women remain in custody.
Based on investigative leads, authorities think the sisters dumped Duke's body in a trash bin near the family home. Dozens of homicide detectives, San Bernardino County sheriff's deputies, volunteers, K-9 units, investigators with the coroner's and district attorney's office and landfill personnel searched an area that was approximately 75 yards long, 60 yards wide and 20 feet deep. The search ended Friday.
"This is not the outcome we had hoped for," Sheriff John McMahon said in a statement. "But we knew going into this search that there was a chance we would not locate Duke. I am extremely proud of the dedication shown by every person who continued to show up day after day, desperately hoping to locate the young boy."
The investigation is ongoing, and authorities ask that anyone with information contact Det. Narcie Sousa at (909) 387-3589 or sheriff's dispatch at (909) 387-8313.
---