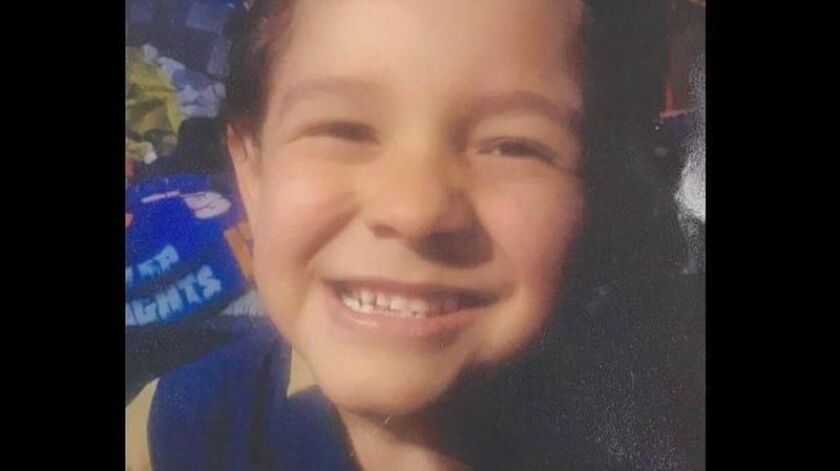 More than a month after the disappearance of a 6-year-old Apple Valley boy, police continue to comb an area landfill for the remains of Duke Flores, who authorities believe was killed by his mother and aunt.
On Monday morning, detectives resumed searching a Victorville landfill, where they think the boy's body was dumped.
Dozens of people — including homicide detectives, San Bernardino County Sheriff's Department volunteers and landfill staff — have joined in the search, which is focused on an area that's 70 feet wide, 70 feet long and 10 feet deep. Search dogs also are being used to scour the trash site.
The Sheriff's Department has given daily updates of the ongoing search on Twitter, but so far, nothing has been found, sheriff's spokeswoman Jodi Miller said.
The search for the boy began in late April, when authorities responded to family members' request for a welfare check at his Apple Valley home. When deputies arrived, Duke's mother, 29-year-old Jackee Contreras, said she had not seen him for about two weeks.
Detectives later arrested and charged Contreras, along with her twin sister, Jennifer Contreras, in connection with the boy's disappearance. Both women remain in custody on murder charges and have not yet entered a plea.
Since April 29, detectives have been picking through the 1,200 tons of trash in the search area, beginning about 7 a.m. daily and ending at 5 p.m., Miller said.
No trash is being dumped or moved in the area while the search continues.
"It's a very meticulous search," Miller said, "so therefore it takes some time."
Over the weekend, Apple Valley community members gathered for a vigil to remember Duke, although most did not know the boy.
"I'm just so tired of them doing this to the children," Apple Valley resident Robert Collins told KCAL-TV Channel 9. "I just can't fathom how evil somebody has to be to either kidnap, murder or harm a child."
alejandra.reyesvelarde@latimes.com
Twitter: @r_valejandra
---