DWP workers earned $77.3 million in extra pay in first half of 2013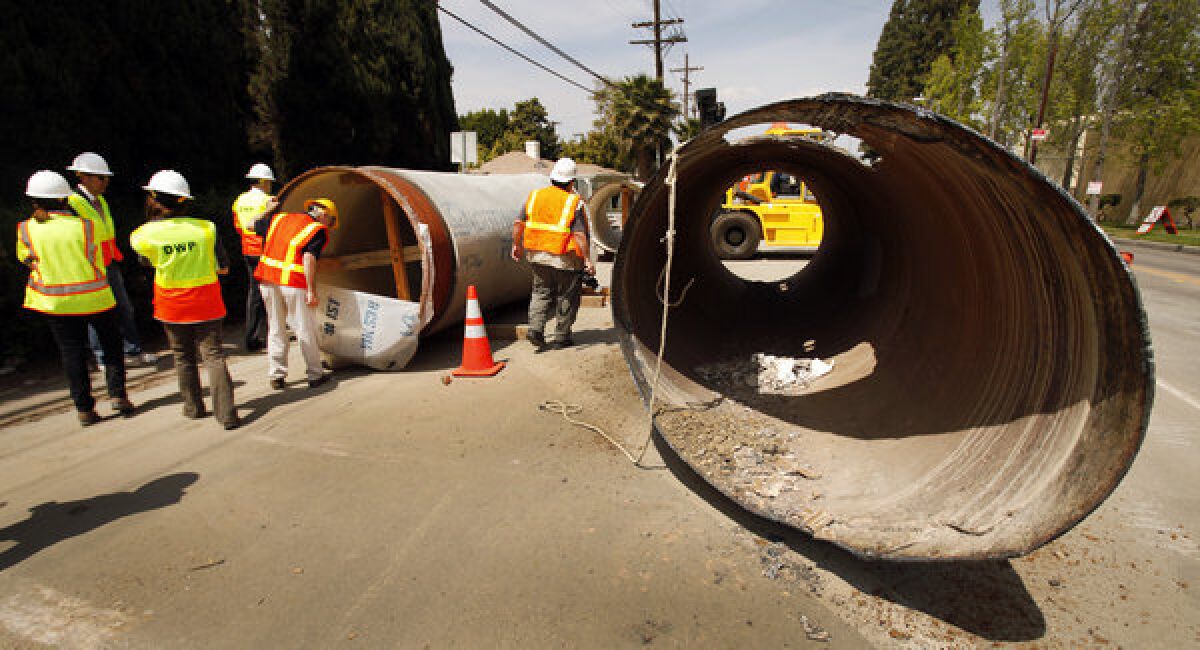 In the first six months of this year, Department of Water & Power employees earned $77.3 million in extra pay for such things as overtime, laying cement or working in bad weather, according to an analysis released Thursday by Los Angeles City Controller Ron Galperin.
Those extra earnings, if paid at the same rate through the year's end, would total $155 million, or an average of roughly $15,800 in extra wages for each DWP worker, Galperin said.
DWP workers earned an average of 17% above their base salaries in extra pay, compared with 9% for police and fire workers and 1% for civilian workers in the city, he said. Galperin, in his first news conference since taking office July 1, said the analysis shows that base pay for DWP workers rises significantly when more than 600 extra-pay categories embedded in union contracts are factored in.
"Angelenos deserve the most cost effective services that DWP and that the city as a whole can and should provide,'' he said at the City Hall press gathering. "Higher expenses translate into higher rates, less money for much-needed infrastructure improvements."
Galperin's presentation came one day before a key public hearing to discuss a DWP contract before the City Council. The proposed four-year contract would provide three consecutive years of no raises, with a pay increase of 4% arriving in October 2016.
It would also hike the retirement age and decrease the size of pension benefits provided to future DWP employees. City Administrative Officer Miguel Santana has said it would save city ratepayers nearly $500 million in first four years and billions over the next 30 years.
Some council members support the agreement, while Mayor Eric Garcetti says it doesn't go far enough in obtaining savings. During his mayoral campaign Garcetti promised to make current DWP workers pay more toward their healthcare and pensions, provisions absent from the proposed pact.
"This is yet another reason why DWP must be reformed," Garcetti said Thursday.
[Updated at 3:25 p.m.: Ron Nichols, the utility's chief, said overtime has grown as workers replace aging infrastructure and complete projects to meet regulatory mandates. The city has also been slow to replace the 500 or so employees who retire each year, Nichols said.
"Paying OT is often less expensive than hiring new full-time staff, although the department is simply unable to hire quickly enough to get the staff we need,'' he said.]
Brian D'Arcy, the top official at the International Brotherhood of Electrical Workers local that represents most DWP workers, was unavailable for comment.
Galperin said the controller had compiled on its website a database of wages paid to DWP employees in the first half of 2013, including overtime and bonuses.
ALSO:
Internal review expected in 'missing' ICE agent case
Cold case arrest: 9-year-old girl hid while father fatally shot
DiMaggio likely planned to kill Hannah Anderson, family rep says
Twitter: @csaillant2 | Google+
catherine.saillant@latimes.com
---
The stories shaping California
Get up to speed with our Essential California newsletter, sent six days a week.
You may occasionally receive promotional content from the Los Angeles Times.