Democratic donor Ed Buck is sued by a mother over her son's overdose death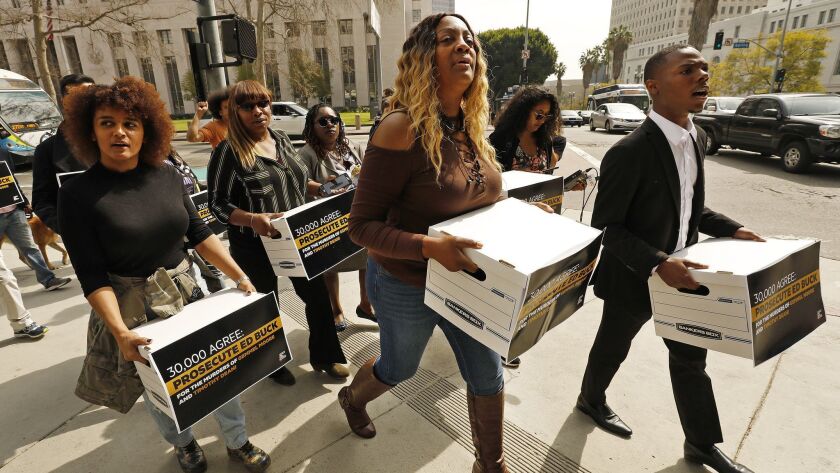 The mother of a gay black man who died in the West Hollywood home of Ed Buck has filed a wrongful-death lawsuit against the longtime Democratic donor, alleging he was a drug dealer who injected her son with a fatal dose of crystal methamphetamine.
The lawsuit filed Tuesday by LaTisha Nixon, whose 26-year-old son, Gemmel Moore, died in Buck's apartment, also accuses Los Angeles County Dist. Atty. Jackie Lacey and Deputy Dist. Atty. Craig Hum of failing to prosecute Buck, 64, because he is white.
For the record:
1:55 p.m. Feb. 27, 2019An earlier version of this article referred to attorney Nana Gyamfi as Nana Gymafi.
Lacey and Hum's "unconstitutional failure to act is reprehensible," and their "misapplication of criminal justice has consistently failed the black community," Hussain Turk, an attorney for Nixon, said in a statement.
"If the dead body of a blond-haired, blue-eyed white man was found in the home of an older black man, he'd be lucky to even make it to the police station alive," Turk said.
Buck's attorney, Seymour Amster, said in an email that he and his client "categorically deny each and every allegation and look forward to litigating this matter in court."
Amster previously told The Times that critics have unfairly used race to blame Buck for the deaths, saying "some people who all of a sudden have media attention are trying to divide the races."
Moore died of an methamphetamine overdose in Buck's Laurel Avenue apartment in July 2017. Another gay black man, 55-year-old Timothy Dean, died in Buck's home in January. Buck was present for both deaths, authorities said.
Dean's cause of death has not been released, and law enforcement officials have put a security hold on Dean's autopsy. Amster said he died of an apparent overdose after ingesting a substance at another location.
While the deaths have prompted homicide investigations by the Los Angeles County Sheriff's Department, Buck has not been arrested in either case. Prosecutors last summer declined to file charges in Moore's death, citing insufficient admissible evidence.
In the lawsuit, Nixon said that Buck preyed on black men and that he had solicited her son for sex numerous times. During the encounters, she alleged, Buck insisted on injecting Moore with crystal methamphetamine and then forced him to watch pornography and perform sex acts while intoxicated.
Multiple black men reported similar drug-fueled encounters with Buck, Nixon alleged.
"Each of these young black men, many of whom were strangers to one another, independently described ... being forcibly injected with crystal methamphetamine by Mr. Buck, whom they alleged had a predatory and injurious system of soliciting black men and watching them cling to life while battling symptoms of methamphetamine toxicity," the lawsuit says.
According to a Los Angeles County coroner's report, investigators found multiple sex toys, syringes and clear plastic bags with suspected methamphetamine in a cabinet in Buck's living room after Moore's death.
Nixon alleged Buck was culpable for her son's death because he was a drug dealer who "illegally supplied, marketed and distributed crystal methamphetamine" to her son.
The lawsuit accuses Buck of wrongful death, sexual battery, assault, hate violence and other crimes.
It accuses Lacey and Hum of violating Moore's civil rights for not prosecuting Buck. The district attorney violated Moore's 14th Amendment rights by "failing and refusing to impartially prosecute white men, like Mr. Buck, who commit felonious crimes of narcotics possession and physical violence against black men, including Mr. Moore," the lawsuit states.
Lacey is the county's first black district attorney. Critics — some of them black activists who say she has failed them — have called on her to take a tougher stance in prosecuting police officers who use force against civilians, particularly African Americans.
"Ed Buck can never fully compensate Gemmel's mother and his family for hurting and killing Gemmel as we have alleged, but as a wealthy donor, it is only fitting that he take the funds he uses to influence politicians like Los Angeles County Dist. Atty. Jackie Lacey to atone for his crimes against Gemmel," Nana Gyamfi, an attorney for Nixon, said in a statement.
The district attorney's office declined to comment on the lawsuit.
Since 2009, Buck has donated more than $520,000 for dozens of local, state and federal campaigns, including Lacey's campaign for district attorney. Activists have questioned whether Buck's donations to primarily Democratic elected officials have protected him from arrest and charges.
Nixon filed her lawsuit on the same day Color of Change, an online racial justice group, delivered a petition with 30,000 signatures to Lacey's office. The petition called on her to "help keep black LGBTQ communities safe in Los Angeles County by prosecuting Ed Buck."
Twitter: @haileybranson
---
Life is stressful. Our weekly mental wellness newsletter can help.
You may occasionally receive promotional content from the Los Angeles Times.