Elon Musk's Boring Co. is unveiling its tunnel, and sleepy Hawthorne is ready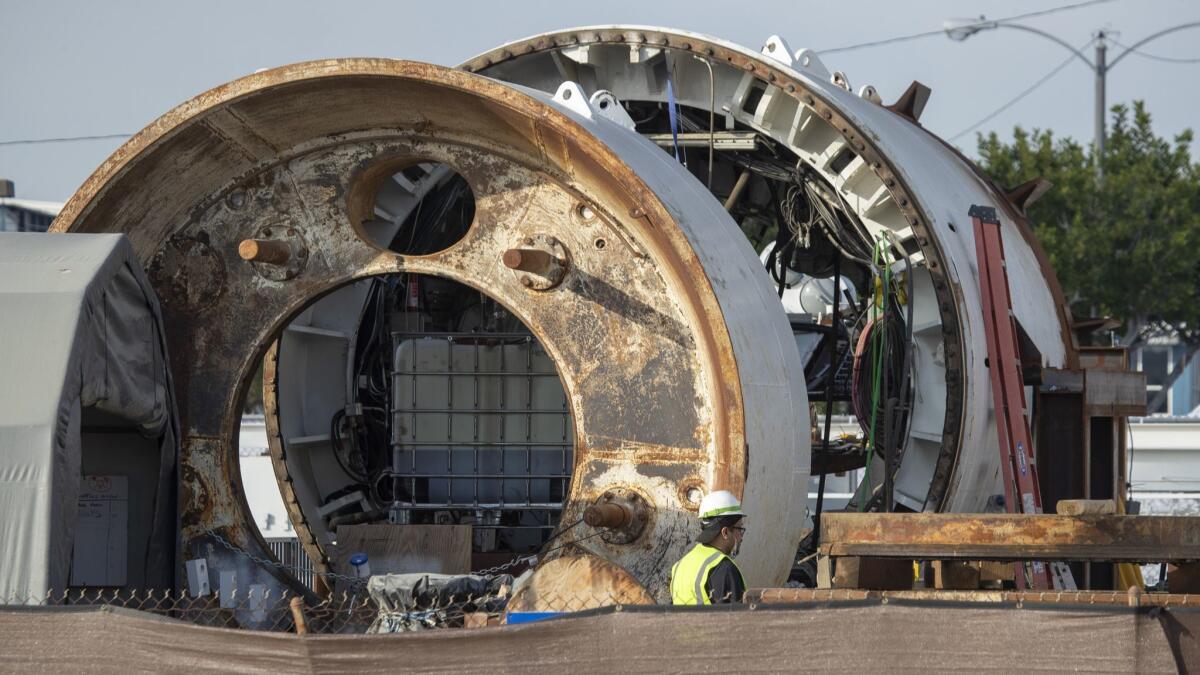 On a misty night last week, the growl of heavy machinery and white-hot glare of floodlights were the only indications that engineers working for billionaire Elon Musk were digging a tunnel beneath the city of Hawthorne.
At a nearby dive bar on Prairie Avenue, a group of friends drained their bottles of Modelo and walked to their cars, wondering aloud about what was taking shape under their feet. A research lab? A new freeway? And would they ever get to see it?
"We talk about it all the time," said Jorge Ortega, 21, as the clang of equipment echoed from the tunnel's terminus two blocks away. "I wish I knew more."
Two years after Musk complained on Twitter that Los Angeles traffic was driving him "nuts" and that he was going to "just start digging" to escape it, his newest venture, the Boring Co., is slated to unveil its first tunnel Tuesday.
The tunnel has been in the works for months, but Hawthorne residents have seen and heard almost nothing. The typically messy elements of construction have been confined to two private properties and shielded from view behind fences and tents.
Information about the tunnel has been similarly controlled, with Boring Co. officials saying only that the tunnel will be used for research and development. Project updates have mostly popped up through Musk's Twitter feed, rather than from Hawthorne officials.
Musk said earlier this month that Tuesday's event will be "more than a tunnel opening," featuring modified "but fully road legal" autonomous cars that will be lowered into the tunnel.
The tunnel starts in a parking lot near SpaceX and runs for about a mile through a neighborhood between the 105 Freeway and Hawthorne Municipal Airport, ending at a shuttered cabinetry business on Prairie Avenue.
It's not a route that's in high demand. But Musk says he envisions a network in which commuters could board platforms the size of parking spaces called "skates," which would sink like elevators and merge into the tunnels, whisking riders to their destinations at speeds of up to 130 mph.
A map the Boring Co. published last year showed a network of stations, including at the Getty Center, Union Station and Los Angeles International Airport. Musk also has announced plans for a 3.6-mile tunnel between Dodger Stadium and a Metro Red Line station.
Sleepy Hawthorne, residents say, could be at the center of it all.
"You always hear about Elon Musk and Space X, and now, the Boring Co., and then, in really small print, they're like, 'Oh, and it's happening in Hawthorne,'" said Ruben Sanchez, president of the North Hawthorne Community Assn., which represents renters and homeowners. "We're really going to stand out. This is going to put us on the map."
The hope, residents say, is that the tunnel will encourage a renaissance of sorts in a city that was hammered by deep cuts to federal aerospace spending in the 1990s. Recently, Hawthorne has attracted the headquarters of Urth Caffe and Amazon's home security company, Ring, as well as two Marriott hotels.
Transportation planners question whether Musk can deliver on his promises.
Last month, the Boring Co. agreed to abandon plans to dig beneath Sepulveda Boulevard on L.A.'s Westside after two homeowner groups sued. The tunnel also is shorter than the two-mile route that the Hawthorne City Council approved last year when it exempted the project from a potentially lengthy environmental review.
In the fall, officials approved two more waivers, for a futuristic elevator inside a garage, where employees will practice raising and lowering vehicles into the tunnel, and a spur to connect the elevator to the main tunnel along 120th Street.
Months before those plans were announced, the Boring Co. quietly purchased a two-bedroom house on West 119th Place through a mysterious limited liability corporation. In the neighborhood, word spread fast about the buyer's true identity.
"Everyone's talking about it, like, 'Oh, did Elon Musk offer to buy your house, too?'" said Prescilla Vielman, 29, who lives across the street. Since then, she said, the tunnel has been at the center of neighborhood gossip.
The modest home has been repainted in gray and white, and fitted with a large padlock. The Boring Co. said there will be no signs that the garage behind it will conceal an entrance to a subterranean test track.
Vielman said she now sees people going into the house at strange hours of the morning while she's walking her dog, Snoopy. But so far, she said, the only real change is that the street where she grew up, wedged between the 105 and the airport, has found a bit of cachet.
Still, she said, it would be nice if she didn't have to keep Googling to learn what's going on beneath her feet.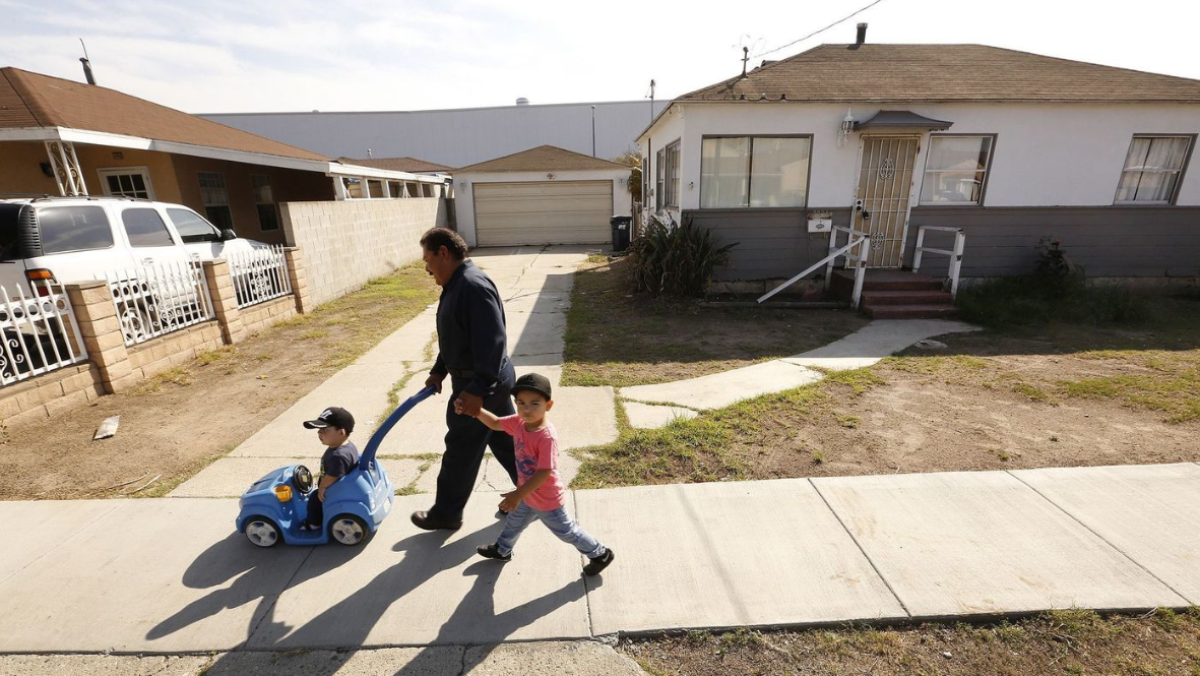 It's a common refrain from residents, many of whom are intensely curious about the tunnel. The Boring Co. sent letters to some residents this summer and hosted community meetings, but by then, construction had been under way for months.
At a City Council meeting last week, residents lined up at the microphone to address their elected officials, complaining about airport noise, tow trucks, potholed streets and the derelict Hawthorne Plaza Mall. No residents and no elected officials mentioned the tunnel.
After the meeting, Mayor Alex Vargas said the tunnel is "a source of pride" for Hawthorne. The city held public meetings and sent out mailers about the project, but he added that secrecy is a "good quality" for the Boring Co. "because then people don't know what they're doing."
That future tunnels will be built as fast and unobtrusively as the one in Hawthorne seems unlikely, experts say. Digging in a county with 88 cities often requires crossing under freeways, sewer lines or other public works projects, requiring more oversight.
Musk's crews avoided messy construction by starting their tunnel in a parking lot, burrowing deep enough to avoid water lines and telecommunications cables, and building a shaft on private property to extract portions of the digging machine.
But Musk's vision for dozens of skates on public streets will almost certainly put engineers in conflict with utility lines. Relocating them can be one of the most costly and time-consuming elements of major construction projects in California.
Musk told his followers twice this year on social media that the tunnel's opening would be accompanied by free rides for the public. Whether that will happen is unclear.
The company told Hawthorne officials last year that "no public use of the test tunnel would occur, and no people would be occupying vehicles located on the skates." But the company did not respond to questions about whether the tunnel will be open to the public, or whether it will be inspected by regulators first.
What is certain, city officials say, is that fans will arrive in droves.
When Musk hosted a meeting about his now-defunct Sepulveda proposal, young men in SpaceX fleece jackets and Boring Co. hats drove from as far away as San Diego, Riverside and Santa Barbara to hear him.
"This is the most exciting thing that's happened here in a long time," said Levi Stockton, president of Jet Center Los Angeles and Advanced Air at Hawthorne Airport. "Nobody else is digging tunnels and building rockets in the same place."
For more transportation news, follow @laura_nelson on Twitter.
Sign up for Essential California for news, features and recommendations from the L.A. Times and beyond in your inbox six days a week.
You may occasionally receive promotional content from the Los Angeles Times.