ER doctors slam decision to continue raves at L.A. County fairgrounds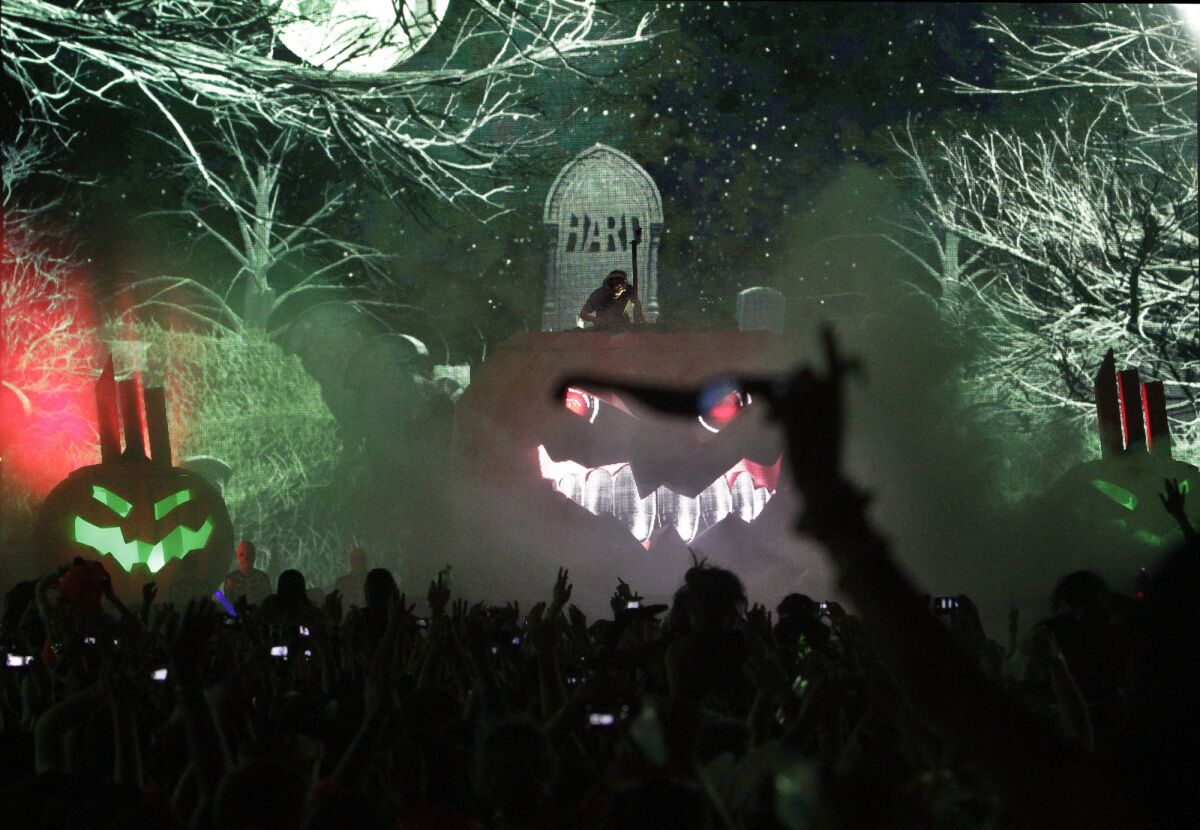 Several Los Angeles emergency room physicians on Friday criticized a decision to allow a two-day rave at the Los Angeles County fairgrounds this Halloween after two young women died of apparent drug overdoses after attending a similar event earlier this month.
The doctors said taxpayer-owned land should not be used to host electronic music festivals, such as Live Nation's Hard Day of the Dead, that they say represent a threat to public health. They said similar events have resulted in overdoses from Ecstasy and similar drugs, overwhelming emergency rooms with teenagers and young adults suffering from seizures, coma and deaths.
There have been at least nine confirmed drug-related deaths among people who attended raves in Southern California since 2006, and three suspected cases. The victims ranged in age from 15 to 24.
Interested in the stories shaping California? Sign up for the free Essential California newsletter >>
"There is a culture here that is inherently dangerous in the drugs used" -- particularly Ecstasy, a relative of methamphetamine, said Dr. Brian Johnston, chair of the emergency medicine department at White Memorial Medical Center in Boyle Heights.
"It is a dangerous drug and the culture is to use that drug and to dance to exhaustion," Johnston said. "The idea of our local government working with the promoters and generating revenue from these events is grotesque."
On Thursday, Los Angeles County Supervisor Hilda Solis said the rave promoter, Beverly Hills-based Live Nation, and the nonprofit Los Angeles County Fair Assn. voluntarily agreed to cancel one rave on Sept. 10 and scale back the two-day Halloween event, scheduled for Oct. 31 and Nov. 1.
The hosts agreed to lower attendance at the Fairplex from 65,000 a day to 40,000, raise the minimum age of attendees to 21, and decrease the number of hours for the event on each day. Solis said she was continuing to study whether it was proper to hold raves on county-owned land, citing significant health and safety concerns and loss of life.
Among the issues the county was weighing, according to a memo, was whether a ban on raves on county-owned land could cause a breach in pending contracts with Live Nation, or raise 1st Amendment issues.
Emergency room doctors say raves result in emergency rooms being overwhelmed with critically ill ravegoers. There is no other type of public event that poses such a heavy burden on hospitals, they say.
Among the problems are overdosing ravegoers coming to the hospital with body temperatures as high as 109 degrees, which cause organ failure and possibly death.
Dr. Marc Futernick, emergency services medical director at Dignity Health California Hospital Medical Center in downtown Los Angeles, said such high body temperatures are virtually unheard of, except from ravegoers coming from huge electronic dance music events at the nearby Los Angeles Memorial Coliseum complex.
"In my whole career, I have never seen this type of pathology at any time, except for during a rave," Futernick said.
Besides the illicit drugs themselves, other contributing factors related to the severe illness could include crowded conditions that make it hard to get medical attention, dancing to exhaustion, the lengthy 12-hour duration of some of these events, a failure to notice early when something goes wrong, and how a person inexperienced with drugs may take a dose that overwhelms the body.
At massive raves, it can be easy to get separated from friends or to get too intoxicated to know when something is going wrong.
"When you're in a large crowd, and the music is overwhelming, and you're loaded on speed, I think it's inherently dangerous and I don't think we should participate in that as a government, as a society," Johnston said.
Johnston said some of the risks with large raves may deal with a group psychology that allows people to disregard warning signs from their own bodies. Another problem is that Ecstasy is often referred to as safe.
"It's illegal for a reason," Johnston said.
Emergency rooms are so familiar with raves that they know in advance to increase staff, Futernick said.
"We know it's going to happen. When you schedule it, I upstaff and I know I'm going to have sick kids," Futernick said. "Why would we not stop that? What possible benefit is there to the community, other than money, than to allow people to get injured and hurt?"
Futernick said the government is allowed to regulate events that are dangerous to public safety and health. "We don't let anybody throw a massive event on county fairgrounds," Futernick said.
In a statement, Renee Hernandez, a spokeswoman for the Los Angeles County Fair Assn., said the fairgrounds will work with Live Nation and the county "to ensure the continued safety of all guests." A representative of Live Nation declined to comment, other than to say that those who purchased tickets for the Sept. 10 event, "Hard Presents A Night at Fairplex," will receive a refund.
A rave promoter that heads Insomniac Holdings, the producer of Electric Daisy Carnival and a subsidiary of Live Nation, defended electronic dance music festivals in a blog post this month after two college students died of suspected drug overdoses after attending Live Nation's Hard Summer event at the county fairgrounds Aug. 1.
"We don't condone or tolerate drug use, but the problem here isn't raves or dance music," Pasquale Rotella wrote. "The health impact of drug abuse in our country extends far beyond what happens at our events."
"Banning these events at facilities where we are able to provide first-rate medical care and emergency services is not the answer," Rotella wrote. "If we're trying to create a safe and secure environment for these passionate fans, sending them back into the unregulated underground isn't a step in the right direction."
Emergency room doctors, however, say deaths and critical illnesses are most pronounced when raves are held in large public facilities.
"You don't get 40,000 people together on an underground, unknown basis," said Dr. Philip Fagan Jr., emergency department director at Good Samaritan Hospital near downtown L.A.
Raves shouldn't happen, he said, "because of the threat to the personal health of individuals who are there."
Fagan said he was skeptical the announced changes would keep patrons safe, given the raves' culture of drug use. "A leopard doesn't change its spots," Fagan said.
Interested in the stories shaping California? Sign up for the free Essential California newsletter >>
The stories shaping California
Get up to speed with our Essential California newsletter, sent six days a week.
You may occasionally receive promotional content from the Los Angeles Times.